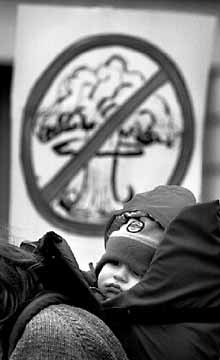 Missoula activists protest sanctions against Iraq
A noon anti-war rally drew only a handful of people to the Missoula County Courthouse lawn in a freezing rain Tuesday. But the protesters pushed their message fervently, with signs saying, "No Blood for Oil!," "Apathy is Not Innocence" and "World War III?"
"We're here to say that sanctions against Iraq are unjust," said Dave Cornell, vice president of the Second International Baha'i Council. "Supposedly this is against Saddam Hussein, but it's affecting innocent men, women and children of Iraq. This is unjust."
The demonstrators were part of an international protest Tuesday that involved activists in 40-some states and in other countries.
"Even Iran is protesting today," Cornell said. "Not just in Missoula, but there are hundreds of thousands of people doing this around the country."
A promise by Hussein to comply with United Nations weapons inspectors brought the United States back from the brink of an attack on Iraq Sunday. That doesn't mean that war is out of the question, the protesters said. And it doesn't mean that war would be appropriate, said Maya Frost, director of the Jeannette Rankin Peace Resource Center in Missoula.
"Basically, war is never an option as a means toward peace," Frost said. "And though we're thankful this threat of war was averted, we're concerned these sanctions are hurting people."
The Baha'i group says that the U.S. sanctions against Iraq have caused the deaths of 1.6 million Iraqis since 1990. The New York-based International Action Center claims that the sanctions are responsible for the deaths of 8,000 children each month.
"If the people of the United States don't speak up," Cornell said, "we're basically condoning these deaths."