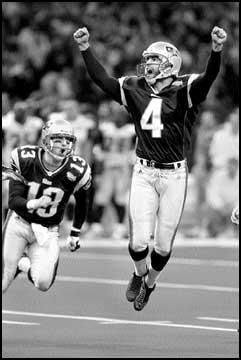 New England stuns St. Louis with last-second field goal for 20-17 Super Bowl victory
NEW ORLEANS - This Super Bowl was one to remember - for all the right reasons.
It had heroes, a last-second finish and the kind of drama America always yearns for from its biggest game. And it went off without a hitch, proving the experts right when they guaranteed the Superdome would be the safest place in the country Sunday.
The final score was New England 20-17 over St. Louis, which had been a two-touchdown favorite and was seeking its second NFL title in three seasons.
Adam Vinatieri's 48-yard field goal as time expired won it after a 53-yard, nine-play drive engineered by Tom Brady, who was voted the game's MVP. Vinatieri, though, might have been the MVP of the playoffs - he kicked a 45-yarder through the snow two weeks ago to tie Oakland, then a 23-yarder that won it in overtime.
Brady, who sprained an ankle in the AFC title game against Pittsburgh a week ago, only found out Wednesday that he was starting over Drew Bledsoe, who helped win the Steelers game in relief and who had been the starter for nine years until he was injured in the second game of the year.
"This is the perfect example of what happens when guys believe in each other," said Brady, who led a team that was 5-11 a year ago to a title. At the start of the season, they were 50-1 shots to win what was their first title ever - twice before having lost Super Bowls, both in this dome.
"The fans of New England have been waiting 42 years for this day," owner Robert Kraft said. More than that, actually - the last team from the region to win a pro football title was the 1928 Providence Steamrollers.
The victory came on a day filled with patriotic themes inside the Superdome and high security outside. Fans were urged to show up five hours before kickoff to get through a perimeter that looked more like a military compound than a football stadium, with soldiers on the ground and sharpshooters on the roof.
The game began with most experts believing only the Rams themselves could beat the Rams. And that they did, with three turnovers that led directly to or set up New England's first 17 points.
"That's the slogan for this team," Rams star Marshall Faulk said. "The only team that can beat us is us, and we turned the ball over. Obviously, we're playing someone that is causing the turnovers at times, but for the most part if we hold onto the ball and eliminate the turnovers, the chances of winning are great."
That showed up in the stats.
Brady was just 16-for-27 for 145 yards, compared to 28-of-46 for 365 for Warner.
But Brady was mistake-proof while Warner threw two interceptions and the Rams also lost a fumble that set up a score.
The key play in the final drive was a 23-yard pass from Brady to Troy Brown to the St. Louis 36.
Then it came time for Vinatieri, a distant cousin of daredevil Evel Knievel, who proved that maybe cool really does run in the family.
His 48-yard game winner flew straight through the uprights with plenty of room to spare. The clock turned to :00 and his teammates mobbed him.
"Adam Vinatieri's not just a kicker, he's a football player," Pats offensive coordinator Charlie Weis said. "He's a clutch player, a money player. Just like there are quarterbacks who are money players, he's a money player."
The game was really won by the defense, which held the NFL's best offense without a touchdown until less than 10 minutes was left in the game. And even as the Patriots played with five, six and seven defensive backs, they got pressure on Warner from Willie McGinest, Mike Vrabel, Richard Seymour and Roman Phifer, among other big guys.
"They say it's the best track team in the National Football League, but I never saw anybody win a 100-yard dash with someone standing in front of them," said New England cornerback Ty Law, whose 47-yard interception return gave New England its first touchdown.
Defense was the answer all year for the Patriots, who started 0-2 and lost Bledsoe to a chest injury.
Brady, a fourth-stringer as a rookie a year ago, took over and led them to the AFC East title with an 11-5 record. But few expected them to beat the Rams, who, at 14-2, had the league's best record and best offense.
This was the first championship for Bill Belichick as a head coach. As defensive coordinator of the New York Giants 11 years ago, he won a ring when Buffalo's Scott Norwood missed a 47-yard attempt in the final seconds.
Like that game, there was plenty of drama in this one, too. No Super Bowl has ever gone to overtime, though this game seemed headed that way when the Rams rallied in the fourth quarter.
Warner's 2-yard sneak with 9:31 left - his first rushing TD this season - pulled St. Louis within 17-10. After holding the Patriots, the Rams got the ball back at their own 45 and needed only 21 seconds to tie it on a 26-yard pass from Warner to Ricky Proehl with 1:30 left.
"I thought we were back in the ball game and we're going to win this thing," Proehl said. "Momentum had changed."
Favored by 14 points, the Rams were billed as the "Greatest Show on Turf." But if they expected to breeze, they discovered early that the Patriots wouldn't let them. Warner was sacked only three times, but pounded on almost every play even as New England used five, six or even seven defensive backs to shut down the St. Louis offense.
The Patriots showed their tenacity early, giving up yards grudgingly and moving from their own 3 to near midfield after being pinned deep on their first possession.
New England stiffened on St. Louis' second possession, limiting the Rams to Jeff Wilkins' 50-yard field goal after they had moved from their own 20.
The Patriots let the Rams reach their 34 early in the second quarter, but this time Wilkins' 52-yard attempt was short.
New England had trouble moving the ball, but it was still the Patriots' pace at this stage of the game. With 8:49 left in the half, New England got the break it was playing for.
On a first-and-10 from the St. Louis 39, New England linebacker Vrabel broke clear on a blitz. As he was about to hit Warner, the St. Louis quarterback unloaded - right to Law, who raced untouched 47 yards down the sideline to give New England a 7-3 lead.
The second TD came after the Rams got the ball on their own 15 with 1:52 left in the half.
On the third play, Warner found Proehl over the middle. He was hit by Antwan Harris, who scored in the AFC championship game last week on a blocked punt. This time, Harris knocked the ball loose and Terrell Buckley picked it up and returned it 15 yards to the St. Louis 40.
Five plays later, it was 14-3 after Brady found David Patten in the corner of the end zone for an 8-yard score. New England continued to stalemate the Rams through the third quarter - Seymour's sack of Warner ended a drive that reached the Patriots' 41.
The Rams turned to the run to try to get New England out of its nickel and dime defenses as Faulk ran four times for 30 yards. But on third down, then came what seemed to be the inevitable turnover - Warner missed Torry Holt and Otis Smith picked it off, returning it 30 yards to the St. Louis 32.
Three plays later, Vinatieri's 37-yard field goal made it 17-3.
The Rams then put together their first sustained drive, getting inside the New England 32 for the first time. On a fourth-and-goal from the 3, Warner fumbled and Tebucky Jones took it all the way back for what appeared to be the clinching touchdown.
But McGinest was penalized for holding Faulk - replays showed it was obvious - and the Rams got the ball back. On the second play, Warner went in for the touchdown to cut it to 17-10 with 9:31 left.
"We beat all the odds," Milloy said. "No one can ever take that away from us."
| | | | | | | |
| --- | --- | --- | --- | --- | --- | --- |
| St. Louis | 3 | 0 | 0 | 14 | - | 17 |
| New England | 0 | 14 | 3 | 3 | - | 20 |
NE-Law 47 interception return (Vinatieri kick), 7:49.
NE-Patten 8 pass from Brady (Vinatieri kick), :31.
NE-FG Vinatieri 37, 12:18.
StL-Warner 2 run (Wilkins kick), 8:31.
StL-Proehl 26 pass from Warner (Wilkins kick), 12:30.
NE-FG Vinatieri 48, 0:00.
| | | |
| --- | --- | --- |
| First downs | 26 | 15 |
| Rushes-yards | 22-90 | 25-133 |
| Passing | 337 | 134 |
| Punt Returns | 3-6 | 1-4 |
| Kickoff Returns | 4-82 | 4-100 |
| Interceptions Ret. | 0-0 | 2-77 |
| Comp-Att-Int | 28-44-2 | 16-27-0 |
| Sacked-Yards Lost | 3-28 | 2-11 |
| Punts | 4-39.8 | 8-43.1 |
| Fumbles-Lost | 2-1 | 0-0 |
| Penalties-Yards | 6-39 | 5-31 |
| Time of Possession | 33:30 | 26:30 |
INDIVIDUAL STATISTICS
RUSHING - St. Louis, M.Faulk 17-76, Warner 3-6, Hakim 1-5, Hodgins 1-3. New England, A.Smith 18-92, Patten 1-22, K.Faulk 2-15, Edwards 2-5, Brady 1-3, Redmond 1-(minus 4).
PASSING - St. Louis, Warner 28-44-2-365. New England, Brady 16-27-0-145.
RECEIVING - St. Louis, Hakim 5-90, Bruce 5-56, Holt 5-49, M.Faulk 4-54, Proehl 3-71, Robinson 2-18, Conwell 2-8, Murphy 1-11, Hodgins 1-8. New England, Brown 6-89, Redmond 3-24, Wiggins 2-14, Edwards 2-7, Patten 1-8, A.Smith 1-4, K.Faulk 1-(minus 1).
MISSED FIELD GOAL-St. Louis, Wilkins 52 (WL).