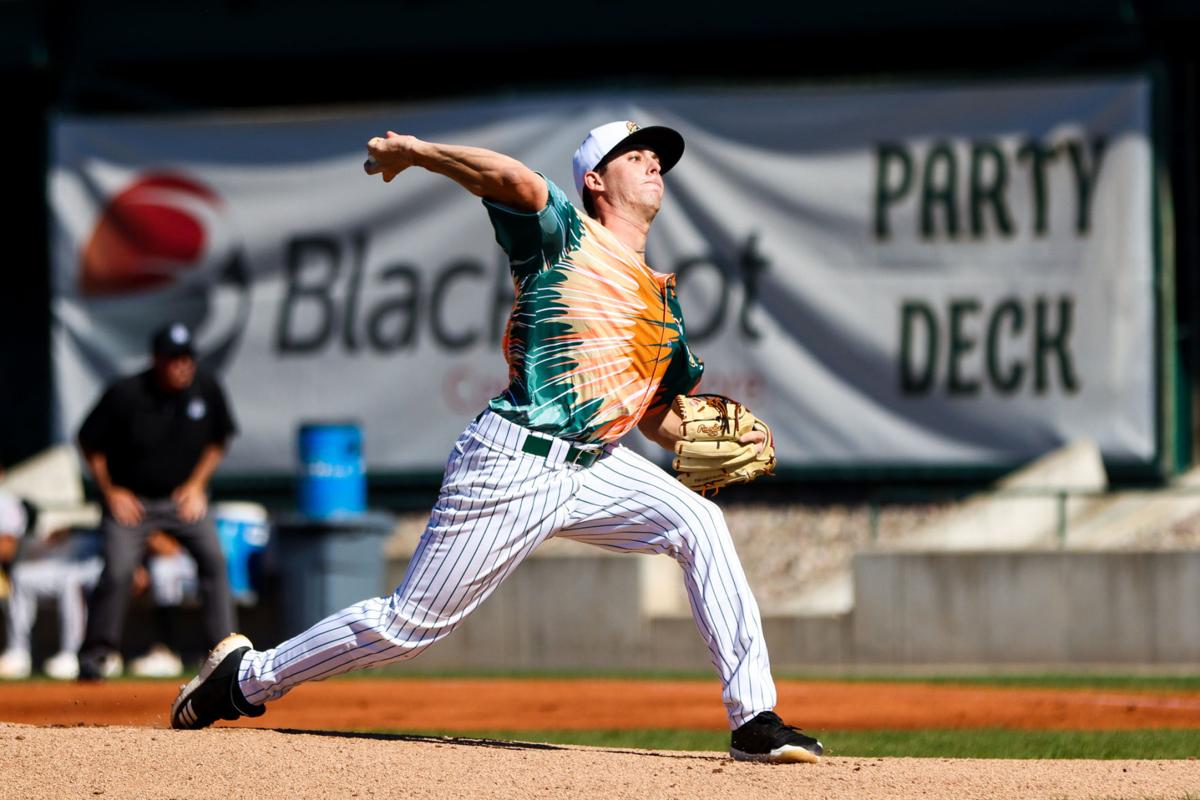 MISSOULA — Andrew Bash was working as a groundskeeper, grooming the college field he used to play on, when he got the call from the Missoula PaddleHeads.
Oh what a wonderful ride it's been in River City.
Not only has Bash been a catalyst for the PaddleHeads in helping them to a 17-3 start, he boasts the lowest earned run average in the Pioneer League at 1.80. He pitched six gritty innings of scoreless baseball in Sunday's win over the Billings Mustangs and boosted his record to 2-0 in the process.
But that's just part of the story for the former California Baptist University standout. He's also a pretty darn good hitter, with enough power to leave manager Michael Schlact wondering if maybe he should try Bash next time his team finds itself tied after nine frames and heading into a knock-out situation.
You'd be hard-pressed to find a more versatile player in the entire league.
"He's just a competitor," Missoula manager Michael Schlact said of his 6-foot righty. "We knew he had a two-way history, he could hit and pitch, and the grittiness he shows on the mound is really good.
"He might get in tight spots, might get in a jam, but he doesn't try to do too much. He's very smart about realizing he needs to throw other pitches for strikes, take something off. He's really a cerebral pitcher. I'm excited to see what his future holds. I would consider him a little bit of a sleeper. Man, he gets the job done."
If Bash had his way, he'd be playing every day like he did back in college for the NCAA Division I Lancers of Riverside, California.
"I was signed as a two-way player out of high school and done both my whole life," he related. "In college I would play third base the first two games of a series and the last game I'd be the starting pitcher every weekend."
Just like his teammmates, Bash's ultimate goal is to get back into the minor leagues. He was drafted by the Los Angeles Angels in the 30th round back in 2019 but was limited to 14 games in the Arizona Winter League.
The experience could have easily left him sour on the sport of baseball. Instead he went to work, lifting as much as he could in between working on the diamonds at California Baptist.
Sooner or later, Schlact is hopeful that Major League organizations will take a serious look at Bash. The PaddleHeads have won all five games he has started this season and three times he has gone six innings, including June 2 when he lasted eight innings. 
"At the Major League level I don't really think a lot of teams care about how you do it, as long as you do it," Schlact said. "A lot of guys don't get even the pro opportunity because they don't throw hard enough. He has the pro opportunity, he's here, he's been drafted.
"As long as he continues getting outs, at what point do teams have to say, 'He gets outs everywhere he goes.'"
Regardless of what happens in the coming months, it's hard to imagine a better start for the PaddleHeads independent league team. Heading into Monday night's game, they enjoyed a six-game lead atop the Northern Division of the Pioneer League.
"Since I got here I've loved it," Bash said. "All the guys are super cool. Everyone is really close.
"The team just bonds well, which helps a lot on and off the diamond. I think it shows when we're on the field. Everyone is excited to be back and playing, which helps. Taking years off, they're excited to be out there."
Schlact is thankful to have such a solid pitching staff to back up his impressive arsenal of hitters.
"It's been huge," he said. "We've done a really good job all the way through to hold these (opposing) lineups at bay and as of late our bullpen has been nails.
"It's just a really good feeling as a manager. I didn't imagine a 17-3 start, but yeah, it's been a really fun process."
To find out what happened in Monday night's game, log on to missoulian.com.
Bill Speltz is Missoulian Sports Editor and has served as Sunday columnist the past 15 years. Do you have a story idea? Email Bill at bill.speltz@missoulian.com.