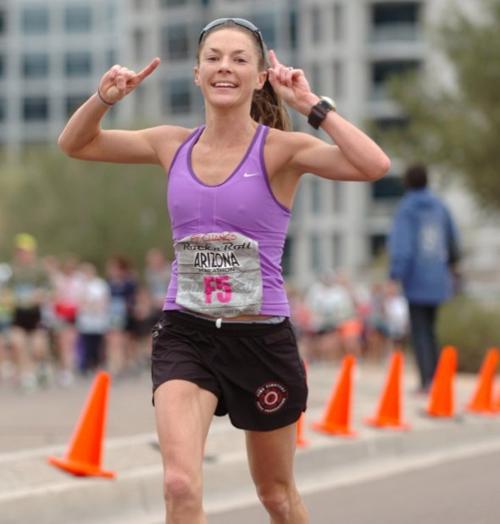 Odds are pretty good that on your daily commute around Missoula you have probably seen Trisha Miller running. It's also likely that she has run farther than you have driven.
Because Miller is a marathon runner.
She doesn't run the 26-plus miles of a marathon every day, of course - she saves that for Sunday. But her regimen of running each day of the week, 70-90 miles per week has made her one of Montana's, and the region's, elite long distance runners.
Miller has run 17 marathons and won her first on Jan. 15 at the Rock 'n' Roll Arizona Marathon in Phoenix. She ran a 2:49.12, the fastest time of her career.
The Portland native first moved here to go to college. Soon after she graduated with a bachelor's degree in journalism from the University of Montana, her friend invited her to run a marathon in Portland that summer.
She's been gung-ho about running ever since.
After living in Bend, Ore., from 2002-04, Miller moved back to Missoula and has been openly embraced, as well as enhanced, by Missoula's running culture. Now she works the daily 9 to 5 grind - inside sales for a local Missoula business - and lives at home with her fiancé, Andy, a marathon and tri-athlete in his own right, and her four cats: Steve, Wylie, Beaver and Harley.
Q: When did you start running?
A: I started running after college. I played soccer through high school. My friend called me up one day after college while I was delivering pizza at MacKenzie River, and she was like, "What are you doing this summer?" I told her "nothing," and she said, "Well let's run a marathon." I bought a book and I did the training plan they had in there. I ran the Portland Marathon that fall and I loved it, it changed my life, just that one day.
Q: What is the Missoula running culture like?
A: I really got into the Run Wild Missoula stuff three or four years ago. It is amazing. You would have no idea there are 1,300 people in this town that are as gung-ho about running as you are. So many of my friends are middle-aged men - you would never think a 30-year-old girl is hanging out with middle-aged men, but those are the people I run with and it's just so good to get to know people on such a broad spectrum. Missoula has talented runners. This is a really unique running culture. It's the way Run Wild has fostered all levels (of runners). There's always something going on. There's a little something for everyone.
Q: What does a week training regimen look like for you?
A: I run every day. Monday is usually an easy run. Tuesday is speed work on a track. In the summer time we go over to Dornblaser and we have track workouts. Sometimes I just go to Sentinel and do them by myself in the dark with my headlamp. Wednesday is usually easy. Thursday could be easy, could be a speed work out. Saturday is usually easy with some yoga and Sunday is usually a long run.
Q: What advice would you give to someone who wants to get into marathon running?
A: Do a little bit of research, either get a book or go down to Runners Edge and sign up for the marathon training class through Run Wild Missoula. To stay motivated it's really helpful if you have people to run with. I've slept through a race, and I completely missed a start. Set four alarms. That's my big piece of advice.
Q: You said one of your goals is to run in the Olympic marathon trials in 2016. How do you qualify?
A: The way the U.S. track and field is set up is they have a race, and the top three winners of that race get to go to the Olympics. So there is one race one day; it's how you're doing on that day. They just had the trials for London this year and the qualifying times for the trials is 2:46. So I'm close but I still have a bit to go. You can start qualifying up to two years before that race day so in 2014 I should be able to hit a qualifying race.
Q: Are you going to run the Missoula Marathon?
A: I'm going to do it this summer. That will give me a nice six-month break between Phoenix and Missoula so I can really train hard for Missoula. The course record is a 2:57 and I ran a 2:49 in Arizona and a 2:51 in Denver. I certainly think I'm capable of breaking it if it's a good day. That's the thing about marathon running, you could wake up and if you get the trots that day you're going to stop at every porta-potty. If you're just not feeling good you just don't have it.
Q: What is it that ticks in you, that makes you want to go out and run 20-plus miles?
A: I guess they say it's the "runner's high;" I guess it's almost addictive. It's just so rewarding. You can't just train for a month and run a marathon. You need to train for like three months or four. I think that's the reward. You worked so hard for something for three months and it all culminates on this one Sunday morning, it's just really special.