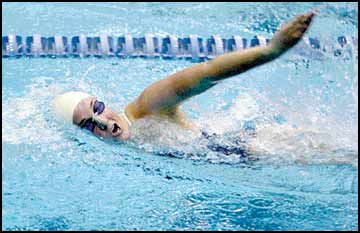 Colleen Miller swims for the University of Maine, but says she can't wait to swim in Montana's lakes and rivers this summer.
That's funny, neither can her friends. Apparently Miller is an integral part when a group gets together to go floating.
"Oh, I'm the popular one," joked Miller during a phone conversation last week, "because I can swim after the cans of beer when the beer tube tips."
The senior freestyle specialist, who just turned 22, has only a handful of meets left in her collegiate career before graduating this spring and hopefully starting a second career as a dietitian.
Miller says her next move will be to the West Coast or the Rocky Mountains. Either way she'll be closer to family. The 2004 Missoula Hellgate graduate also said she'll continue to swim, but just recreationally.
"We have a cabin up near Condon," she said. "I can't wait to go hiking and go to Glacier. I love having my friends from Maine come out and show them all the touristy things to do that are fun. I like to show off my home state."
The current Black Bear, who still roots for the Griz, took a few minutes from an impending snow storm in the Northeast to share her thoughts on Orono, her swimming career and her life ahead.
Q: Where are you at in your swim season?
A: Right now we're three weeks out from our conference championships. We have two more meets left and then conference (Boston U., Feb. 19-22).
Q: How's your season going?
A: Pretty good. We've been very consistent so far this year. No complaints, but hopefully at conference, I'll be tapered and ready to swim my fastest.
A: I want to end on a positive note. It is my last meet of my career, so I'd like to go out on top, swim some of my best times.
Q: Where does swimming rank on the sports radar in Maine?
A: Well, hockey is definitely our No. 1 sport here. But, I've seen the media attention grow in the athletic department for swimming in my four years here. So, it's nice to see the recognition in the department and media grow. We're not at the top, but we're getting there.
Q: Are you much of a hockey fan?
A: You know I am, they're in season when we're in season, and we're both on the road and we have meets every weekend, so it's hard to make it to games sometimes. I'm still a Grizzly (football) fan, but I've adopted hockey.
Q: How are you doing in school?
A: I graduate in May. I'm a nutrition major and I got it done in four years. I've submitted applications to a couple grad schools and to some dietetic internships.
Q: What's a dietetic internship?
A: To become a dietitian, which is what I want to do, you have to do an internship. All of my applications are out, so it's not in my hands anymore. I'm not sure how I feel about that, but we'll see how it goes.
Q: You were recently named Maine's female Athlete of the Week. Is that your first honor?
A: No, actually it's my third this year. I had one in November and one in December. I think that they're finally putting swimmers up there, and that's part of the respect thing from the athletic department. And that's good.
Q: The state meet for Montana high schools is in two weeks. What do you remember about that meet?
A: Obviously that was the pinnacle of high school swimming. It was a fun meet. For people who didn't swim club, it was their big meet, and as a club swimmer, it wasn't one of the biggest meets of the year, but it was always fun to swim fast in and break records. The atmosphere was fun and wild. Yeah, it was definitely a fun meet. Everyone was getting excited, and getting shaved down, shaving their heads.
Q: Are there any big culture shocks that you noticed when you moved to Maine (i.e. an accent)?
A: Maine definitely has an accent. Absolutely. I've noticed they add r's at the end of their a's. So for instance, I hear a lot of Let's go get a pizzar, instead of pizza. The other day I heard a Montanar, which I was a little bit frightened by. So there's definitely an accent. Maine's a small-town state so coming from Montana, it wasn't too big of a culture shock. They're down to earth, friendly people, who are welcoming, but still have state pride and won't ever leave this state.
Q: Where are some of the places you've visited while back East?
A: We go to Boston quite frequently, and it's been fun driving through the small New England towns during the drive to Vermont, you take Route 2. All these little po-dunk towns with their small New England townhouses are really great. And there have been a lot of road trips and camping trips with friends and roommates.
Favorite place to dine in Orono? Woodman's Grill.
Hours it takes to fly to Missoula? Three flights, 10-12 hours of traveling.
Maine's capital? Augusta. If I would've got that wrong, your interview would've been over.
Be the first to know
Get local news delivered to your inbox!