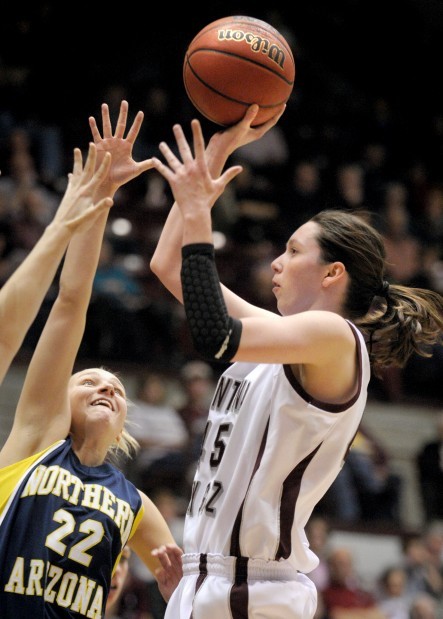 On a night when nothing came easy and play was exceptionally physical, Montana saved its best for last.
Trailing by five points with six minutes to go, the Lady Griz basketball team dug down deep and delivered on both ends. The result was a 54-48 win over Northern Arizona in a nerve-frazzling nailbiter Saturday at Dahlberg Arena.
"I liked our toughness in that game," said Montana coach Robin Selvig, whose team won the battle of the boards, 39-33. "They're a good team and they defended us well and it wasn't easy to score.
"Things weren't going that good. We just hung in and battled, our defense was pretty good all night. It was just nice to have that toughness down the stretch."
That toughness has Montana within a game of Big Sky Conference leader Eastern Washington at the midway point. The Lady Griz improved to 6-2 (11-9 overall) with their fourth straight win, while Eastern suffered its first league loss Saturday afternoon at Portland State, 67-60.
"It's almost shocking the way we started and how we've turned around," Montana senior center Shadra Robison said. "It's so much fun."
There was nothing fun about the start of Saturday's game for Montana. The Lady Griz spotted the Lumberjacks (3-5, 5-16) a 7-0 lead and for almost nine minutes Sarah Ena was the only Montana player to score.
Still, the Lady Griz zone defense was so good that the team survived a 5-for-20 start from the floor. Montana even managed to grab a 17-15 lead on an Alyssa Smith 3-ball with 3:39 left in the first half.
Then Northern Arizona caught fire, hitting three straight 3-point shots. The Jacks emerged with a 27-21 lead at halftime and Montana was left searching for ways to contain Lumberjack freshman phenom Amy Patton, who had almost half of her team's points (13).
"They got the loose balls better than us," Selvig said. "And we had 3-4 times we could have scored where we just got it knocked out of our hands down by the basket. We needed to get stronger."
Northern Arizona maintained an advantage for over 16 minutes in the second half. Its lead was 36-29 with 12 1/2 minutes to go, then Montana started down its road to recovery with a spark from Robison, who hit back-to-back shots to get the crowd back in the game.
"They help a ton," said the senior, who tallied a game-high seven rebounds in front of 3,555 fans. "Playing here is so cool for us. When you're down you can look at the crowd and they pump you up. We want to win for them too."
It certainly showed in the final six minutes. Trailing 43-38, Montana finished with a 16-5 run behind four points by Ena and five by Lauren Beck, including a go-ahead, 18-foot jumper with 3:38 left.
Ena finished with a team-high 17 points and Beck with 15 to go along with her six rebounds, three assists, three blocks and three steals. Beck had a big steal and a block in the final minute, and scored Montana's last three points on free throws.
Meanwhile Patton, who leads the Big Sky in scoring, struggled down the stretch and finished with 17 points on 7-for-21 shooting.
"I wish it was a 34-minute game," NAU coach Laurie Kelly said. "We just shot the ball bad the second half, and we had two turnovers that were really critical.
"It was a really physical game. We didn't get to the line a lot so that limited our ability to score."
Montana held a 12-2 edge in points from the charity stripe. The Lady Griz also had seven blocks, bringing the total from their two-game homestand to 15.
"Montana did a really good job of extending their zone in the second half," Kelly said. "I would have liked to press more but we just stopped scoring in the second half. It really took away our ability to pressure them."
Selvig couldn't be more proud of his team for the way it has fought through adversity in the first half of the conference season.
"I take my hat off to them," he said. "This team has been working and improving all year.
"When we lost (starting post) Katie (Baker), I didn't know some things. It hurt. But other kids have played well. We are a team that needs to be good defensively to win some games because we're not explosive offensively. Our defense has been real good to us."
Win or lose, Kelly says she always enjoys bringing her team to Dahlberg Arena.
"I love it," she said. "The fans are great but yet they're very respectable of the opponent. It's a fun environment. You wish every game was like this."
Notes: Robison's key 3-point goal in the second half was just the second of her career. ... Montana shot 45.8 percent in the second half after shooting 33.3 percent in the first half to finish at 39.6 percent for the game (19 for 48). ... NAU shot 31.7 percent (19 for 60) and half of its shots were from behind the arc. ... Montana has won 59 of its last 62 games in Missoula.
Mins FG-A FT-A Reb PF A Pts
f-Galloway 28 1-4 0-0 4 4 0 2
f-Hoisington 17 1-3 1-2 4 1 0 3
g-Toney 34 0-7 0-0 4 1 9 0
g-Stphn-Jkns 33 3-7 0-0 4 1 1 8
g-Patton 33 7-21 0-0 6 2 1 17
Huntington 14 4-7 1-1 0 3 0 11
Bonham 0+ 0-1 0-0 0 0 0 0
Spaich 10 1-1 0-0 2 2 0 2
Totals 200 19-60 2-3 33 15 11 48
Mins FG-A FT-A Reb PF A Pts
f-Ena 28 5-9 7-7 2 3 1 17
f-Lmn Lnfrd 20 2-5 0-0 4 0 0 4
g-Beck 40 6-11 3-4 6 1 3 15
g-Nce-Jnsn 10 1-3 0-0 1 1 2 2
g-Stender 26 0-2 0-1 4 0 0 0
De Boer 23 2-7 0-0 6 3 1 6
Hurley 12 0-1 0-0 3 0 1 0
Robison 20 2-6 2-2 7 1 0 7
Totals 200 19-48 12-14 39 10 8 54
Halftime score: Northern Arizona 27, Montana 21.
3-point goals: NA 8-30 (Galloway 0-1, Toney 0-3, Stephens-Jenkins 2-3, Patton 3-12, Pratt 1-6, Huntington 2-4, Bonham 0-1), UM 4-13 (Loman Linford 0-1, Stender 0-2, Beck 0-2, Smith 1-3, De Boer 2-3, Robison 1-2).
Assists: NA 11 (Toney 9), UM 8 (Beck 3).
Turnovers: NA 16 (Toney 5), UM 17 (Ena 4).
Blocked shots: NA 2 (Toney, Spaich), UM 7 (Loman Linford 3, Beck 3).
Steals: NA 6 (Huntington 2), UM 12 (Beck 3).
Officials: Mark Munoz, Bret Gervasoni, Warren Smith