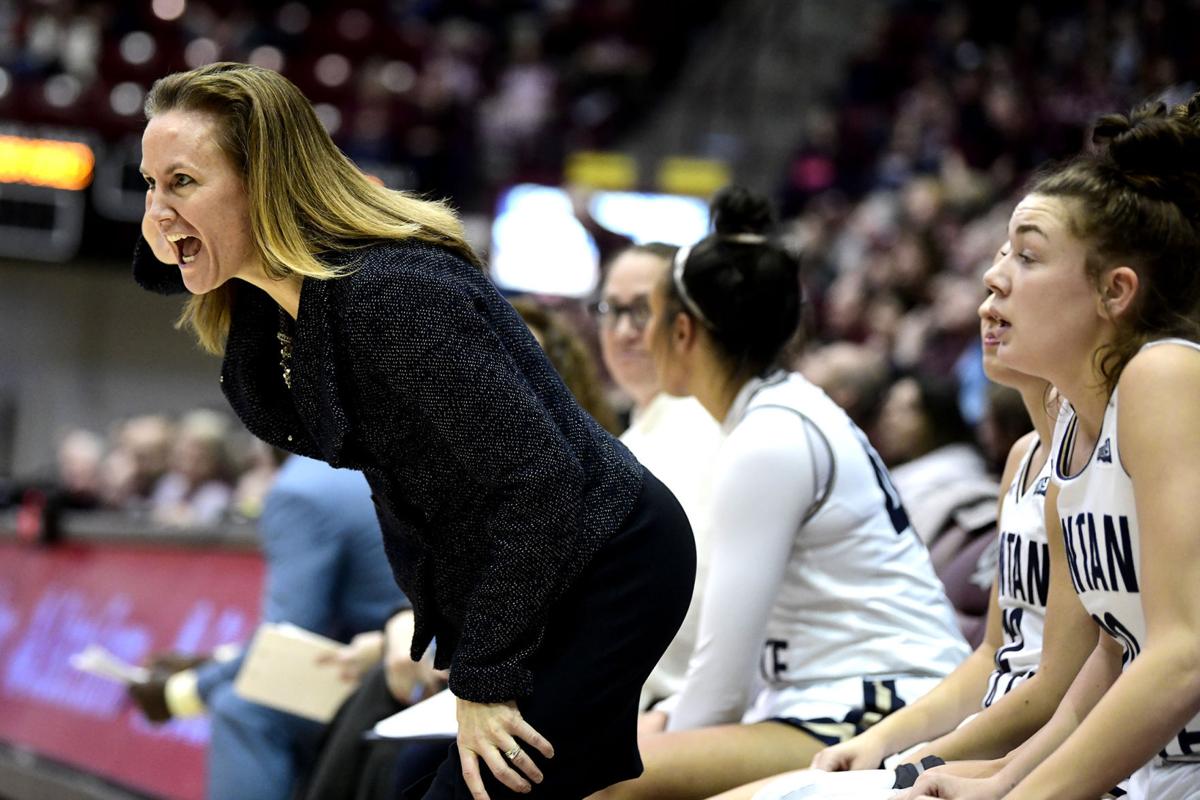 FARMINGTON, Utah – Defending regular-season champion Montana State is picked fourth and Montana is sixth and seventh in the Big Sky Conference preseason women's basketball polls, the league announced Wednesday.
Montana State, which loses four starters from last year, had one first-place vote in the coaches poll and received two first-place votes and 173 points in the media polls. Coaches are not allowed to vote for their own team.
The Lady Griz, under first-year coach Michael Petrino and with more newcomers than returners, are picked seventh out of 11 teams in the media poll.
In-state rivals Idaho and Idaho State are co-conference favorites in the coaches poll. In the media poll, Idaho is the favorite.
Idaho and Idaho State both received 91 points in the coaches poll.
The Vandals received four first-place votes in the coaches poll and pulled in 16 first-place votes and 221 points in the media poll.
"I think these polls are always a reflection of how last year went and who you lost. We lost a couple of really great seniors, but I think we also have gained some great new players as well," Idaho coach Jon Newlee said. "Whether you are picked one or picked 10, you still have to go out and prove it on the floor. So, you know that's great, and it's nice, but honestly, it's where you finish in March, in Boise. That will tell you whether you had a successful season or not."
Idaho finished second to MSU in regular-season conference play with a 15-5 record. The Vandals return the preseason Big Sky all-conference scoring duo of Gina Marxen and Beyonce Bea.
Marxen and Bea both finished the season ranked in the top 10 in scoring among conference players. Marxen averaged 13.3 points per game, and Bea had 12.6 points.
Idaho State also came in first in the coaches poll with 91 points and had two first-place votes.
"The recognition of being picked first in any poll is nice," ISU coach Seton Sobolewski said. "It's a reflection of the work we've put in, but there is still a lot of work to do to earn the top spot. I feel there is going to be more parity this year, and Big Sky play is going to be tough, especially under the circumstances."
In 2019-20, the Bengals finished with a 13-7 conference record and a third-place regular-season finish. Idaho State made it to the Big Sky tournament semifinals last season behind returning senior and preseason all-conference honoree Dora Goles.
Goles averaged 12.7 points. 3.1 assists and 2.1 steals as a junior. The Bengals also return Estefania Ors for her senior year and Callie Bourne, who will be playing her second season.
In the media poll, the Bengals were picked to finish second behind the Vandals with 206 points.
Northern Arizona received three first-place votes in the coaches poll and received 80 points. The Lumberjacks also had 180 points in the media poll to finish third in both.
The Lumberjacks enter the year building on their momentum from the last two seasons. A year ago, NAU made a run at the championship game after finishing tied for fourth place with a 12-8 record.
NAU is led by Khiarica Rasheed, who enters her senior campaign as the league's preseason MVP. Last year Rasheed averaged 16.5 points a game and is the highest returning scorer from last season.
Northern Colorado received one first-place vote in both the coaches and media polls. The Bears received 64 points from Big Sky Coaches and 135 points from the affiliated media members and are picked to finish fifth in the conference.
In the coaches' poll, Montana received 53 points to finish sixth, and Portland State was picked fifth with 50 points.
Southern Utah (36), Sacramento State (26), Eastern Washington (23), and Weber State (14) round out the remainder of the coaches' poll.
For the media poll, Portland State received a sixth-place projection with 127 points, and Montana was picked to finish seventh with 122 points.
Be the first to know
Get local news delivered to your inbox!