BOZEMAN — The defensive scheme yelled from the sideline was called "Cover," and it tasked Northern Arizona's Lauren Orndoff with helping teammate Regan Schenck at the top of a 2-3 zone.
With time winding down in the third quarter Thursday evening at Worthington Arena, the Lumberjacks didn't want Montana State guard Darian White to find room for a shot. But with the assistance of a screen from Taylor Janssen at the top of the key, White gathered the ball, split the double team and uncoiled a left-handed shot one step in from the foul line that swished through the net.
The buzzer-beating shot gave White 1,001 points in her career midway through her junior season and put MSU ahead by 10 going to the fourth quarter.
The Bobcats held NAU to its worst-shooting period of the evening and emerged with an 88-73 win that included plenty to celebrate.
"The kid is so dynamic and impacts the game beyond her 1,000 points," Bobcats head coach Tricia Binford said of White. "This kid puts her heart and soul into every possession. She is how we go."
When White exited the Montana State (9-8, 4-2 Big Sky) locker room after the game, she hugged her father Derrick. She didn't know he was in the crowd, in part because she didn't know how close she was to the milestone. Derrick knew, with some help from MSU's coaching staff that helped arrange for him to be in town for the weekend from Boise, Idaho.
White's disbelief eventually melted into excitement, knowing she got to share the moment with her dad.
"I was trying to focus on the game even when it was announced," she said, "but I'm just so thrilled I get to be a part of this team and just be allowed to do the things I get to do. Just reaching this is huge, and I'm excited to keep playing and keep going."
White became the 26th member of MSU's women's basketball program to reach the 1,000-point threshold. With her team-high 16 points against NAU, she now has 1,008 points through 71 career games.
"She deserves that accolade more than anything," teammate Madison Jackson said. "She works her absolute tail off. She is always coming with a smile on her face in practice but a dog mentality on the court. She gets after it. She really is something special for Montana State."
Jackson and White were two of MSU's five players to score in double figures en route to the team's highest-scoring game of the season. Northern Arizona entered Thursday averaging 73.7 points per game. The Lumberjacks matched that almost exactly, but the Bobcats beat them at their own game by shooting 41.4% from the field overall and 10 of 22 (45.5%) on 3-pointers.
Katelynn Limardo had 15 points, Leia Beattie supplied 14, Kola Bad Bear tallied 13 and Jackson added 10 off the bench in her second game back from a broken bone above the ring finger in her right hand.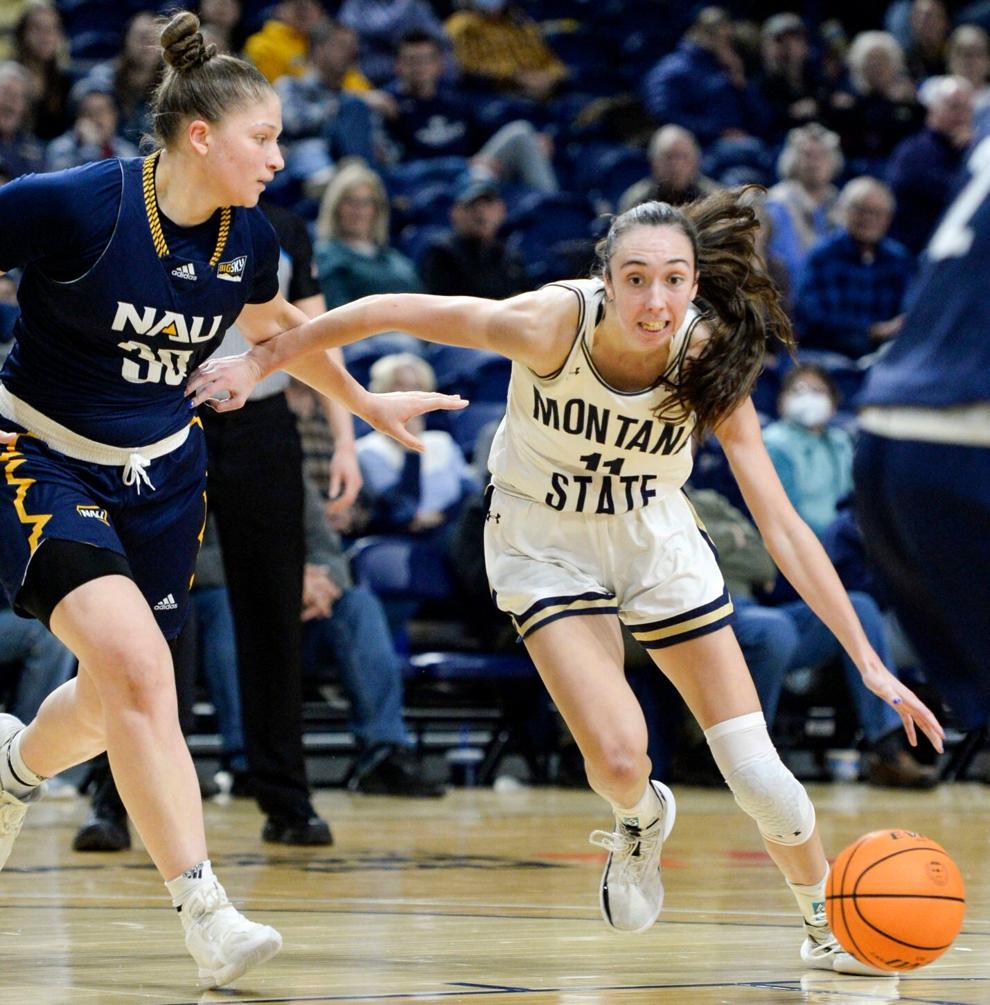 "It's taken time, but I'm starting to finally get into the groove of things," Jackson said. "It feels really good to be back on the court."
Her teammates this week have been thrilled to have Jackson back in the rotation as well.
"We've been waiting for it," White said. "She looked like herself, and I'm excited to see her keep growing, not only on the defensive end but on the offensive end as well. She's going to be a huge player for our team."
All five of NAU's (7-7, 4-2) starters scored in double figures, led by 16 from Khiarica Rasheed. But MSU's bench outscored the Lumberjacks' by a 23-6 margin. Lexi Deden scored eight and Janssen had five, adding to Jackson's 10.
Beattie did a little bit of everything for MSU — hitting a trio of 3-pointers, grabbing eight rebounds, getting three steals and recording two assists.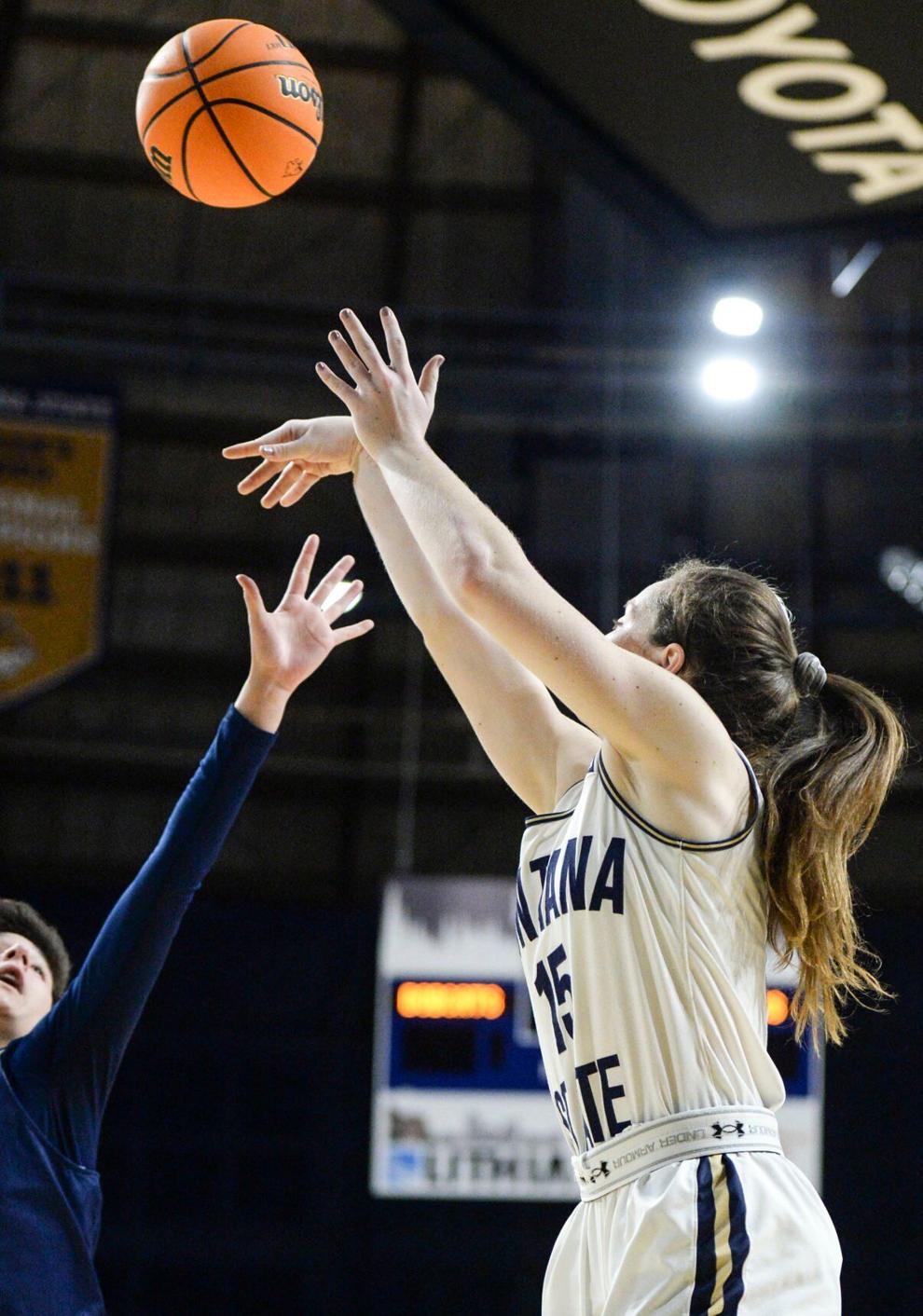 "I think we've been really keying in on the glass because early in the season we struggled a lot and we weren't winning the boards overall," Beattie said. "But these conference games that we've (had since) our COVID break, we've won the boards, so that's a huge key for us to win games going forward."
MSU out-rebounded Northern Arizona 47-29 and grabbed 23 offensive rebounds.
"That's the difference in the game," Binford said. "Our goal was to get their field goal percentage lower, and we certainly didn't do that, so to get the extra possessions you've got to win those categories."
Montana State led 23-21 after the first quarter and 47-39 at halftime. NAU never got closer than five points in the second half.
"We needed to push them baseline and to traffic, so then we could have our gap defenders help," Jackson said. "Having each other's back was definitely something that showed up tonight."