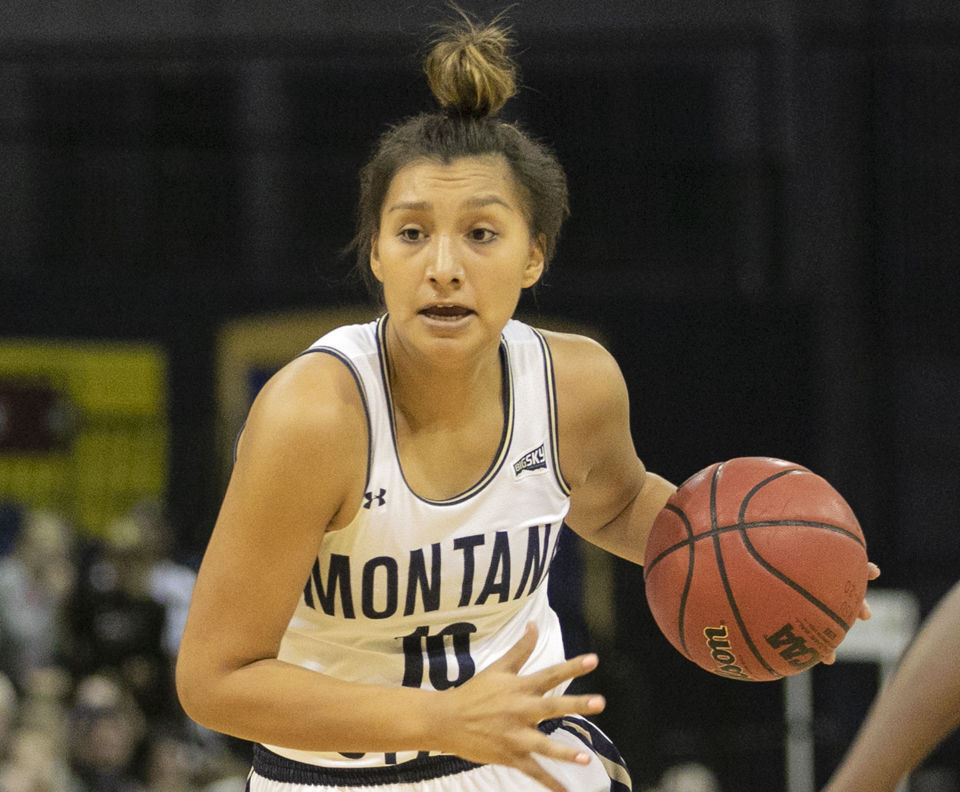 PORTLAND, Ore. — Montana State used a 17-5 run over the last five minutes, 33 seconds — sparked by seven points via sophomore Kola Bad Bear — to notch a 75-67 victory at Portland State on Thursday night.
Bad Bear, a Billings Senior graduate, propelled Montana State's (5-4, 2-1 Big Sky) most balanced scoring outing of the season. The 6-foot-2 forward scored seven points in the opening period and finished with a career-high 16 points on 7-of-10 shooting.
"I really loved Kola's energy from the start," MSU head coach Tricia Binford said. "Our game plan going in was to establish an inside presence. Once our posts settled in, I thought we did a nice job moving the ball around, and we put them in good position to score." 
MSU used a 15-11 second quarter to enter intermission with a three-point cushion.
Gabby Mocchi scored the first five points of the third frame to put MSU up 35-27, but Portland State (3-4, 2-3) chipped away at the lead and a 12-3 run gave the Vikings a one-point advantage at the 5:12 mark.
But again, the Bobcats had an answer and took a 52-48 lead into the final period.
MSU held a four-point cushion with 9:19 remaining after a Katelynn Limardo pull-up jumper. This was before PSU's Jada Lewis took over for the Vikings.
Lewis, a 5-9 sophomore from Rocklin, California, scored 10 points in a three-minute span to give the Vikings a 60-56 lead with 6:06 left. Following a Desirae Hansen basket at the 5:33 mark, MSU went on its late-game heroics to close out the contest.
MSU's Darian White finished with a team-high 17 points, including 12 points in the second half, while Mocchi posted a career-best 16 points, including 11 in the second stanza.
The Bobcats outscored the Vikings 34-18 in the paint and held a 17-5 advantage on second-chance opportunities. MSU's posts accounted for 47 points while shooting 47.2% from the field.
"It was our first real complete game in terms of balance this season," Binford said. "I thought we executed very well, and we showed signs of what we're capable of doing."
MSU won the battle of the boards, outrebounding PSU 43-30. Limardo led the Bobcats with eight rebounds, while White and Lexi Deden added five apiece.
After shooting 38.2% from the field in the first half, MSU went 43.8% from the floor in the final 20 minutes. PSU finished the contest shooting 47.2%.
"Defensively, I thought we were flat with our ball pressure," Binford said. "We did a nice job down the stretch, and we need to duplicate that on Saturday."
Lewis posted a team-high 18 points for the Vikings.
MSU plays at Portland State at 1 p.m. Saturday.