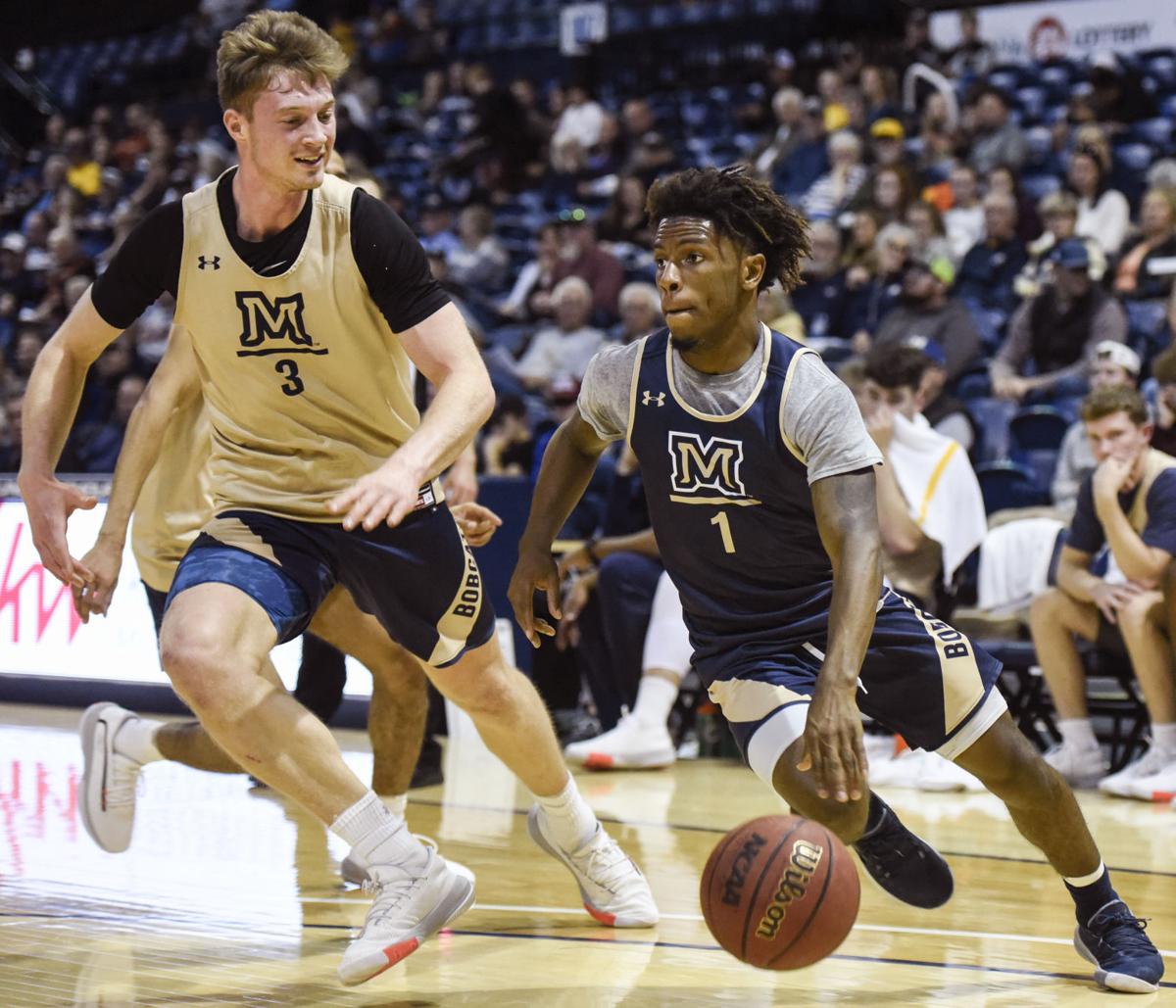 LAS VEGAS, Nev. — Montana State jumped to a double-digit lead in the first half and never wavered en route to a 91-78 men's basketball victory over UNLV to open the season Wednesday at the Thomas & Mack Center.
Xavier Bishop scored 22 points to lead the Bobcats to their first true road victory to begin a season since defeating Washington in Seattle in 2002. 
"Huge win for these guys," MSU coach Danny Sprinkle said. "I'm proud for the program, proud for these guys. All the stuff they've been through since last March, it's not just us, but I'm happy these guys got rewarded for it. They've put in a lot of hard work and they just competed. They really played together." 
The Bobcats went back-and-forth with the Runnin' Rebels for eight minutes before they stretched the lead. A Borja Fernandez jumper, four points from Jubrile Belo and a Nick Gazelas 3-pointer capped a 9-0 run that put the 'Cats up 35-18 with 4:41 remaining in the first half.
MSU went into halftime leading 49-31 thanks to strong efforts on both sides of the floor. The Bobcats shot over 60% from the field and 3-point range during the first 20 minutes while holding the Rebels to just a 33% mark from the floor.
UNLV cut the deficit to 14 in the early moments of the second half, but MSU responded. Tyler Patterson drilled a trey and Xavier Bishop converted on a reverse layup on the next possession to thwart the Rebel answer. The Bobcats went up by as many as 22 points midway through the second half and held off UNLV until the Rebels scored the game's final seven points.
Montana State shot 55.6% overall on 30 for 54 from the field while also converting on that same mark going 10 of 18 from 3-point range. Amin Adamu led the Bobcats' with six of the squad's 19 assists.
"The one thing I thought we did was take good shots," Sprinkle said. "I don't know if we really forced a 3. One of our emphases of our team is one more. Make one more pass to get from a good shot to a great shot. The guys did a great job of that tonight."
Four Bobcats scored in double digits, with Bishop leading the way with 22 points. The senior guard also had five rebounds and four assists in his first game since the 2018-19 season at Kansas City.
"He's just a little magician with the ball," Sprinkle said of Bishop. "He's really hard to guard. Our spacing was really good, it was way better than I expected it to be. It opened up some driving lanes for him and I thought he did a good job finding guys too. When the defense collapsed, he can fire that thing to shooters and you have to respect it.
"I'm super happy for 'X', he's been champing at the bit for this thing."
Belo and Adamu each had 14 points for MSU, with Belo racking up a team-high eight rebounds. Sophomore Nick Gazelas scored 11 points on 3 of 5 from deep in his Bobcat debut. Fernandez added seven points and six rebounds. Abdul Mohamed made his MSU debut and scored eight points on 4 of 5 shooting. Freshman Tyler Patterson went 3-for-3 from the 3-point line and fellow class member Kellen Tynes registered five points and had three assists.
Bryce Hamilton led UNLV by scoring 27 points and recording eight rebounds. The Rebels finished shooting over 45% but had 18 turnovers.
MSU's 91 points are the most in a season opener since the 1997-98 squad topped Simon Fraser 107-59. The Bobcats won just their second season opener since 2003-04.
Montana State next plays Wednesday at Pacific in Stockton, California.