EDEN, Utah — Bolstered by Scarlet Weidig Velazquez's individual title and Lauren Greeny finishing in a tie for fifth place, the Montana State golf team placed second at Weber State's Kelsey Chugg Invitational on Tuesday.
As a team, the Bobcats shot a 900 (295-306-299) at the par-72 Wolf Creek Resort, finishing four strokes ahead of third-place Omaha and five strokes behind Creighton, which won the team title with an 895 (296-296-303).
Montana State finished ahead of all four Big Sky Conference competitors: Weber State placed fourth with a 906 (298-308-300), Eastern Washington was fifth with a 915 (310-310-295), Montana placed eighth and Idaho State finished 10th.
"I am super proud of these six ladies," said MSU head coach Brittany Basye. "They all contributed in this tournament in one way or another. I am excited for this program and the direction I believe we are going in."
After ending day one in a tie for first place, Weidig Velazquez wrapped up the final round by shooting a 1-under 71 at the par-72 Wolf Creek Resort. Her three-round score of 216 (74-71-71) is tied for the third-best 54-hole tournament score at Montana State, and her win is the 16th in program history.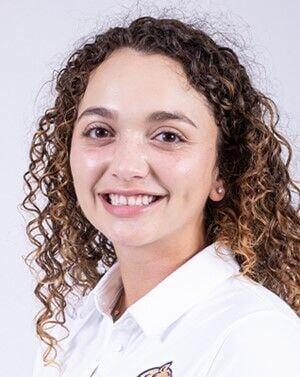 "This win reminded me of why I play golf," Weidig Velazquez said. "I love the adrenaline rush, when your hands are shaking and you feel the blood pumping. The win was something very big for me. It's very emotional, but it's amazing."
Weidig Velazquez made five birdies on the back nine — including on each of the final three holes — to finish with 11 birdies in the tournament. The redshirt sophomore battled back from shooting a double bogey and a triple bogey on the front nine, which put eventual runner-up Katherine Lemke of Creighton and third place finisher Meghan Singh of Eastern Washington within striking distance.
"The back nine is actually not my favorite," Weidig Velazquez said. "There were a couple of holes that made me uncomfortable on the back nine in the previous rounds, but in those moments where I was doubting myself, I asked myself, 'what if I hit it great?' I told myself that I was all in for the rest of the tournament."
Weidig Velazquez birdied the 11th hole, said she was "an inch away" from a birdie on the twelfth, then notched another birdie on a difficult 13th hole. Back-to-back birdies on 16 and 17 put some distance between her and the field.
Once she reached the final hole, she had a four-stroke lead.
"This is a very special win for Scarlet," Basye said. "She has been working hard and she finished very strong. What a great win for her and for her parents to watch."
Elsewhere in the lineup, Montana State was the only team to place two golfers in the top five. Greeny smade an eagle on the final hole — her second of the tournament — to finish in a three-way tie for fifth place with Utah Tech's Brooke Gelinas and Weber State's Jessica Zelasko. After tying the school record with a 67 in the first round on Monday, Greeny finished with a 223 (67-78-78), which was the second-best score by a true freshman in the tournament.
"I'm really glad Lauren shot that 67," Weidig Velazquez said. "She now knows she can do it, and she has a lot of potential."
Moving up 16 spots in the final round, senior Kameryn Basye tied for 30th by shooting a 233 (79-81-73). Basye shot an even-par on eight of her last nine holes to finish with 1-over 73 in the final round — the second-best final round score for the Bobcats.
MSU's Cora Rosanova finished in a four-way tie for 35th with a 234 (75-80-79), carding five birdies in her second time at the Kelsey Chugg Invitational.
In her collegiate debut, Maddie Montoya finished in 47th place with a 240 (86-77-77). Montoya played better as the tournament progressed, and birdies on the last two holes helped her tie her lowest tournament round.
Playing as an individual, Jordan Briggs tied for 51st by shooting 86-77-81. She finished with eight birdies in the tournament and two during the final round.
"I think every girl on this team has potential," Weidig Velazquez said. "I think we're starting to see that and we're realizing what we are capable of doing as a team. I think it's cool that we're helping each other out, motivating each other to practice more and do more than everybody else."
The Bobcats will compete at Eastern Washington University's Eagle Invitational, held at Indian Canyon Golf Course in Spokane, Washington, next Monday through Wednesday.