CHENEY, Wash. — Roos Field has been a house of horrors for the Montana State football team, and it delivered several more scares on Saturday.
But MSU didn't let "The Inferno" unsettle another season.
The Bobcats survived a scary injury to starting quarterback Tommy Mellott, a late interception and several close calls on their latest trip to the red turf. No. 4-ranked MSU (3-1) escaped with a 38-35 win over No. 15 Eastern Washington (1-2), winning consecutive games at Roos for the first time in program history.
"You don't write the script like that, and that's what football's all about. You take the twists and turns," said MSU head coach Brent Vigen, adding, "I can't say enough about our willingness to hang in there and believe. These are the types of wins you can really build on."
Mellott went down at the 2:07 mark of the first quarter. The sophomore from Butte rushed up the middle for 11 yards and tried to slide to avoid contact, but two EWU defenders hit him on both sides, and his head hit the turf hard. Mellott lay on his back and appeared motionless for about five minutes as trainers tended to him. Vigen said Mellott made movements and was responsive "quick enough."
Mellott walked off the field gingerly and went back to the locker room, but he returned to the sideline in street clothes during the second quarter. An update on his status will likely come Monday, but "he'll be back on the field at some point," Vigen said.
"Any time a guy is down for the count like that, it's a sickening feeling," Vigen said, adding, "That's also the nature of this game we play. I'm certain he'll bounce back. We'll have to pick him up, for sure."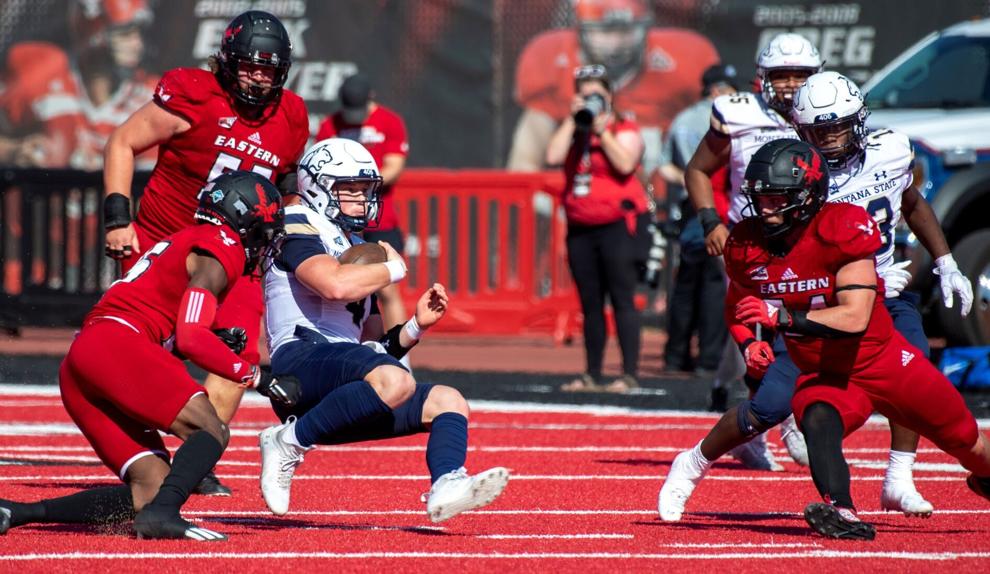 The Cats have been without their top four running backs since the second game. MSU announced before the game that starting free safety Jeffrey Manning Jr. was inactive because of a head injury. Jordan Reed, who was competing for the third-string QB spot, is out for the season with a knee injury he suffered in fall camp. Sean Chambers, Sean Austin and Luke Abshire are MSU's remaining healthy signal callers.
Both teams scored more points in the first half than in their entire game last season. MSU, which won 23-20 at Roos in November, held a 24-21 lead through three quarters Saturday.
EWU opened the scoring with a 56-yard touchdown run from Micah Smith early in the first quarter. MSU's Elijah Elliott tied it up with a 45-yard TD run less than two minutes later, and Smith answered with a 28-yard rushing score less than two minutes after that.
MSU took its first lead with 13:45 left in the first half, when senior fullback RJ Fitzgerald found the end zone on a 13-yard rush. It was the Dillon native's first TD of his college career. Nickelback and fellow team captain Ty Okada joked that Fitzgerald made "the quickest jump cut I've ever seen" on the run. Fitzgerald said "anybody probably could've scored on that one."
"I don't really care who scores touchdowns as long as we score touchdowns and win the football game," Fitzgerald added. "But it's awesome to get into the end zone."
Chambers was already a key cog in MSU's offense, especially in the red zone, before Mellott got hurt. Chambers took another step up on Saturday.
The Wyoming transfer gave MSU a 24-21 lead on a 5-yard pass to Willie Patterson, and he rushed for a 2-yard TD that put MSU up 31-21 midway through the third quarter.
"To see him go down like that was awful," Chambers said, referring to Mellott. "But then reality kind of sets in there — 'We've got a game to win.' I'm just glad I could step in and try to help this team out."
MSU's defense held EWU to less than 50 total yards from the mid-second quarter through the third, but EWU's offense found a second wind in the final 15 minutes.
Gunner Talkington connected with Freddie Roberson for an 80-yard score early in the fourth, and Talkington completed an 8-yard TD pass to Nolan Ulm to put EWU up 35-31 with 9:24 remaining.
The Eagles' win probability soared after Chambers threw an interception to Jaren Banks in the end zone on fourth and goal with 3:52 left. One play later, MSU defensive tackle Sebastian Valdez forced Smith to fumble, and Okada recovered it.
"Shout out to Sebastian. That's as clutch of a play as you can make in that situation," Okada said, adding, "When things get tough, some people want to give up, tap out. We're going to grab a gear when things get hard."
UPDATE (9/27): MSU announced that linebacker Callahan O'Reilly will be credited with the forced fumble.
Two plays after the fumble, Chambers rushed for a 13-yard TD with 3:26 on the clock to put the Cats back on top.
On fourth and 14 with about two minutes left, Ulm leaped and appeared to make a 29-yard catch. But the ball popped out as Ulm fell to the ground with Okada and Tyson Pottenger (Manning's replacement) defending. The ball floated for a second and landed in the hands of Cats linebacker Danny Uluilakepa. It was called an interception on the field, and the call stood after a long replay review period in which both teams expected it to be overturned to a catch.
Vigen and Okada said the referees got the call right. EWU coach Aaron Best didn't disagree, though he added that he hadn't seen all the replay angles.
"Had we been able to move the sticks a time or two in the series before and not turned the ball over, that situation never would've happened," Best told local media.
Chambers finished with 160 rushing yards and two TDs on 28 carries, and he completed 6 of 12 passes for 69 yards, a TD and the late INT.
"Was it perfect? I don't think so. But he made enough plays to get us over the top," Vigen said. "That was a big experience for him today, and I couldn't be more proud of what he did accomplish."
Runs of 15 yards from Elliott and 13 from Chambers allowed MSU to run out the clock. Chambers let out a triumphant yell after the game-sealing kneel down.
"I don't think Tommy should've been hit if he was sliding like that," Chambers said. "It was just frustration out there, both sides going back and forth. That was a big weight off the shoulders."
MSU out-gained EWU by 117 yards, with a 355-148 advantage on the ground. One week after receiving just three touches, Elliott finished with 156 rushing yards and a score on 18 carries and added a 15-yard reception.
As Chambers talked to the media after the game, Mellott stood a few yards to his right, chatting with teammates. Head injuries are difficult to diagnose from an outside perspective, but Mellott looked OK, all things considered.
Chambers, meanwhile, had cuts and bruises all over his arms, including a turf burn on his elbow. "The Inferno" literally burned MSU.
But the Cats weren't incinerated. They now have as many wins at Roos in the last 11 months as they did in the previous 37 years.
"We made that very clear to the younger guys on our team: 'Hey, we may have won here last year, but that hasn't been the case for a long time at Montana State,'" Okada said. "Now, the tide's turning."