BOZEMAN — Halfway through the season, the Montana State football team likes the position it's in. The Bobcats are 5-1 overall (their only loss was on the road against FBS Texas Tech) and are tied atop the Big Sky Conference with a 2-0 mark.
MSU has won five consecutive games using a style that fourth-year coach Jeff Choate prefers — with the No. 1-ranked rushing attack in the league.
The Bobcats, who have risen to No. 6 in the STATS Top 25 FCS poll, feel good about where they're at, but they face another stiff test this week when Big Sky foe Sacramento State (3-2, 1-0) visits for homecoming.
The game kicks off Saturday at 2 p.m., and will be televised by ABC/FOX Montana and by SWX in the Billings area.
"It's good. Never satisfied though," linebacker Callahan O'Reilly said this week. "We're always having to take every week like it's a championship mindset. If you lose a game … it's a tight conference. Everyone's good and you can't afford a loss."
"Everyone's excited and happy that our hard work is paying off. We're winning games," wide receiver Lance McCutcheon said. "But every week is a new week. We're just looking forward to the next opponent, in this case Sac State."
Choate described Sacramento State as a top 15-caliber squad and the best FCS team his Bobcats will have played to this point in the season.
The Hornets, under the direction of first-year coach Troy Taylor, hung tough in road losses to FBS opponents Arizona State and Fresno State, and otherwise cruised in their three other games — including a 48-27 victory over perennial Big Sky power Eastern Washington.
"They're a complete team," Choate said. "I think this is one of the better teams in the country. I really believe that."
Sacramento State comes into the game ranked No. 1 in the Big Sky in scoring defense at 19.8 points allowed per game, and is No. 2 in scoring offense (40.4 ppg), led by veteran quarterback Kevin Thomson.
The Bobcats continued its ground-game dominance in a 34-28 overtime victory last week at Cal Poly, averaging 5.8 yards on 38 attempts with four rushing touchdowns. Wildcat quarterback Travis Jonsen scored the winning TD in overtime with a 9-yard run.
You have free articles remaining.
MSU is averaging 264.7 rushing yards per game and has scored 20 touchdowns on the ground. Jonsen has rushed for 250 yards and four TDs in the past three games.
MSU cornerback Greg Filer is expected to play this week. Filer has been out since fall camp with an arm injury. Receiver Coy Steel is also back on the depth chart after missing last week's game.
The Bobcats could be without inside linebacker Michael Jobman this week.
The Bobcats lead the all-time series against Sac State 17-7, including a 9-1 record at home. The Hornets' only win in Bozeman was a 19-17 victory in 1991.
Spotlight on: Kevin Thomson
Thomson is the leader of Sacramento State's offense, and he comes into the game completing 63.8% of his passes. He has 16 touchdowns and just three interceptions. He is also the Hornets' second-leading rusher.
Last week against EWU, Thomson had 351 yards of total offense and accounted for five touchdowns.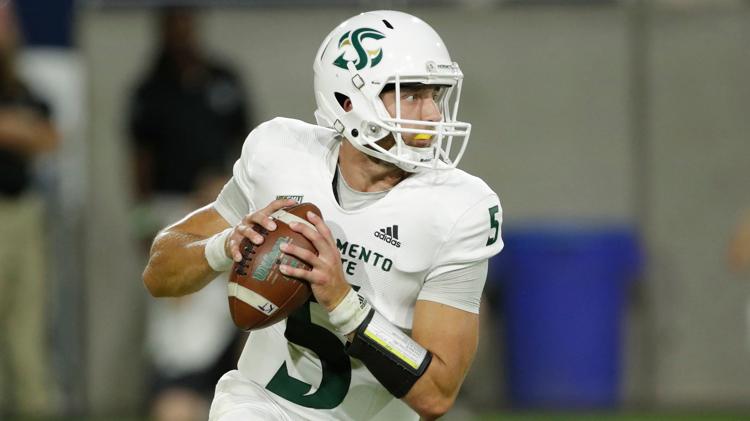 Thomson (6-2, 200) originally signed with UNLV out of Riverside High School in Auburn, Washington, and redshirted there in 2014 when Bobby Hauck was the Runnin' Rebels head coach.
He missed the 2015 and 2016 seasons with an elbow injury for which he underwent Tommy John surgery, and was granted a total of two extra years of eligibility by the NCAA, meaning he is still only a junior.
Thomson, a team captain, is currently Sacramento State's all-time leader in pass efficiency and average yards per pass attempt (9.08).