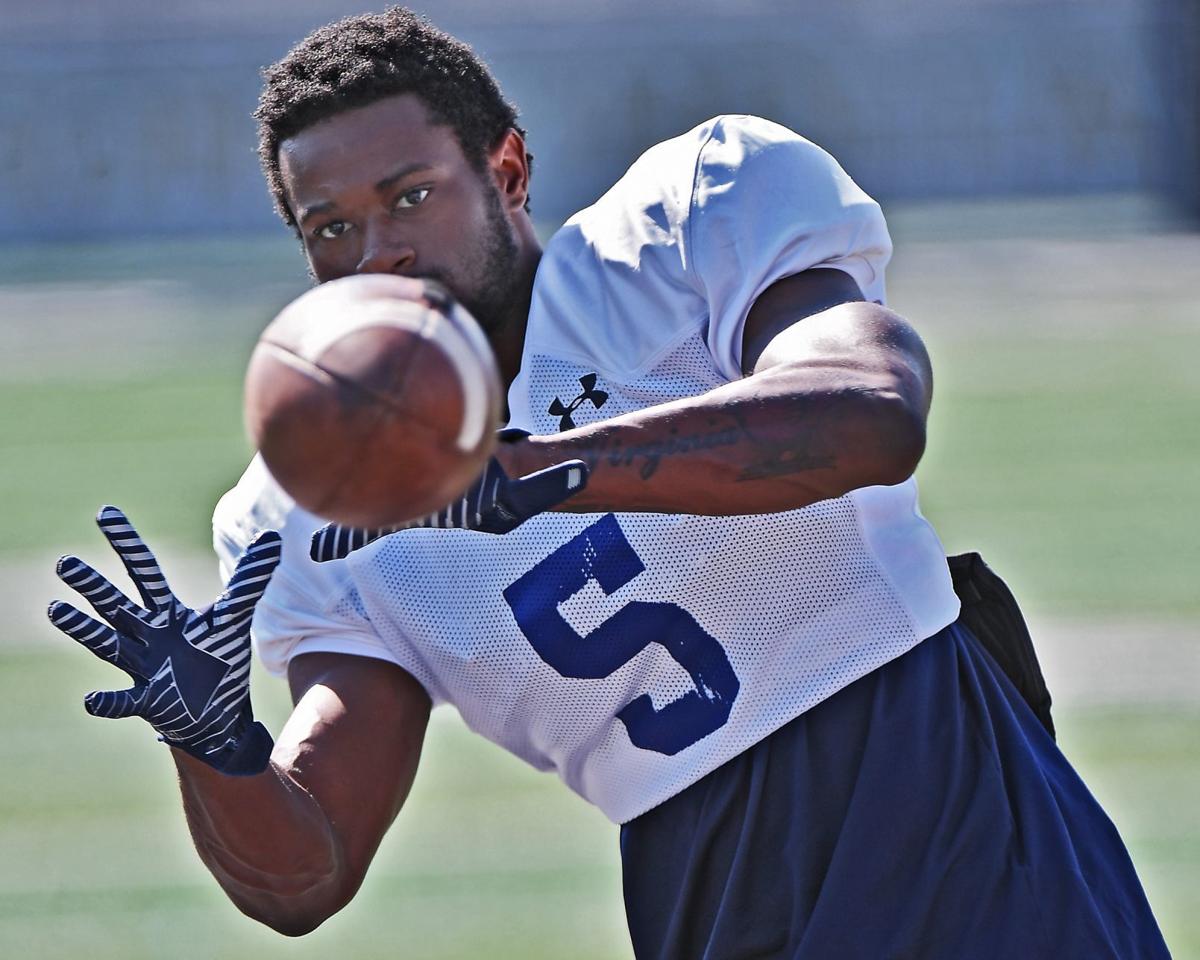 SPOKANE, Wash. — Jahque Alleyne looked a little bit like a football player feeling the sting of being omitted from the preseason all-conference team Monday at the Big Sky Kickoff.
Alleyne, who enrolled at Montana State before last season following a two-year stint at Virginia Tech, intercepted more passes (5) than anyone in the league from his strong safety position in 2018. But his name did not appear among the 29 players voted as the cream of the Big Sky Conference crop entering the 2019 campaign.
Alleyne's words echoed his apparent orneriness.
"Yeah," he said when asked about the snub. "There's a lot of disappointment."
No matter. Alleyne (pronounced "Allen") realizes his self-worth. He was nothing short of a saving grace for Montana State's secondary last season, helping the Bobcats' defense surge to plus-10 in turnover margin, which ranked in a tie for No. 1 in the league with Eastern Washington by the end of the year.
In addition to the interceptions — they came against Western Illinois, Portland State, Idaho, Weber State and Northern Colorado — Alleyne also forced two fumbles and recovered another, and finished the season with 38 tackles and three pass breakups.
Teaming with fellow safety Brayden Konkol and cornerbacks Greg Filer, Tyrel Thomas, Jalen Cole et al, MSU ranked fourth in the league in both pass defense and pass defense efficiency while allowing just 13 touchdown passes, which tied Sacramento State for the fewest in the conference.
Alleyne, now a senior, proved himself as a top ball-hawk and one of the most active safeties in the Big Sky a season ago. And he insists he's just getting started.
"I'm going to have a better season this year. I can't even tell you," Alleyne said.
"I'm definitely proud of myself. There's definitely going to be some differences in my game this year. There's going to be a lot of happy people and a lot of sad people. So be ready for that."
The happy people: Montana State fans. The sad people? Opposing quarterbacks.
Alleyne's pride was built from the journey he took to becoming an impact player at MSU — a circuitous route to be sure.
You have free articles remaining.
He appeared in 12 games as a freshman at Virginia Tech in 2015 under longtime coach Frank Beamer as the Hokies won a high-scoring Independence Bowl over Tulsa, but things changed the following season after Beamer retired and was replaced by Justin Fuente.
Alleyne played in only four games in 2016. He admittedly fell behind academically and eventually left Virginia Tech to enroll at Tidewater Community College not 15 miles from his home in Virginia Beach. That's when self-doubt crept in.
"Sophomore year was really hard, going home every day and asking yourself if you're actually good enough," Alleyne said. "I'd been a starter all my life. As a sophomore I'm playing less than I did my freshman year. It makes you question your ability."
Looking to reboot his career, Alleyne had subsequent offers from only two teams, both in the FCS — Norfolk State just down the road and Montana State some 2,200 miles away.
Intrigued by the message and vision of Jeff Choate and the coaching staff at MSU, Alleyne wanted to be a Bobcat. But first he had to become academically solvent. So he paid his own way to attend Gallatin College in Bozeman, where he eventually earned an associate degree.
By the time he arrived at Montana State last summer, it became clear that Alleyne would help the Bobcats on defense immediately.
"Persistence is probably the word that I'd use to describe his journey," Choate said of Alleyne. "He had some academic issues after a coaching change. He went to play for coach Beamer and then coach Fuente came in and they had a little bit different vision. Those changes are so hard on kids. It was for us at Montana State when I came in.
"But the way he's assimilated into our locker room ... those transfer guys come in and they may think, 'Hey, I'm from Virginia Tech or I've done this,' and he was never like that. He just wanted to earn his stripes, get the opportunity to contribute and get back to playing football."
Now Alleyne is even more motivated, especially after an 8-5 season that produced a postseason berth but ended with a 52-10 playoff drubbing at eventual FCS national champion North Dakota State.
Five Montana State players were selected to the preseason All-Big Sky team, the most in Choate's tenure as coach: Konkol, Filer, pass-rush stalwart Bryce Sterk, Troy Andersen (at fullback) and left tackle Mitch Brott.
Alleyne would have loved the preseason recognition, but he envisions brighter days ahead for both himself and the Bobcats when the pads start popping for real.
"I'm not going to let that bother me," he said. "It's a preseason thing. It's right now. It ain't the season. I know who I'm better than. We'll see when the season comes around. Our goal is to be Big Sky champions.
"I'm just happy I'm here at Montana State, trying to become the best leader I can be and the best football player I can be. I came over here and I don't regret it at all. Sometimes you've just got to explore something different."