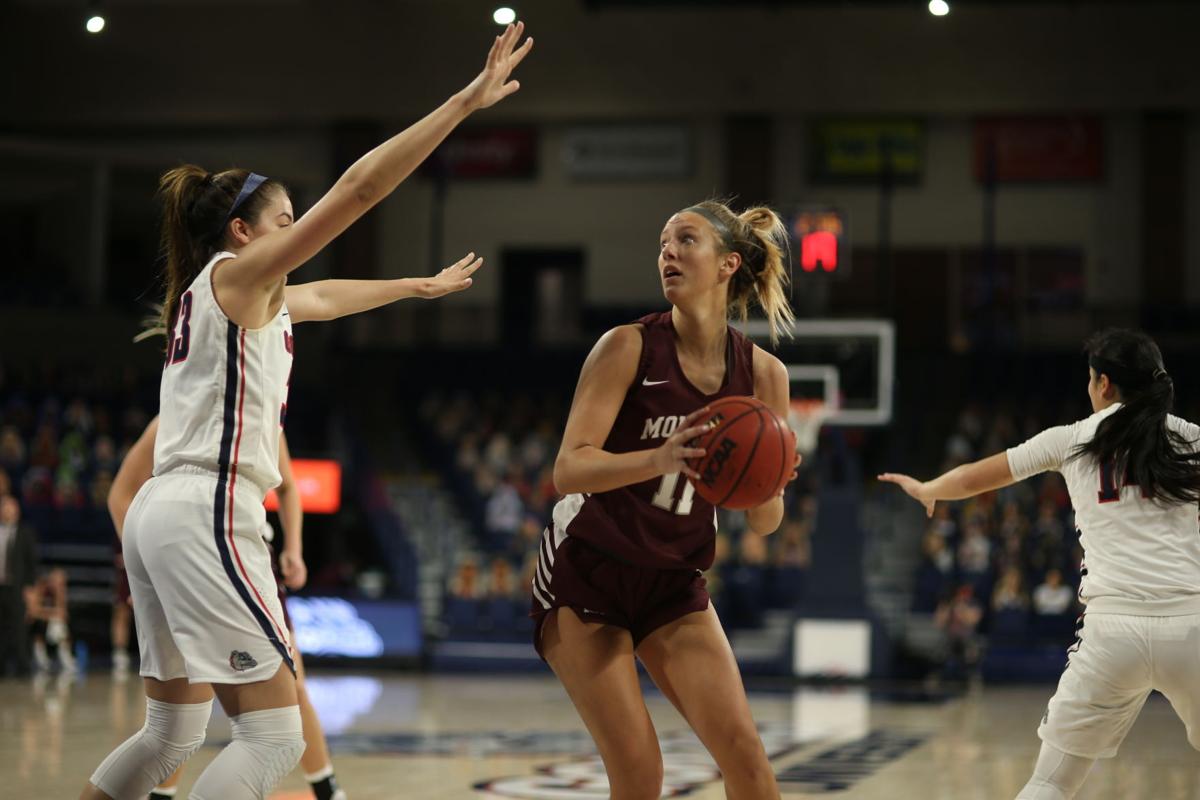 MISSOULA — Two weeks into the month of January, there's still a lot of questions yet to be answered for the Montana women's basketball team.
The Lady Griz have played only two Big Sky Conference games — four fewer than frontrunner Idaho State. They beat Northern Colorado on Jan. 1 thanks to a double-double by Abby Anderson and two days later they lost to the Bears, in part because Anderson was sidelined with a hamstring issue.
Which leads to one undeniable truth: Montana is markedly better with the 6-foot-2 Anderson roaming the middle. And fortunately for the team, she'll be on the floor Thursday when it plays Northern Arizona at 6 p.m. in Flagstaff.
"There's no question she brings an element to our game when we have her. She's a presence on offense and defense," Montana coach Mike Petrino said.
"She can score but defensively she alters a lot of shots. She doesn't block all of them. She alters them. And she's a big rebounding factor. It's great to have her back."
Northern Arizona coach Loree Payne singled out Anderson this week as a player she's wary of with her size and agility.
"She's a very efficient post player and effective for them," said Payne, a Havre native. "I think us being a little thin in the post in our last few games has presented a challenge with teams who do have effective post players."
One habit the Lady Griz (5-5) will try hard to break Thursday is starting slow on the road. They spotted Northern Colorado a 24-point lead in the first half in a Jan. 3 road loss and had to overcome a 19-point deficit in the second half when they beat the Bears in Greeley on New Year's Day.
They haven't played on the road for 12 days, giving them plenty of time to figure out what they need to do better. Montana did have a non-conference home tune-up game against NAIA College of Idaho on Sunday, but the level of competition will ramp up considerably starting Thursday.
"We need to have a more focused mindset going into (Thursday's) game, really dialing in to what our game plan is," said Anderson, who told the Missoulian she's at 100 percent physically. "I think we're relentless and nobody wants to lose and that's our mindset going into Thursday's game.
Montana's starting point guard, Sophia Stiles, says there's one thing she learned for sure in her team's conference overtime loss two weeks ago: stay out of foul trouble early. She played only 31 of 45 minutes because of foul trouble while teammates Madi Schoening and Kyndall Keller fouled out and Hannah Thurmon was limited to 34 minutes because of foul trouble.
"Don't pick up any cheap ones, that's first and foremost," Stiles joked. "You just have to play solid D and don't do anything too risky. I don't want to be on the bench."
Northern Arizona (5-5) had an impressive start in Big Sky play, winning twice at Eastern Washington and knocking off Idaho at home. Since then the Lumberjacks have lost three in a row, including two at Idaho State last weekend.
In the Jacks' defense, Idaho State is picked to win the Big Sky. And they could have easily won in Pocatello last Thursday, dropping a narrow 70-66 decision.
"The biggest thing is us getting healthy. We have yet to have a game where we have been firing on all cylinders health-wise," Payne said. "Obviously Montana is a good team. They went and took one on the road from Northern Colorado. They are always a tough team to face and for us. The thing that we learned through the past couple games are just being a little more consistent."
Anderson is one of two players Payne is wary of with the Lady Griz looking to avenge a Big Sky tourney loss to the Jacks last March.
"Stiles has given them a lot of great things. She's a really fast guard and can score pretty much anywhere on the court," Payne said. "For us, the biggest thing is containing their penetration and making sure we are contesting on outside shots."
Montana will need to keep an eye on NAU upstart Jacqulynn Nakai, who transferred from Nevada this past summer. The 5-foot-7 senior guard, who hails from Flagstaff, leads the Big Sky in scoring at 17.6 points per game. Nakai has hit 17 triples this season. 
"They play well in transition and have an up-tempo, explosive offense and are very aggressive off the dribble," Petrino said. "They don't have a big lineup but they are explosive." 
Notes: Northern Arizona is 2-1 at home this season. The Jacks' most eye-opening performance came at No. 11 Arizona on Nov. 29. NAU trailed by just six at halftime before fading in a 76-63 loss ... NAU leads the Big Sky in scoring at 71.5 points per game. Montana ranks sixth at 67 per game ... NAU's Khiarica Rasheed was named Big Sky preseason MVP but she has only appeared in three games because of injuries. She did not play in Saturday's game at Idaho State ... Montana junior Nyah Morris-Nelson missed Sunday's game with a non-COVID-related illness but she'll be back for Thursday's game. 
Bill Speltz is Missoulian Sports Editor and has served as Sunday columnist the past 15 years. Do you have a story idea? Email Bill at bill.speltz@missoulian.com.