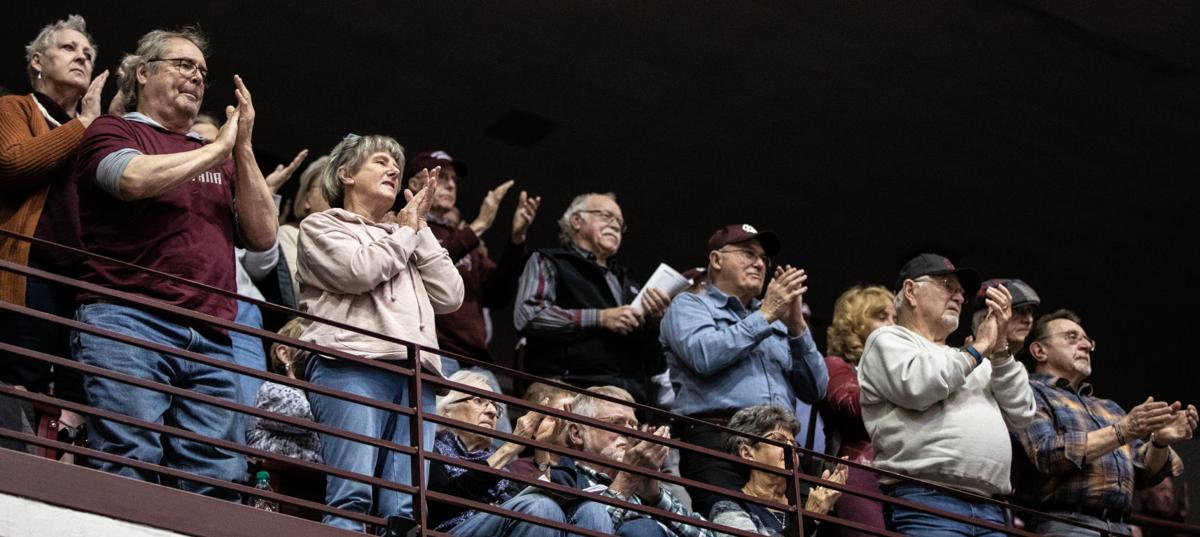 MISSOULA — Their loyalty is unlike anything I've seen in college athletics.
Like a 10-cent bottle of Pepsi, they're akin to a refreshing trip back in time. To before fickle fans and struggling coaches came and went in NCAA Division I sports as fast as falling snow in a Missoula March.
Last weekend, the Montana women's basketball team closed out its home slate in front of more than 3,000 fans. It seemed appropriate since the team averaged over 3,000 this season.
Amazingly, the Lady Griz averaged more fans this year than in 2014-15 when former coach Robin Selvig led them to the NCAA tourney. They also averaged over 3,000 in their past two losing campaigns — more than they averaged in Selvig's final season at the helm (2015-16).
It's uncanny. And part of what makes it all heartwarming is that players like Lady Griz senior leader McKenzie Johnston understand how precious the relationship is between Lady Griz fans and team members.
"We've had some hard times here and you guys really stuck with us," Johnston said while fighting back tears following last weekend's senior day win. "I can't thank you enough for all you do.
"Playing in this arena is like nothing else. Nothing compares no matter where we go. We're going to miss playing here more than anything. Love you all."
The Montana women averaged exactly 3,062 this season. That's 740 more than the Montana State women, who set a record for Big Sky Conference wins (19) and outdistanced everyone else in the league by a whopping four games in the standings.
If you thought maybe the Lady Griz attendance was going to drop after Selvig departed, you were wrong. In Shannon Schweyen's four seasons at the helm, the team has averaged 3,023 per home game. That's roughly 80 more than Selvig's teams averaged collectively in his final three seasons, even though he led UM to the NCAA tourney and won a home WNIT game.
But enough about numbers.
Montana athletic director Kent Haslam has an interesting decision to make at the end of this season. It's a complicated issue and a tangled web.
Back in June, Schweyen agreed on a one-year contract extension for her fourth season. Now we're left to wonder: Will Haslam offer the same this spring after Schweyen guided the Lady Griz to their first winning campaign since Selvig left? Will he offer more years? Will he go a totally different direction?
The fans, most of them anyway, have stuck with Schweyen. That's worth noting. Many would love to see her get a chance to coach next season's group, which will include daughters Jordyn and Shelby Schweyen and the prized recruit coach Schweyen and her staff landed, Jamie Pickens.
The question of whether or not Montana will keep coach Schweyen has been asked of me many times this winter by fans. The frequency picked up after the Lady Griz suffered losses to archrival Montana State and after the team's final homestand, which included wins over Northern Arizona and Sacramento State.
Honestly, I do not know the answer. My best guess is this is coming right down to the wire, making for some mighty intense drama at the Big Sky Conference tournament this week in Boise, Idaho.
If the veteran-laden Lady Griz reach the semifinals, I'm guessing Schweyen will be back for 2020-21. If not, it's anybody's guess. It boils down to whether Haslam is satisfied with what he's seeing on the floor.
It's the elephant in the room that most of the local media is not talking about. But careers are at stake. The loyalty of some Lady Griz fans may be at stake.
Haslam has a track record of making wise decisions. He replaced Bob Stitt with Bobby Hauck as head coach of the football team. He hired men's hoops guru Travis DeCuire and he hired Jamie Pinkerton as softball coach. He then hit another home run by hiring Melanie Meuchel to replace Pinkerton.
I'm putting my faith in Haslam on this one. He's a fair, cerebral leader with deep respect for Lady Griz tradition and a good feel for what is happening in his athletic programs.
May the force be with you, Kent.
And long live Lady Griz Nation.
Bill Speltz is Missoulian Sports Editor and has served as Sunday columnist the past 14 years. Do you have a story idea? Email Bill at bill.speltz@missoulian.com.
Be the first to know
Get local news delivered to your inbox!