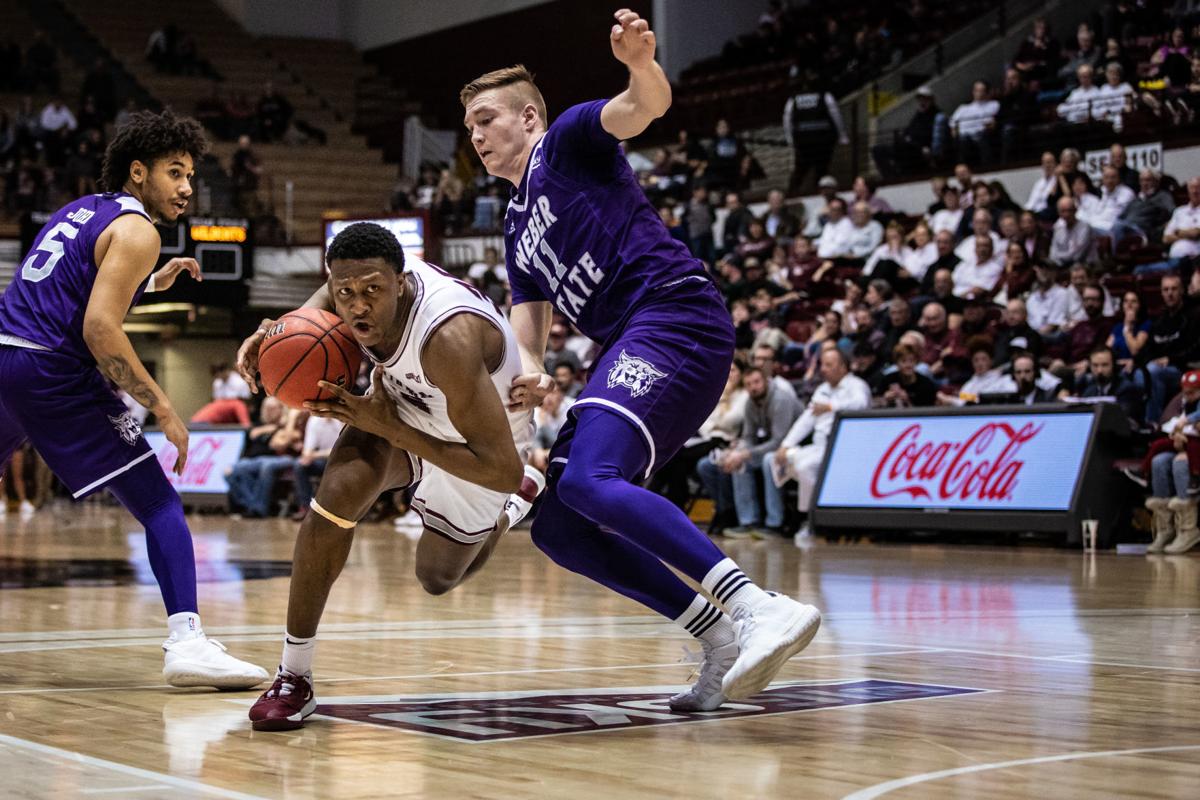 MISSOULA — Coming off its best defensive performance in nearly a decade — at least in terms of points allowed — the Montana men's basketball team will have a quick turnaround before it faces another dangerous offense.
Idaho State has lost nine straight games and languishes at the bottom of the Big Sky with a 6-17 (3-11 BSC) record, but might just be a little bit better than its record shows.
The Bengals' last five losses have all been by five points or less and the team has lost seven games by six points or less this season. The Bengals are a dangerous squad and showed it in the Jan. 23 meeting between the two teams in Pocatello.
"We took our foot off the gas and they had momentum at the end of the game. They won the first four minutes and they won the last four minutes of that second half," Montana head coach Travis DeCuire said after the Grizzlies' win over Weber State. "I think our guys are going to have a higher level of respect for them and I think they're going to be dialed in."
With Montana leading by as many as 14 in the second half, a flurry of shots helped bring Idaho State all the way back to a 54-54 tie with 11:26 left in regulation.
Montana responded with a personal 5-0 run from Kendal Manuel and while the Bengals managed to close the gap to one, they never took a lead. The Grizzlies dropped their next two games following the win over Idaho State, but have since responded with their second four-game win streak of the season.
It's no wonder that Montana, especially its upperclassmen and coaching staff, are well aware nothing is a given at this point in the year, as witnessed by lowly Idaho's stunning win at second place Eastern Washington on Thursday night.
"We've just got to continue to look at it game by game. There's a lot of season left and anything can happen." Manuel said. "We're going to have to keep it simple, do what we've been doing the last three games and just go out and defend and hopefully at the end of the year we're in first place still."
A game up in the loss column and with a two-game lead in the win column, Montana is currently in a good place as the league leader.
Saturday's game against the Bengals will be Montana's last home game until March 5 and a tough road slate follows. Montana State, Northern Arizona and Sacramento State are all on deck and the Grizzlies will be looking for season sweeps against each of those teams.
Northern Colorado and Southern Utah round out Montana's regular-season slate, with each of those games coming at home.
It will not be a particularly easy end of the season for the Grizzlies, but they do have a lead and a little bit of wiggle room. There is not a whole lot more a team can ask for as it hosts a Bengals squad that seems to be close to breaking through for a win.
"The biggest thing for us, I wasn't as nervous going into (the Weber State) game, not saying I was confident we were going to win, but I was confident my team would show up with a high level of intensity because we lost to them," DeCuire said on Thursday. "Idaho State, we've got a very similar feel."
Notes: General admission tickets in Montana's final three games will be $2 ... Sophomore Montana forward Yagi Selcuk did not play on Thursday following a dental procedure ... Eddy Egun scored seven points in a return from a minor ankle injury ... Idaho State has four players averaging in double figures, led by Tarik Cool's 13.1 points per game. 
Jordan Hansen covers a bunch of stuff for the Missoulian and 406 Sports. Shout at him on Twitter @jordyhansen or shoot him an email at Jordan.Hansen@406mtsports.com
Be the first to know
Get local news delivered to your inbox!