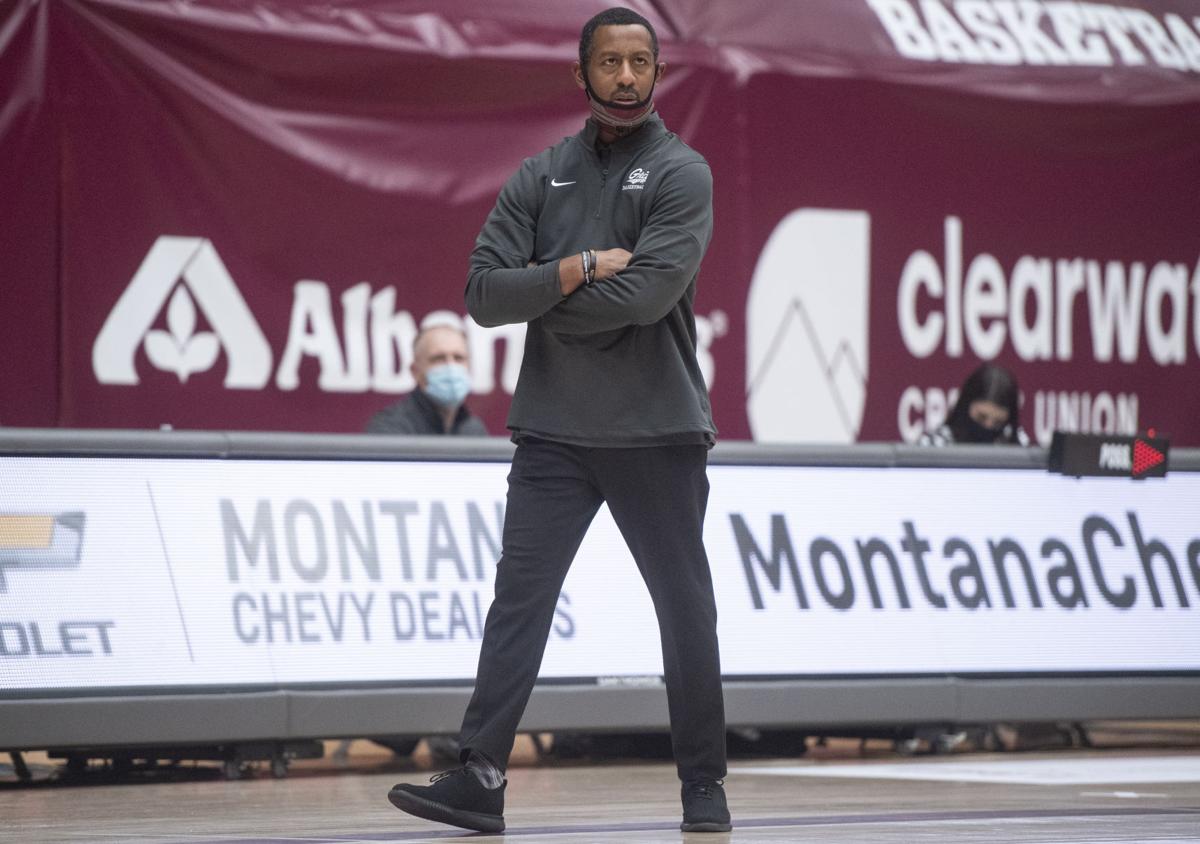 MISSOULA — While Montana might not end up getting that coveted rivalry matchup with Montana State, the Grizzly men's basketball team is back and ready to play, with two games at Portland State this week.
A positive test in the UM program forced the cancellation of two games against the Bobcats, joining several other Big Sky teams who all had games canceled due to positive tests last week.
One Northern Colorado-Northern Arizona game was canceled due to COVID, Idaho State and Southern Utah will not be played this week, also due to the virus, Eastern Washington and Sacramento State were delayed because of a positive test, the Brawl of the Wild, as mentioned, was not played and Portland State had a game canceled against a non-D1 foe due to weather. 
Due to contintinuing issues, the series between Northern Arizona and Sacramento State will not be played and neither will two games between Northern Colorado and Southern Utah.
"Teams are in and out of rhythm, for a lot of reasons, I think right now," UM head coach Travis DeCuire said on Wednesday. "Through the pandemic, it's just the circumstances have been advantageous to the teams that return a large nucleus of players that ran the floor for them last year. Those teams are just older and more mature and have maybe handled the adversity a lot better than the younger teams.
"That's what I see nationally, not just in our conference."
The Montana hoops team was in isolation last week and did not have a chance to have practices together.
But both schools should be on somewhat equal footing — UM has not played since Jan. 30 and Portland State has not played since Jan. 26.
"I think this time of year, with what the guys have been through, with what all these young men have been through, actually it's not a bad time to refresh your mind a little bit and hit the reset button," DeCuire said. "Hopefully we were able to do that and see some positives coming out of that."
The Grizzlies enter the week 7-8 on the season, with a 3-5 mark in Big Sky play. UM has yet to sweep a two-game series in Big Sky play this year, though the Vikings have struggled as well and enter the first game 4-8 with a 2-4 mark in conference play.
It could be an opportunity for Montana to rise in the standings and assuming no game against MSU is added, there are just 10 scheduled regular-season games left. The Grizzlies would certainly like to pick up some wins. They have yet to meet the NCAA tournament threshold that requires 13 games to claim a spot in the national tournament, should they happen to win the Big Sky tournament.
Montana has played 12 so far. The Grizzlies schedule also gets more difficult in the coming weeks. Two contests at home against Weber State, a home-and-away split with Eastern Washington and a trip to Idaho State are all on tap for this month.
All of those games will be difficult, but the team feels like they're improving. A double overtime contest where UM was wracked with foul trouble is the only thing preventing them from being a .500 team, and UM's other four league losses have come by a combined eight points.
"I think we've been playing better. Each week, we're growing up a bit," DeCuire said. "Unfortunately that's not showing up on the win-loss column like we would like. But I think we're doing a better job of finishing ballgames.
"If we continue with progress, we will be where we want to be for the late stretch of conference. Anybody can beat anybody."
Jordan Hansen covers a bunch of stuff for the Missoulian and 406 Sports. Shout at him on Twitter @jordyhansen or shoot him an email at Jordan.Hansen@406mtsports.com