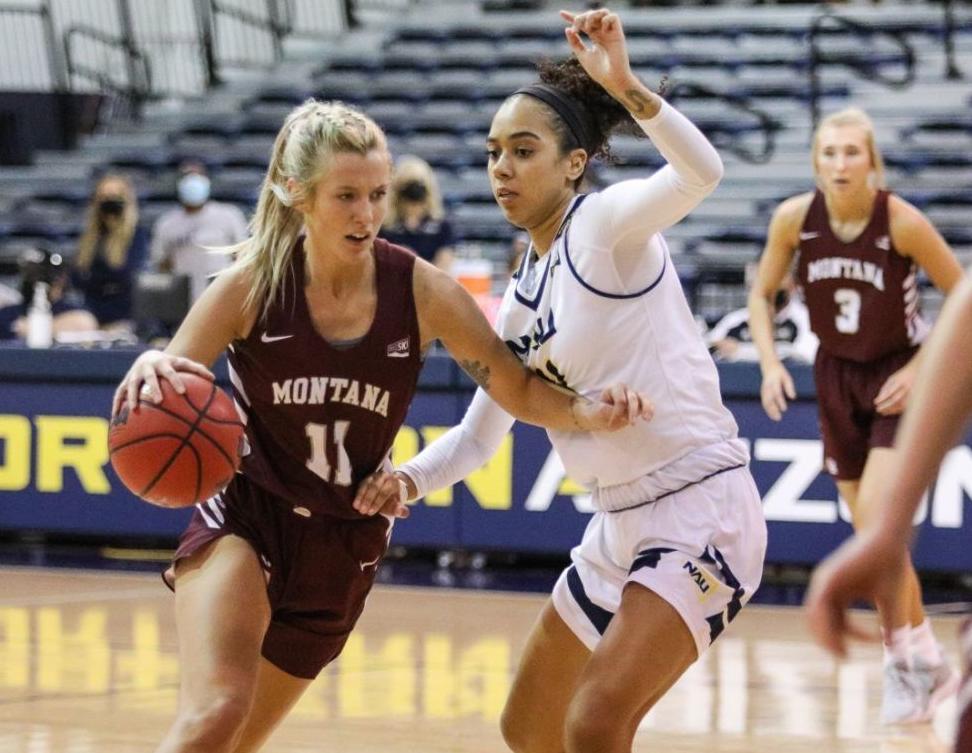 MISSOULA — Sizzling shooting sparked the Montana women's basketball team to its biggest win of the young season Thursday night.
The Lady Griz hurt Northern Arizona from the inside, outside and foul line in an 83-74 road victory. Montana moved to 2-1 in Big Sky Conference play in shooting 55 percent from the floor (31 for 56).
"That was a heck of a basketball game — high scoring and just a great effort by our entire team," Montana coach Mike Petrino told KMPT radio. "Really proud of our kids, the focus they had to get ready for this game. We had things go wrong, breakdowns, but we never rattled."
Carmen Gfeller paced the Lady Griz (5-3) with 21 points and came up big when it mattered most. Northern Arizona (3-4, 5-6) took a 74-73 lead with 2:04 left on a layup by Big Sky preseason MVP Khiarica Rasheed, but Gfeller answered with the biggest shot of the night, a 3-ball that gave her team the lead for good.
Gfeller's bucket was the start of a 10-0 run to close out the game for the visitors. The Jacks missed their last four shots, in large part because of Montana's hustling defense.
"We did a great job of staying composed, then we had some great stops," Petrino said. "... Sophie (Stiles) took a leadership role in helping us have a better start tonight. Jordyn (Schweyen) was huge in the first half with three threes. Then Abby (Anderson) had a heck of a game and Carmen was 9 for 12 shooting."
Four Lady Griz scored in double figures. Joining Gfeller was Anderson with 15 points, Stiles with 14 and Madi Schoening to go along with her nine rebounds. Schweyen added nine points.
"It was two tough competitive teams battling it out," said Petrino, whose squad dominated the boards, 41-25. "NAU is a very good team. They've had a lot of injuries but they were at full strength tonight. It's a great team win."
The Jacks, who were picked to finish third in conference, shot just 39.4 percent from the floor (26 for 66). They struggled to stop Montana inside as the Lady Griz owned a 36-22 edge in points in the paint.
The loss was Northern Arizona's fourth in a row after the team started Big Sky play with three straight wins.
Montana set the tone early, using a 3-ball by Schweyen to build a 16-8 lead. But the Lumberjacks rallied and knotted the score by the end of the period, 21-21, despite Montana's 8-for-12 shooting and seven points by Gfeller.
Northern Arizona seized a 35-31 lead with 2 minutes left in the second quarter, but Montana responded in a big way with a 9-0 run to close out the half. Gfeller and Schweyen each had nine points in the period and Schoening piled up a team-high five rebounds in the half.
Montana's breakout shooting performance continued in the third quarter and the team took a 65-53 lead into the fourth as Gfeller and Anderson pushed their point totals to 14 apiece. Then the Lady Griz stalled temporarily, allowed the hosts to rally to a 74-73 lead.
That set the stage for Gfeller's critical triple on an assist from Schweyen with 1:43 left. Stiles chipped in with a big layup off a pass from Anderson to make it a two-possession game with 51 ticks left and the Lady Griz won for the third time in four games.
Montana will shoot for a regular-season sweep of the Lumberjacks when the teams play at 10 a.m. on Saturday.
Bill Speltz is Missoulian Sports Editor and has served as Sunday columnist the past 15 years. Do you have a story idea? Email Bill at bill.speltz@missoulian.com.