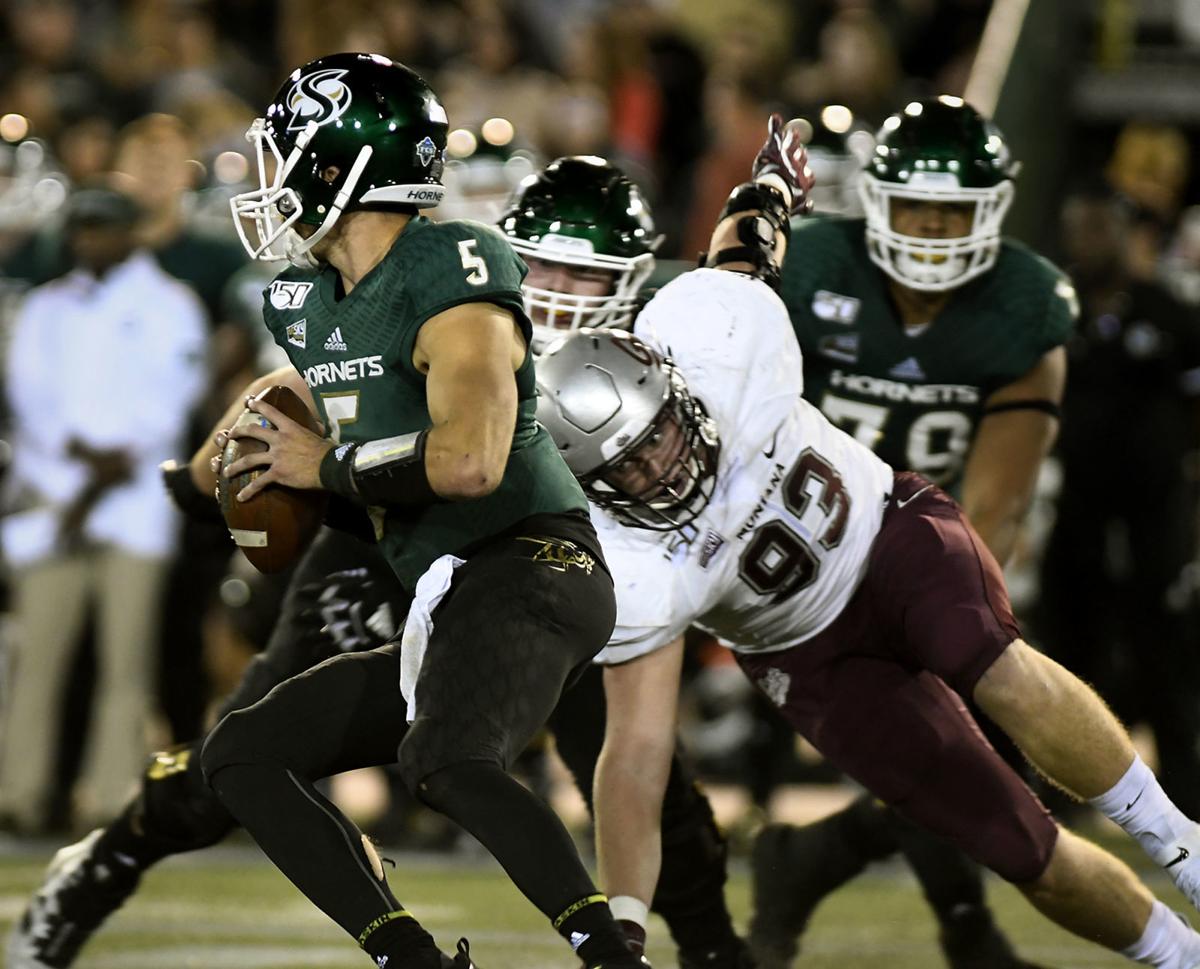 MISSOULA — Montana's Braydon Deming is the third-most experienced Grizzly on the defensive line, having played in 18 career games — and the Billings West grad is only a sophomore.
The D-line is populated by underclassmen or first-year transfers who hadn't played in this defense much or at all coming into the season. The group has started to find its footing lately, especially with helping to create a disruptive presence the past two games.
Deming has started a career-best five games this season, including each of the past three, after starting just once in 2018. The 6-foot-4, 258-pound defensive end has totaled nine tackles, two tackles for loss and one sack in seven games. He had 20 tackles, four tackles for loss and one forced fumble last year when there was less depth.
Three games ago, he became the first non-FBS player to sack Sacramento State quarterback Kevin Thomson this season. The next week, he brought down Eastern Washington quarterback Eric Barriere for a loss of 17 yards.
In their most recent game, the Griz defense allowed a season-low 321 total yards and 43 rushing yards against Portland State. With the improving physical play up front and success blitzing, Montana ranks second in the conference in rushing defense (111.8 yards per game) and third in sacks (15 total) during league play.
"I think we have a physical football team," Montana coach Bobby Hauck said. "... I think we play a physical brand of football, and we did on Saturday (against Portland State)."
Deming sat down with 406mtsports.com to talk about his season and the improving defensive line.
Q: What's impressed you the most about the D-line the past few weeks?
A: It's not just the D-line. It's the whole defense. We're playing hard. The effort is relentless and we're just overwhelming teams with our effort.
Q: Why have you guys embraced the physicality up front?
A: Coach (Barry) Sacks and (Kent) Baer both preach physicality and effort. Effort's a big thing for us. Showing that is where we make our plays, with effort plays.
Q: Why has this group had success getting to the quarterback and slowing down the run?
A: Coaches have put good game plans together for us. We've gotten a pretty good beat on teams. And then again, our effort shows. That's one of the things that helps us with our play.
Q: In your role on the line, how would you describe yourself as a defensive lineman now in year two?
A: I'd explain myself as I'm a leader under Jesse (Sims). I believe that. I can help out any way I can. I like to think I lead by example and I'm a good person for the underclassman to watch if they want to see it done right.
Q: You mention Jesse, so what are the biggest lessons you learned from him over the years?
A: Jesse's awesome. He's a great teammate. He's tough as nails. Nothing fazes him. You don't ever hear him complain. So, a big thing to emulate from him would be just to keep your mouth shut and grind.
Q: You guys also have Alex Gubner on the line, already with three interceptions, how excited do you guys on the D-line get to see that?
A: That's super cool. With our plays and getting the chance to drop back into coverage every now and then, and to get rewarded with the quarterback not seeing us and throwing it right to us, it's cool. It's awesome that Gub's got three of them. I's jealous. I wish I got one. I'm waiting for my turn to get one. He's awesome. Seems to be in the right place at the right time. It's cool. I think we're more excited for him than he is when he gets them.
Q: What's impressed you the most about some of the freshmen like Gubner, Milton Mamula and Jacob McGourin on the line?
A: It's promising. We're young, but we're getting it done right now. Leadership by Jesse and Vika (Fa'atuiese), and then got to give credit to coach Sacks for getting us all ready. We're young, but we're feisty. We get after it.
Q: What's coach Sacks like to be around as such an energetic guy?
A: He's awesome. He's something else. Energy-wise, you don't have more than him ever. He gets after it. He gets after us. He gets after the team. He expects a lot out of us. He makes us work hard and makes sure we come ready to play.
Q: Some fun ones to close. What's your favorite type of music to listen to?
A: I listen to a lot of country. That's about the only thing I listen to right now. I like it all.
Q: What's your favorite thing to do outside of football?
A: Just hanging out. Watching movies is fun. I hunt when I can. Play a little basketball here and there. Just hanging out and letting my mind go.
Q: If you could travel to any time in history, where would you want to go?
A: Maybe go back to the first football game played with Rutgers and Princeton (on Nov 6, 1869). Just see how the game started out compared to what it is now.
A: Just the one I got when I got here. I became pretty good friends with (former Griz defensive tackle) Zach Peevey, the guy that wore it before me, before I came in. There was a connection there, so I kept it.
Q: How did you become friends with Zach?
A: Just committing to the Griz and being part of that brotherhood, I got to know some of the older kids. Just made connections there. It helped that I had his number, so he approached me and made a connection there.
Q: Lastly, what's it been like playing for Bobby?
A: It's been awesome. We're climbing for sure, getting better each day. It's a big tribute to him for coming in and just changing the culture. Along with all the coaches, they expect a lot out of us, and they push us to be great. I think we respond very well to it, and it shows.
Frank Gogola covers Griz football and prep sports for the Missoulian. Follow him on Twitter @FrankGogola or email him at frank.gogola@missoulian.com.
Be the first to know
Get local news delivered to your inbox!