MISSOULA — Montana senior shortstop Delene Colburn was named first team All-Big Sky Conference Tuesday in voting by the league's coaches.
Colburn was one of six Grizzlies to receive recognition.
Senior first baseman Ashlyn Lyons and senior center fielder MaKenna McGill were voted second team. Senior catcher Madison Saacke, senior second baseman Gabby Martinez and junior pitcher Colleen Driscoll made the list of players who were named honorable mention.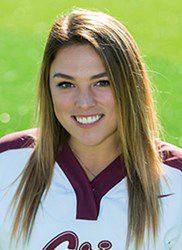 Colburn ranks in the top five in the Big Sky in batting average (.359), hits (56), runs (38), RBIs (38) and home runs (9) for a team that finished fifth in the regular season standings and will be the No. 5 seed in this week's six-team league tournament at Ogden, Utah.
A starter in every game Montana has played in its four-year history, Colburn has career numbers that rank highly in the Big Sky, whose own history is nearly as short. The league has been holding a championship tournament for softball since 2013.
"This is recognition that Delene is not only one of the best players in our conference at her position but one of the best to ever play in the Big Sky," said Grizzly coach Melanie Meuchel, who helped recruit Colburn as part of her program's original signing class of six back in 2013.
Colburn is Montana's sixth first-team selection, joining Lexie Brenneis, Bethany Olea and Sydney Stites in 2016, and Olea and Michaela Hood last spring.
McGill was voted second team All-Big Sky for the third time in her career. Lyons made second team after collecting honorable mention accolades her first three years.
McGill was second team as a freshman and sophomore but missed the final 34 games of the 2017 season with a knee injury. She had to watch from the sideline as Montana made a run to the NCAA tournament.
She was cleared to return to the field shortly before the Grizzlies opened their season at Grand Canyon's tournament in early February and has had an I-told-you-I'd-be-back final campaign.
McGill is batting .278 and ranks second behind Colburn in runs (31) and behind Colburn and Lyons in hits (45). She has a .357 on-base percentage, batting in the leadoff spot the last 48 games.
Lyons has gone from very good, which she was as a freshman, sophomore and junior, to great as a senior, a jump recognized by the league's coaches.
A career .300 hitter going into her senior season, she has not only hit for a higher average this spring (.344), she is swinging with power.
Nineteen of the 40 extra-base hits she's collected in her career have come this season, and she has six home runs after entering the season with just one. She has a slugging percentage of .544, a huge increase from her previous high of .385, which she set as a freshman.
She leads the team in multiple-hit games with 19, five more than any of her teammates.
Saacke was named honorable mention for the third time in her career, Martinez for the second time.
Driscoll's record of 7-8 doesn't stand out, but her ERA of 2.91, which ranks sixth in the Big Sky, does, as does the fact she's taken on a larger role the last month in the absence of Michaela Hood.
Hood, first-team All-Big Sky last spring as a freshman, hasn't pitched in nearly a month and hasn't won a game since April 7. With Hood injured, Driscoll made double starts in Montana's three-game series at Northern Colorado and last weekend at home against Sacramento State.
Driscoll was never better than she was on Friday, when she out-dueled Big Sky Pitcher of the Year Celina Matthias. Driscoll threw her third shutout of the season as Montana knocked off the Big Sky co-champions 5-0, with Driscoll needing just 90 pitches, 69 of which were strikes.