MISSOULA — Sophia Stiles shot the ball more Thursday night than in any other game this season.
The strategy worked wonders.
Stiles scored a career-high 27 points in leading the Montana women's basketball team to a thrilling 76-73 home win over Idaho in front of 2,309 fans. The Lady Griz snapped a two-game skid in improving to 8-6 in Big Sky Conference play and 15-8 overall.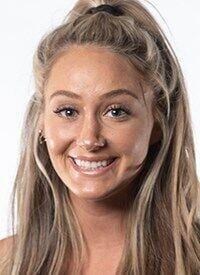 "I told Sophia the last few days, 'You're going to have to be aggressive for us,'" said Montana coach Brian Holsinger, who was without his leading scorer, injured guard Sammy Fatkin, for the fourth straight game. "I was proud of her. I put the pressure on her and she stepped up."
Stiles, a redshirt senior point guard from Malta, was 12 for 21 from the floor and 3 for 3 from behind the arc. Teammate Kyndall Keller, a sophomore guard from Havre, enjoyed her best Big Sky Conference game, tallying 16 points on 6-for-11 shooting off the bench.
"Kyndall (Keller) stepped up big," Holsinger said. "Credit to her, and she's defending like crazy. We have to have people step up off our bench. You have to have that kind of effort." 
Senior Carmen Gfeller posted a double-double for Montana (11 points, 10 rebounds) and was the hero late. With her team clinging to a 72-71 lead, she came up with a critical steal off a bad pass by Idaho's Paris Atchley with 4.8 seconds left.
Gfeller hit two free throws with 3.7 ticks left to make the score 74-71. Then after Idaho cut its deficit to 74-73 in a pair of foul shots, Gfeller hit another two free throws with 2.2 ticks left.
Thursday's game featured 14 ties and 21 lead changes. The most important bucket came from Stiles with 2:05 left because it gave the Lady Griz a 72-68 lead and put the Vandals in desperation mode.
"We picked a bad time to go cold from three," Idaho coach Jon Newlee said. "I think we were 1 for 17 in the second half from three and they were the same looks we were making in the first half and the kids I want shooting them.
"Obviously a couple of those go in and it's a different ball game. But you know, Stiles had a great game. I thought she played extremely well. They had some other players step up. It was a tough, physical game on both ends and it could have gone either way."  
Stiles was the catalyst in helping the hosts build a 13-8 lead early, scoring 10 points on 4-for-4 shooting with two triples. Idaho settled in and used nine points by Sydney Gandy to knot the score at 20-20 heading into the second frame.
The second quarter was back-and-forth and it looked as though Montana was going to head to halftime with a lead after Kylie Frohlich hit a bucket at 1:47 to give the hosts a 38-34 advantage. But the Vandals finished the half with a 5-0 run, sparked by Tiana Johnson's triple, and took a 39-38 edge into intermission.
The third quarter was back and forth, and Montana emerged with a 56-54 lead thanks to a Stiles 3-ball with 29 ticks left in the period. Stiles totaled 23 points through the first three frames, hitting 10 of 15 shots from the floor. It helped make up for Montana's 14 turnovers and set the stage for the crowd-pleasing finish.
"It definitely helps boost our confidence a little bit," said Keller, whose team traveled to Portland on Friday for a game at Portland State Saturday. "We just have to keep fighting.
"We came out with an energy and an urgency tonight. We wanted to win. We love playing in Dahlberg Arena in front of our fans. It's a huge win."
On Saturday, Montana will likely be without Fatkin (ankle) again. She did not even take part in pregame warm-ups Thursday night. 
The Lady Griz may not need her against a Vikings team that has lost 11 in a row and has endured the postponement of eight games since Dec. 30. Portland State lost at Northern Colorado by a whopping 48 points on Feb. 7 and in the Viks' most recent game, on Thursday night, they dropped a 94-66 decision at Northern Arizona. 
It marked Portland State's first game in 10 days.
"No excuses, for us. We didn't execute or match their intensity early," PSU coach Chesley Gregg said after the loss. "We have to clean up turnovers and rebounding, no question. Back to work Friday to prep for the next one."
Notes: Louise Forsyth, a Gonzaga transfer whose previous high this season was 18 points, scored 29 points on 21 shots in 28 minutes for Idaho (5-8, 6-16) ... Abby Anderson scored 10 points for Montana, going 6 for 6 from the foul line ... The Lady Griz owned a 45-30 edge in rebounds but turned the ball over 15 times to Idaho's four times.
Bill Speltz is Missoulian Sports Editor and has served as Sunday columnist the past 15 years. Do you have a story idea? Email Bill at bill.speltz@missoulian.com.