CHENEY, Wash. —  A career night for true freshman DJ Carter-Hollinger helped the Montana men's basketball team past Eastern Washington 90-63 Thursday night at Reese Court.
Carter-Hollinger recorded 20 points and 14 rebounds. It was a career high in both points and rebounds for the 6-foot-4 forward from El Cajon, California, who also notched a personal-best four blocks. The double-double was Carter-Hollinger's second of the season.
"He came in and was ready to go," Montana head coach Travis DeCuire told KGVO radio after the game. "The way he was bouncing around, his defense, I think, kinda got him going. The blocked shots, deflections. They decided not to guard some guys and just leave us open … we've got to have another guy step up sometimes."
Early in the first half, Montana went on a 10-2 run to take a 17-12 lead which was keyed by a pair of 3-point shots from Jared Samuelson and Carter-Hollinger. Mack Anderson and Timmy Falls both had tough shots during the burst, which helped the Grizzlies throw an early punch.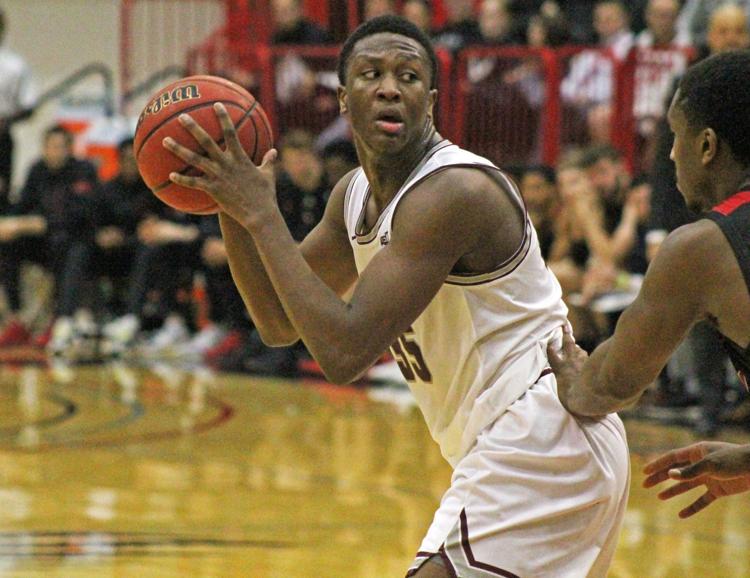 The Eagles never really recovered. Trading a few baskets through the middle of the first half, Montana went on another quick 6-0 binge to push the lead to nine. Eastern Washington got as close as seven, but Montana led 46-28 at the break.
Ranking third in the country in points per game coming into the contest, Eastern Washington was held 22.9 points under its season average.
"We had talked about minimizing the threes, ball pressure, taking them out of their offense," DeCuire said. "If they can't rack up 3-point attempts, it's difficult for (the Eagles) to score. They average 30 attempts and we held them to 14.
"That's where you wipe points off the board."
You have free articles remaining.
Eastern Washington did not fare much better in the second half against the tough Montana defense. The Eagles shot 11 of 28 from the field and made just one of their six 3-point attempts over the final 20 minutes. Jacob Davison and Mason Peatling were the only players in double figures for the Eagles, scoring 15 and 12 points, respectively.
Eastern Washington had 14 turnovers and were outrebounded 37-29 by Montana.
Sayeed Pridgett had 18 points, eight rebounds and eight assists in a near triple-double. All but two of Pridgett's points came in the second half.
Kendal Manuel added 14 points in an efficient 6-of-9 shooting performance while Timmy Falls had 12. Montana shot 32-for-59 (54.2%) from the field and hit 6 of 12 3-point tries.
It was the first win for the Grizzlies at Reese Court since Jan. 7, 2017 and just the 11th time Eastern Washington (9-6, 2-2 Big Sky) has lost on its home floor over the past five seasons. Montana (8-8, 4-1 BSC) remains alone at the top of the conference standings with the win.
"I thought (Northern Colorado) was a statement opportunity and we lost that," DeCuire said. "This is a point in time where you're a little desperate and they were too. Eastern hadn't played great, they had so many close games with teams they thought they should blow out, so if we could come in here and pull this one off, we're still in first place, we push another team behind us and maybe people starting getting a little nervous.
"We need people to be a little nervous. We don't need them to have too much confidence."
NOTES: Montana point guard Josh Vazquez left the game late in the second half with what appeared to be a shoulder injury and did not return ... Montana is now 24-25 in Cheney all-time ... The Grizzlies are one of three teams in the Big Sky with just one conference loss ... Jared Samuelson only played two minutes in the second half for Montana ... Mack Anderson had a season-best eight points on five shots.