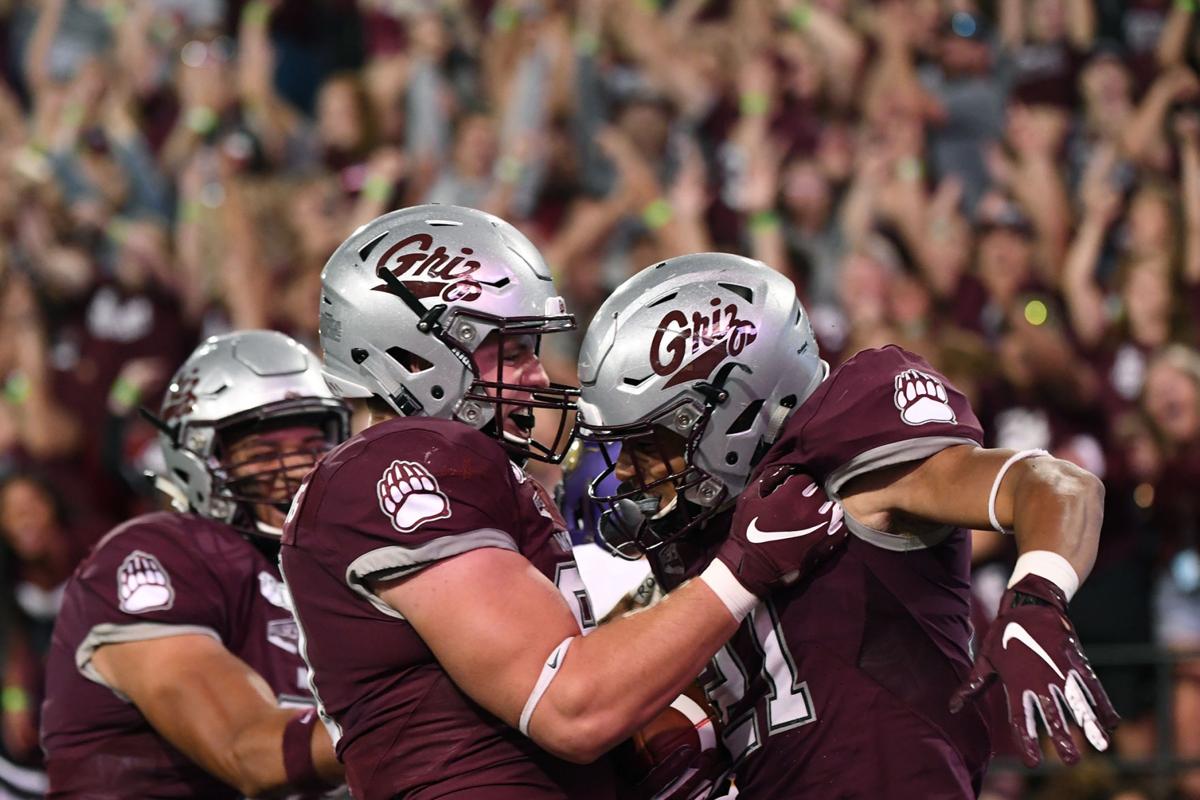 MISSOULA — The Montana football team is planning to play all 10 games it has on its schedule this fall — if there's a fall football season at all.
That's a big "if" because numerous unknowns about the viability of playing fall sports remain, especially for football, which is in limbo because of the coronavirus pandemic.
UM is still waiting on decisions from the NCAA and the Big Sky Conference, the latter of which had a university presidents meeting Thursday and decided to kick the can down the road. They'll reconvene to make a decision after the NCAA Board of Governors meets Tuesday to decide what to do with national championship events for fall sports.
Montana athletic director Kent Haslam wasn't surprised by the presidents' willingness to delay. The NCAA's decision next week will give the conference presidents a better look into their evaluation of whether to hold a fall season.
While uncertainty lingers, the Griz must plan that the season will be played as scheduled so they're not caught off guard if the presidents decide football is a go. The Big Sky has already delayed the start of non-football fall sports until Sept. 18.
"It'd be good to have some closure so now you can plan for what lies ahead," Haslam said. "Right now, we're still in this wait mode. So we've got to plan like we're playing a football game on Sept. 12 and that we're playing volleyball and soccer and running cross country starting Sept. 18. Those dates are set. But it'd be good to get something so we can start the planning process."
Montana is down from 11 to 10 football games following the cancellation of its season opener against Central Washington on Sept. 5 in Missoula. That game was called off when the Great Northwest Athletic Conference suspended fall sports through Nov. 30.
Haslam said he's talked with "a hodgepodge" of teams trying to find another opponent to fill that date so the Griz could have a sixth home game this fall. UM hasn't had success with that — one FCS team, Southern Illinois, has had success — and is moving forward planning that its game at Missouri State on Sept. 12 in Springfield, Missouri, will now serve as its season opener.
"Teams just aren't really willing to go into all the work of new contracts and setting contracts and negotiating those when you're not really sure if the fall is even going to happen," Haslam said. "I've had some talks with different schools and tested to see what everyone thinks, and everyone's kind of in the same place of we just need to hold. So, we're not planning to fill that date."
Haslam noted that Montana won't have to pay Central Washington the $88,500 guarantee because of an "Act of God" clause in the contract. He's open to moving the game to another season.
The loss of the CWU home game would normally cost Montana $500,000 to $600,000 in ticket sales, out of its league-high annual $4.5 million to $5 million in sales across six home games, which accounted for about 20% of Montana's $23 million in annual revenue during the 2019 fiscal year. That level of income is assuming a full stadium, which Haslam isn't expecting this season.
"I don't see a scenario where we have full stadiums in the fall," Haslam said. "I just don't see how that happens at all."
Public health and safety are a factor, and UM has been working with the county health department to create a plan for hosting games. Those conversations, still ongoing, feature a wide range of topics, including how to keep masses of players and coaches safe on the sidelines and field, and how practices are structured because there are more than 50 people on the team.
Then there's the issues of how many fans can be in the stands and how to keep them safe while parking, getting in and out of the stadium, using amenities and watching the game. UM had sold about 9,000 season tickets as of the July 3 renewal deadline, Haslam previously noted, or about half from the previous year and just over one-third of the capacity at Washington-Grizzly Stadium.
Off the field, testing protocols set up by the NCAA will have to be followed, requiring the application of COVID-19 tests and getting timely results. Then there's the issue of how the team travels safely, especially to a game in Missouri or Arizona, because college players aren't kept in a "bubble" like the NBA in Orlando.
"Playing in the fall certainly brings a lot of logistical challenges. It's difficult," Haslam said. "What playing in the spring gives us is, is it just buys us more time to understand things more, to hopefully work closer towards a vaccine and good therapeutics and see how things work when students come back to campus and see how that works. Playing in the spring just buys us time. That's really all it does. We could still be in the exact same spot in the spring. Right now, we're staring fall right in the face and so we know where we're at right now."
Other conferences have announced plans in recent days, with the SEC playing a conference-only schedule and the ACC playing 10 conference games and one non-conference game, the former following in the steps of the Big Ten and Pac-12. Six FCS conferences — the Ivy, Patriot, SWAC, MEAC, CAA and NEC — have already postponed fall seasons.
The Pioneer Football League is going to a conference-only schedule, which affects UM because the Griz were scheduled to host Morehead State on Sept. 19. MSU is trying to obtain a waiver to play the game; Haslam is hopeful and UM is planning as if it'll be played.
The Griz are contracted to pay Morehead State $250,000. Like CWU, Haslam would expect to make $500,000 to $600,000 in ticket sales, assuming a full stadium. Then there's revenue from parking, concession sales and more.
"Home games are valuable," Haslam said. "There's no doubt about it. That's why we have six of those games every year. That's why it's worth it to pay Morehead State $250,000 to come play. That's why it's worth it for us to get two non-conference home games because those are valuable. There's no doubt they're valuable for our entire department."
The change in the season opener date for Montana — from Sept. 5 to Sept. 12 — won't affect the first day the football team can begin fall camp. The Griz are still slated to start fall camp Aug. 7, Haslam said, which was the regularly scheduled 29 days before their original season opener.
"That was one of the decisions from the NCAA was you could still keep your start date based on what would've been your first date of competition," Haslam said.
The Griz are making one change by delaying when freshmen report to campus. Instead of moving in ahead of fall camp, they're now scheduled to arrive Aug. 12, Haslam noted.
"School starts so much earlier now; it starts Aug. 19, and the dorms open Aug. 12, and all the meal plans kick in Aug. 12," he said. "So that would really be the date for new freshmen to come to take care of orientation and move in."
Frank Gogola covers Griz football and prep sports for the Missoulian. Follow him on Twitter @FrankGogola or email him at frank.gogola@missoulian.com.
Be the first to know
Get local news delivered to your inbox!