MISSOULA — His passion to compete has pulled him through some mighty tough times.
Times when it would have been easier, maybe even logical, to move on from college soccer. Days when simply feeling good would have been a wish come true.
From the time he was a senior goalkeeper for the Missoula Hellgate boys team, Peter Byrne has been dealing with pain. The type that makes it tough to sleep at night, let alone stop laser shots from close range.
Thinking back on his sophomore season for the Fort Lewis College soccer team, which ended three weeks ago, you might say Byrne's ultimate badge of honor transcended all-league recognition. It was that uncommon persistence that came from within and was cultivated during his teen years by Missoula coaching mainstays.
"When I was hurt, you think about quitting," he told the Missoulian. "But all the people in Missoula that helped me, you know you think about them and how you much you really want to keep playing.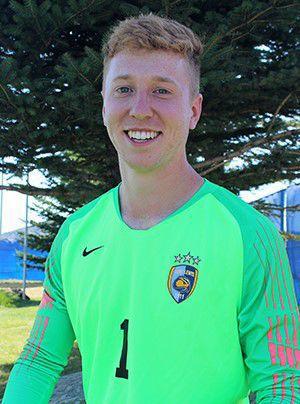 "Jay Anderson and Geoff Birnbaum, I give credit to them because they both went beyond coaching and got to know me as a person, which was really special. They essentially pushed me to get better."
Birnbaum, a longtime Strikers coach who recently retired, has never received the credit he deserves for guiding the best of Zootown's boys soccer players. Anderson's name is much more recognizable as the director of Hellgate's fútbol dynasty, but even he mostly flies under the radar.
Together they've helped put a lot of local boys on college soccer rosters — no easy feat in a state where you wear a winter coat seven months out of the year.
Local fans might still recall the first time Byrne trashed his shoulder. It was back in 2015 when the then-senior keeper played with a broken arm and dislocated his shoulder making a heroic save on a penalty kick with about 30 seconds left in the State AA championship match.
Byrne elected to play soccer out of high school but never saw the pitch at Carroll College because of shoulder surgery. Undaunted, he transferred to Fort Lewis in Durango, Colorado, where he was given a partial scholarship to play for a larger NCAA Division II program.
"Keane Hamilton, a friend from Missoula that I always lifted with, had just got hired as an assistant coach at Fort Lewis," Byrne recalled of a fateful conversation in 2017 with a pal that helped lead Fort Lewis to a national title in 2009. "He called the head coach and a month later I signed.
You have free articles remaining.
"I always knew I was good enough to play at a higher level. I know my coaches and teammates always believed in me at Hellgate."
Byrne, Montana's Gatorade Boys Soccer Player of the Year in 2015, started for Fort Lewis in 2017 but missed the 2018 season with his second shoulder surgery. If you've ever dealt with one shoulder operation, then you know you don't ever want a second.
Still, Byrne continued to push it on the pitch. The result was a breakthrough 2019 season for the Skyhawks of southwest Colorado. After missing the Rocky Mountain Athletic Conference (RMAC) tourney in 2018, they reached the semifinals in 2019.
Byrne, who yells a lot during matches and usually ends up losing his voice, is most proud of a save he made to spark a victory over Colorado School of Mines in late October.
Was it his best save ever?
"Well, the one for Hellgate still ranks right up there," he said of his late-game save that propelled the Knights to a 1-0 win over Helena in the 2015 chipper.
"But we hadn't beaten Colorado School on Mines in like four years. I stopped a header with like 20 seconds left and we ended up beating them in OT. It was the first conference loss for them in two years."
Byrne and his buddies have set their sights higher for next fall. They dropped just one of their final six matches this fall and spikes in confidence and experience should pay dividends.
No matter where it ends for Byrne in Colorado, he'll never forget where it began.
"Without people like Jay (Anderson) and Geoff (Birnbaum) and Ross McMonies constantly supporting you and pushing you to get better, none of the Missoula soccer players are where they're at now," he said, alluding to the fact that the RMAC also includes local products like Peter Vandam, Owen Winger and Matt Baldridge.
"Even this year it was pretty cool because before the Hellgate state championship match I called Jay (Anderson). We still have a pretty good relationship."
There's pride in Byrne's voice when he tells you about it. The kind that should make all Missoula soccer fans feel pretty good.