MISSOULA — It must be some sort of Montana record.
Not that we'd have any luck verifying it in this massive state. It takes almost 10 hours to get from one side to the other and it would take a lot longer to put into context what Cheyenne Jones has accomplished.
Jones is a member of the University of Texas at El Paso (UTEP) volleyball team. She's also a former Montana prep standout.
What makes Cheyenne's story exceptional is she attended high school at Missoula's Valley Christian, where she graduated in 2017 along with 11 other students. Go ahead and try to remember the last time a Treasure State prep from such a small school earned a full-ride Division I athletic scholarship.
It's just not something that happens real often. When you're as good as the 6-foot-1 Jones was in high school, typically you're going find yourself a larger program with a veteran coach and get yourself ready for the college ranks. You don't play for a prep team that struggles to field a full lineup.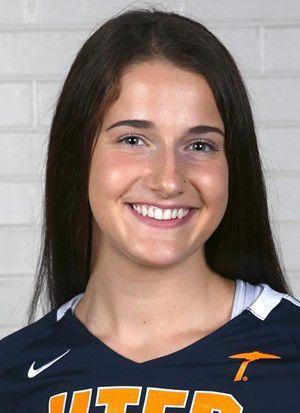 At a time when talented local athletes often choose their Missoula high school based on the strength of a program, it's refreshing to know there's still someone out there like Cheyenne, who has thrived despite opting for a road less taken.
"Playing for a bigger school, it does help you improve I guess," conceded Jones, a starting hitter for the Miners. "But playing for a small school was better for me because it helped me grow as a leader and just learn a lot of skills.
"I played all the way around and it helped me be a better passer than the average middle. Now I'm playing right side/outside. If I hadn't played for Valley Christian, I probably wouldn't be in the position I am now because I got so much experience passing, serve receive, setting ... We did everything, everybody on that team."
On Saturday, Jones piled up 17 kills, three aces and three blocks in a five-set win at San Diego State. Pretty darn impressive for a sophomore.
In high school, Cheyenne set a state record with 51 kills in a match against Drummond her junior year. Even now she's quick to credit her Valley Christian teammates for setting her up.
"Such a crazy high number," she says playfully. "That was probably a highlight of my entire career both high school and college and club. But I really don't want to brag about it. It's not necessarily a point of pride. I don't go around telling everyone."
Even with Jones' state record, she probably never would have reached the Division I level if not for her many years of club volleyball. That's the big difference between today and 30 years ago — club players get exposure that they never, ever would by simply playing in high school.
The other intriguing aspect of Cheyenne's volleyball story is the part about how she landed in El Paso. Coming out of high school she had two choices: Montana State and UTEP. She chose the Miners in large part because of the recruiting efforts of Jerry Wagner, an assistant for the Miners and the former head coach for the Montana Grizzlies.
Wagner has a long history with Jones. Not only did he watch her play club ball, he recruited and coached Cheyenne's half sister, Jen Keddy, at Montana.
That's the same Montana team that beat UTEP last week. The amiable Jones says she holds no grudge.
"We had played them last year too because of a scheduling change due to a hurricane," Cheyenne said. "It was crazy because I played club volleyball with some of the girls on the team.
"Their libero, (Sentinel grad) Sarina (Moreno), we've been together three years and I've known her through high school. I talked to her after the game. It was cool to play against girls I know because in high school that's all I did."
It hasn't all been a fairy tale for Cheyenne. Living in scorching-hot El Paso, just across the border from the dangerous city of Ciudad Juarez, Mexico, has required a major adjustment. After all, we're talking about a woman who used to get homesick and cry when she went to a pal's house for a sleepover.
Now that she has developed friendships, it's not as tough. And when she starts feeling down in the dumps about her volleyball, she thinks back to her magical days at Valley Christian.
"It's something I can fall back on if I doubt my skill," she offered. "It helps me stay strong, especially since college is such a different level of play.
"It just gives me peace playing on the court."
Yeah, a lot of us feel that way about Montana in general. You might take the Treasure State away from Cheyenne, but you'll never take it out of her.