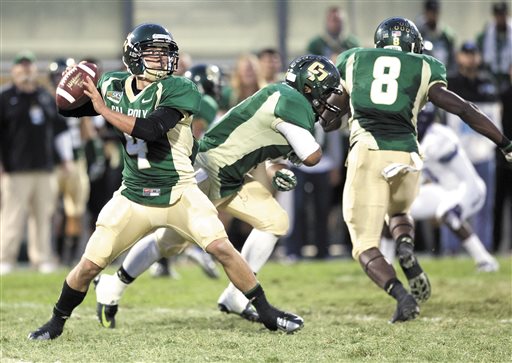 While they won't be wearing leather helmets, Saturday's game promises to be a treat for throwback football fans.
When 10th-ranked Montana plays host to Cal Poly inside Washington-Grizzly Stadium, powerful ground forces will collide. The Mustangs are the most prolific rushing team in the Big Sky Conference and the Griz are the best in the league defending the run.
"Defensively the most physical defense maybe we've played against since Fresno, no question about it," Cal Poly coach Tim Walsh said, comparing the Griz to FBS Fresno State.
"We'll have our work cut out for us up front ... We're going to have to meet their energy and be efficient."
Walsh will bring his spread triple option to Missoula in hopes of confusing Montana's quick, hard-hitting defense. One of the advantages of the scheme is that few FCS teams use it, so it's crucial for Montana's defenders to do their homework.
"Preparation and discipline are going to be 100 percent the key," Montana coach Mick Delaney said. "Any time you're playing triple-option football – I've been associated with that playing Air Force for 15 years (while coaching) at Colorado State and obviously playing Cal Poly I think this is the fourth time since I've been here – it's discipline.
"You can't start leaning. If you've got the quarterback you've got to take the quarterback. If you've got the pitch you've got to fight off of the cut blocks and take the pitch. It's just one-on-one is what it amounts to and who works the hardest. You can't guess. You've got to be right-on with your responsibilities."
While Cal Poly (2-0 Big Sky, 3-3 overall) leads the league in rushing yards (1,703), the defending Big Sky co-champs also lead the league in attempts (316). The Mustangs' 5.4 yards-per-carry average is not quite as good as Montana's 5.5 per carry average.
Still, Cal Poly has a scary-good slotback in junior Kristaan Ivory. The Los Angeles native leads the league in rushing yards per game (114.0) and will test Montana with his speed and power.
"The offense is working pretty well right now," Ivory said. "We had a couple of down games. Yale was a disappointing loss along with Colorado State and Fresno.
"But we're just finding ourselves as a whole with a new quarterback. We're trying to get a comfortable feel and right now we feel comfortable with what we have going in. I think we're prepared for this weekend."
Should the Grizzlies (2-1, 5-1) stop Cal Poly's ground game, it will fall on the shoulders of redshirt sophomore quarterback Dano Graves to get it done passing. He was successful last week, completing 13 of 16 passes for 169 yards and three TD's in a blowout win over Weber State.
However this weekend marks a jump up in competition.
"This is their third quarterback," noted Delaney. "Their original starter got hurt early against Fresno State. Then they went with another young man against Portland State I believe.
"... Last week they went to their transfer from Air Force Academy (Dano) and he's just a little tiny guy. He's 5-foot-9, 170 or 180 pounds , but very quick and does understand the offense very well. He throws the ball better than those two other guys."
Walsh noted that Dano has been successful everywhere he has gone – with the obvious exception being his one-year stint at Air Force. There the 2010 MaxPreps National Player of the Year from suburban Sacramento split time at QB for the prep school team in 2011.
"He's a very competitive guy and probably wanted to give the FBS Air Force thing a try at least," offered Walsh. "Once he got there he realized the whole situation maybe wasn't in his best interest. His dad is a Cal Poly alum, so we had that going for us.
"... Nowadays people are playing with 6-foot-5 and 6-foot-6 offensive linemen and the ability to see the field and do all those things sometimes can be restricted (with a small QB). But I think sometimes because of that, coaches put restrictions on guys. We try to not live by those standards. You look at our football team all the way around. We're not the biggest team. Dano is playing for the right coaches I guess I'd say."
Regardless of how the Mustangs try to move the ball, they'll have their hands full with a Griz defense that made UC Davis look anemic last weekend in a 42-7 victory. The Aggies managed just 237 total yards.
Montana thrived with a fresh approach to platooning at the linebacker position. Senior starters Brock Coyle, Jordan Tripp and John Kanongata'a logged a lot more time on the field than they had in previous weeks.
"Our defense played lights out the whole game," Delaney said. "To hold that team under 250 yards was a great feat."
QUICK KICKS: The Mustangs returned 18 starters from a team that shared the Big Sky title last year at 7-1 ... Saturday has been designated as Montana's pink game for breast cancer awareness. The players will wear a touch of pink to go with their traditional colors ... Griz starting defensive tackle Tonga Takai missed part of last Saturday's game with an ankle injury but is expected back for Cal Poly. Teammate Taylor Walcott (WR) re-injured his right ankle and is questionable for Saturday ... Delaney said he will not decide until later this week who will serve as his place-kicker. Freshman Ben Worst won the job a month ago but missed two field goals against UC Davis. He and Chris Lider, who started in 2012, will battle in practice this week ... Max Media will air the game. That includes subscribers of Charter (ch. 2 in Missoula), DirectTV (ch. 24) and DISH (ABC/Fox affiliate).
Be the first to know
Get local news delivered to your inbox!