It may be nearly six months until the Montana Grizzlies kick off against Valparaiso in September, but it's already football season in Missoula.
The Griz open spring practices Monday afternoon at Washington Stadium -- after holding their pro day workouts for NFL-hopeful alumni -- with 2016's disappointing 6-5 fall campaign a distant but lingering memory.
Montana missed last seasons' playoffs for just the third time in the past 24 years, though all three occurrences have come since 2010. A 24-17 defeat to the rival Montana State Bobcats was the final straw ahead of the most recent elimination.
The 2017 Grizzlies will have a lot to prove this fall as head coach Bob Stitt enters the final go in his initial 3-year contract leading the program. The first steps toward a potential return to the top of the Big Sky Conference start this week during spring ball.
The Griz will hold 15 practices (including scrimmages), a slate that culminates with the annual Grizzly Spring Game. Montana's ultimate scrimmage will be April 22 at Butte High School's Naranche Stadium.
Tickets for that event are $5 for adults and $3 for children under 12 years old. They can be purchased at the Adams Center Box Office, online at www.griztix.com, via phone by calling 1-888-MONTANA or at the gate on the day of the game.
There's plenty of burning questions for the Grizzlies to address before that point though:
1. Who's the next starting QB?
Starter Brady Gustafson is gone after two stat-packed years in the pocket and the Grizzlies' options to replace him at quarterback have a combined 15 career pass attempts in maroon and silver. They all belong to senior Reese Phillips.
Phillips transferred from FBS Kentucky before last season and became Montana's No. 3 option at quarterback. He appeared in four games while completing 8 of those 15 attempts for 50 yards.
There's no guarantee that he'll be taking snaps come Sept. 3 against Valparaiso,. The Griz also brought in a junior college transfer in the offseason in Caleb Hill (Blinn College). Expect talented redshirt freshman Gresch Jensen to throw his hat in the ring also.
"We've got a senior, a junior and a freshman -- all capable," Stitt said at a press conference last month. "Reese has the upper-hand to start with because he's got experience, but we're going to give them all reps to see what they can do."
Hill passed for 814 yards and eight touchdowns against four interceptions at Blinn as a sophomore last year. Jensen is a highly touted recruit from Auburn Mountainview High in Washington.
2. What changes are in store this year?
In Stitt's post-season press conference last November, the coach said he would be taking a look at everything in the program from top to bottom to pinpoint areas that needed improvement. That, he said at the time, included player personnel, coaching staff and on-field scheme.
He's yet to publicly mention too many specifics that were addressed, but the push coincides with Stitt's ongoing effort for a more unified and accountable roster.
"We've got a talented team and that's part of it, but the mental part of it we were lacking the last half of the season," Stitt said, referencing UM's 1-4 finish to the year. "It's nobody's fault, we've just got to bring it together and play at a high level.
"... Just holding the kids accountable to that and not overlooking things. You've got to have attention to detail and we've done that in the offseason and we need to carry it over to spring practice."
3. What will new WRs coach Matt Troxel bring?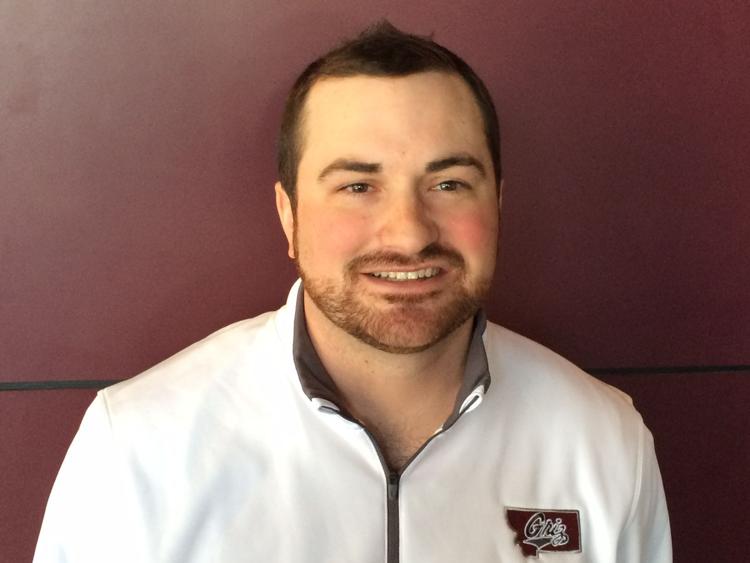 The most obvious offseason change is in the passing game where former Griz Matt Troxel returned to Missoula this winter as the team's inside receivers coach.
His arrival followed the departure of Nolan Swett, former pass-game coordinator and outside receivers coach, and after Mike Ferriter assumed those roles vacated by Swett.
Troxel has a deep history with Montana football where he played WR during the Bobby Hauck years, and he previously coached his way up to offensive coordinator at Idaho State last year. The combination of he and Ferriter's new roles within the offense are bound to come with some tweaks on the past two years' style. 
4: Who's the next breakout star?
Only a handful of the most perceptive Griz fans knew the name Jerry Louie-McGee at this time a year ago. The speedy wideout from Idaho burst on the scene during spring ball and became a centerpiece within the Griz offense before the first month of the regular season was through.
Stitt's signing class of 2016, his first fully recruited by his staff, is now at that same stage and -- at least on paper -- appears to have a number of play-makers ready to contribute.
"We've got some nice seniors and juniors that will give us some great leadership," Stitt began, "but we've got some young guys that nobody has seen on the field and we're very excited to see what they can do."
"You don't know. That's what's fun about spring. You've just got to find the guys who you can go into fall with."
5. Which transfers will have an immediate impact?
The Griz have loaded up on transfer players in the past few offseasons with varied results.
Last year safety Justin Strong was UM's third-leading tackler with 68 stops and led the team with three interceptions after coming over from Oregon State during the summer.
There's plenty of prospects for similar success stories in 2017, including previously discussed QB Caleb Hill.
Montana could also find a starting defensive lineman (or two) among offseason acquisitions Chris Favoroso (Arizona Western JC), Dylan Gilfoy (Diablo Valley JC) and David Shaw (Maryland).
6: Who will shine at pro day?
Former Griz Tyrone Holmes followed up his 2015 FCS Defensive Player of the Year season with an impressive pro day last spring. The combination catapulted him onto many team's draft boards and he was eventually selected in the sixth round by the Jacksonville Jaguars.
Close to a dozen former Griz will be present Monday for workouts, which begin with 10 a.m. weigh-ins and measurements. Weight room and jumping tests will follow before the players and the pack of trailing pro scouts heads outside to Washington-Grizzly Stadium around 11 a.m. for the speed and agility portion of pro day.
Testing at Wa-Griz is open to the public, pending weather.
Confirmed former Grizzlies signed up to participate include defensive ends Caleb Kidder and Ryan Johnson, cornerbacks JR Nelson and TJ Reynard, running backs John Nguyen and Joey Counts, offensive lineman Jackson Thiebes, quarterback Brady Gustafson and safety Yamen Sanders, according to a UM athletic department press release.