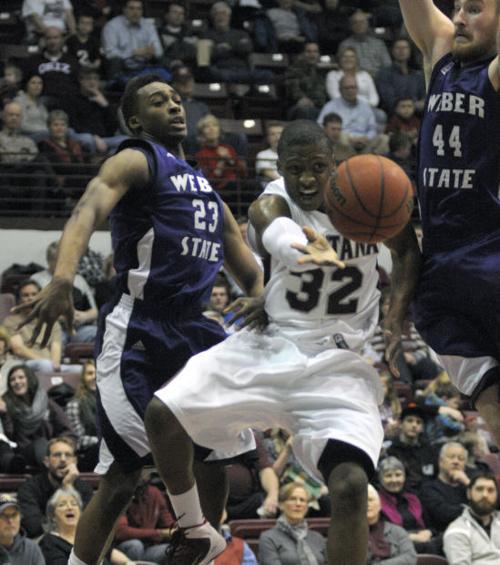 There are no breathers for Big Sky Conference men's basketball teams this season.
With just two games separating second place from eighth place, there's no room for error coming down the home stretch.
"No there is not, especially since we have not hit our stride," said Montana coach Wayne Tinkle, whose Griz host Idaho State on Saturday night. "We said at halftime of last night's game, 'Guys, this is what it's going to be like every night out – a dogfight, whether you're playing the top of the league or the bottom of the league. It's just the way it is. We're going to have to find a way.'
"Our guys did that and they know we're going to have to regroup and get ready for a very mature and experienced Idaho State team."
The Griz (8-7 in league, 13-11 overall) toppled league-leading Weber State 68-57 on Thursday night. They turned the ball over only three times, shot 68 percent in the second half and held their own on the boards with a team that ranks third in the league in that category.
It would seem the Griz played about as well as they can.
"We didn't shoot it very well from three, so there's room for improvement," Tinkle said. "It's not like we hit a bunch of 18-footers. We shot a great percentage because we got to the rim, so that's the challenge against (ISU's) zone, not to settle for jump shots and think we're going to shoot them out of it. They're not coming out of it."
No, not if ISU coach Bill Evans has his way. The former Griz assistant preaches the gospel of the zone defense.
And it nearly worked for the Bengals (7-8, 10-14) when the teams met last month in Pocatello, a game in which ISU led by two points with 1:36 to play. Six of Montana's last seven field goals came from 3-point range as the Griz rallied from a nine-point hole to a 59-54 win.
"We just got more aggressive," Tinkle said in explaining how the Griz beat ISU's zone. "We started attacking the gaps, getting the ball moved. We were doing too much dribbling and standing and we let it frustrate us. Once we got loose a little bit we found the holes in their zone, guys made shots."
The Bengals would be on the outside looking in if the seven-team postseason tournament began today. After a 66-60 loss at Montana State on Thursday, the Bengals are fighting for their postseason lives as well. Tinkle doesn't think his team will suffer a letdown after knocking off Weber State.
"I would hope not, just because of where we're at," he said. "If we were at the top of the league and had just knocked off the other team, maybe. But we're still fighting for our lives. We should have learned our lesson from the past where when we take a big step forward, we've slipped a little. We mentioned that after the game last night, so our guys will be keyed up."
The Bengals' offense revolves around hot-shooting forward Chris Hansen (16.9 ppg), and guards Tomas Sanchez (14.8 ppg) and Andre Hatchett (14.4 ppg). Although forward Jeffrey Solarin (10.0 ppg) scored 20 against the Bobcats on Thursday.
"Montana State did a great job on Hansen and I think that was a big part of why they won," said Tinkle, referring to Hansen's seven points against MSU. "The ball goes through Sanchez and Hansen every possession, so we have to be focused on those guys. Hatchett seems like he's been around eight years. He's a really good, experienced player. Solarin we have to be physical with him on the boards because he does a lot of damage there."
NOTES: If the Griz win, Tinkle would pass Mike Montgomery for second place on the school's all-time coaching list with 155 wins in eight seasons, the same number of seasons Montgomery was at Montana. That would leave only Jiggs Dahlberg (222 wins) ahead of Tinkle. ... Griz senior Kareem Jamar needs just three points to move into the top 20 on the Big Sky's all-time scoring list. He has 1,583 points. ... The Griz are ninth in the nation in fewest turnovers. ... As it turns out, Jamar does not own the record for career starts at Montana. After more research by the UM sports information department, Jordan Hasquet owns that mark with 116. Jamar will make his 107th start Saturday night.