BOULDER CITY, Nev. – The Montana women's golf team shot a final-round 297 and finished in a tie for eighth at the Big Sky Conference championship, which wrapped up Wednesday at the Boulder Creek Golf Club in Boulder City, Nev.
Montana's three-day total of 902 – the Grizzlies opened with rounds of 307 and 298 – establishes a new program record for the league championship, eclipsing the 903 Emily Milberger's team shot in 2012 and the 904 Montana shot for Joanne Steele in 2006 to win its only Big Sky championship.
Wednesday's round of 297, which featured 11 birdies, was the second-lowest round for Montana ever at the Big Sky championship, bettered only by the 290 the 2013 team carded in round three.
"It was fun," said first-year coach Matt Higgins. "The wind was blowing a little more today, and that made it a real grind out there. But they knew it was their last round, so they wanted to go out and shoot their low score of the season, which they did."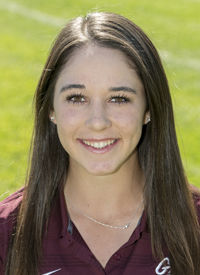 Baylee Barckley (72-73-72–217) wrapped up her freshman season shooting her three best rounds of the year. At 1-over for 54 holes, she tied for fifth. Her three-round total of 217 tied Olivia Weber's championship record, set in 2013.
In contention since Monday's opening round, Barckley, who had six birdies and an eagle for the tournament, with only one score worse than bogey, a double on No. 18 on Tuesday, withstood the pressure and penciled a clean scorecard on Wednesday: three birdies, three bogeys, a dozen pars.
"What a great tournament for Baylee and a tremendous accomplishment for a freshman. And she had a number of birdie putts that just skipped by the hole. If a few of those had dropped, she would have been right up there," said Higgins. "She finished the spring at her peak, just like she did last fall. I think she wishes the season was longer because she's playing so well."
Montana's other four golfers all finished the tournament within four strokes of one another, and all five players on Wednesday shot rounds of 77 or better.
Phoebe Tan (78-76-75–229) tied for 35th, Hailey Hoagland (80-77-73–230) tied for 37th, and Hayley Bingham (77-79-77–233) and Alexa Schendelman (84-72-77–233) tied for 45th.
Wednesday was the final round competing as Grizzlies for seniors Tan and Bingham.
Hoagland, just a sophomore, had her best round of the championship on Wednesday. Bedeviled by big scores on Monday and Tuesday – she had a triple bogey in both rounds – Hoagland avoided them on Wednesday to finish with a 73, one stroke off her best score of the season.
Idaho (295-286-287–868), which trailed Sacramento State for much of Wednesday's back nine, won the championship by a single stroke over the Hornets (291-295-283–869), who finished second for the third straight year despite shooting a tournament-record 5-under 283 on Wednesday.
Northern Arizona (290-295-300–885) placed third, Weber State (303-293-290–886) fourth, Eastern Washington (307-295-287–889) fifth.
Idaho's Sophie Hausmann (77-65-70–212) and Marissa Borja (74-70-68–212) both finished the tournament four under par. Hausmann beat Borja on the first playoff hole to win the individual title.
Montana State sophomore Jaylee Tait – who led after each of the first two rounds – finished tied for third, the best finish by a Bobcat in the last four seasons, leading her team to seventh place. Haylee Folkvord finished tied for 25th with a 224, Kati Greear's 226 was good for a tie for 29th, and Lauren Hausauer posted a three-round total of 230 to finish tied for 30th. Junior Janelle Reali finished tied for 45th, with a 233.