[Editors note: All quotes from Greg Gumble are from the CBS broadcast of the game.]
In spring of 1991, Montana's basketball program was in the midst of a drought. It had been 16 years since a team coached by a guy named Jud won a Big Sky title and put Montana into the NCAA tournament. 
That team won a game, beating Utah State, and then nearly another, falling to UCLA 67-64 before the Bruins went on to win their 10th title in 12 years. That team had a freshman guard named Micheal Ray Richardson, who was destined for the NBA and a coach -- Heathcote was his last name -- that was widely respected for his basketball acumen. 
But after a disappointing 1976 season, the coach left for Michigan State. It took Heathcote and a guard named Magic Johnson three seasons to win the Spartans an NCAA title while the Grizzlies were still trying to get back to the burgeoning national tournament. 
Twelve years later, Stew Morrill, a longtime assistant who had experienced four conference championship losses, had the Griz back in the title game. On his bench was an assistant named Blaine Taylor, who was either a coach or player in all four defeats, and on his floor was a talented team with the conference's best player and 22 wins to its name.
Montana beat Idaho 76-68. As a reward, Montana was given UNLV, the defending national champ with three future first-round NBA draft picks in its starting lineup. The controversial Runnin' Rebels were on a 41-game winning streak and looking straight past the Grizzlies and to the national championship game.
This is the story of Montana's roller-coaster week that went from conference champ, to a "billion-to-one odds" underdogs, ending with a 99-65 loss to UNLV. Players from that team and the 1991-92 team will be recognized Friday at the Grizzlies' home opener.
"The dam broke with emotion"
Stew Morrill: I remember well that we had some injuries and so forth, so it was really good that we had hosted the tournament; I don't know that we had won it had it been on a neutral court.
Blaine Taylor: These fans that traveled far and wide and had their heart broken were right along beside us. ... We had to send the fire marshal to Cancun for the winter because we had too many people in the field house.
Morrill: I remember the day of the championship game versus Idaho, somebody got word to me that they were taking bets downtown that we would come up short again.
Kevin Kearney: To me it was a relief because Idaho kind of had our number the two years I was up there. My senior year, personally, to beat those guys and beat them in the championship game to make it to the NCAA tournament made it that much sweeter.
Roger Fasting: To finally get to that moment and experience that win, especially on our home court, it was elation and relief at the same time. 
Kearney: Stew was a little more laid back and Blaine was a little more animated, but when we won that game you could see the joy in coach's face. It was a big deal for him. It's been a really long time, but I remember us as he walked into the locker room we poured Gatorade on him. That was a special moment for Stew and Blaine.
Taylor: Well I'm not so sure that in some way of protecting ourselves from heartbreak, we had kind of just put everything away and it wasn't going to be real until it was real. Once it was real, the shock was like this really happened. I think we all in a moment just turned and saw how much we had poured into it and how much emotion poured out of us and how much it meant to us. I call it sweat equity. It wasn't just one singular guy.
Morrill: I took the opportunity to write all the players and coaches that had been there when we had lost the four championship games and wrote them a letter and just said hey, you guys are as much a part of this as the current players and coaches and it's all part of Jud Heathcote and the Montana tradition. There's a lot of big time pride in that program from all of us that had coached and played there and we were all feeling it that night. It was a sense of great accomplishment and great relief at the same time.
Taylor: I remember sitting in a car (with Stew) on these recruiting trips we'd come back from driving to Seattle and Billings and you'd get back at 4 or 5 in the morning and you'd have to get up and get to the office and get ready for practice and games and we would just vow that we were getting it done. It was a vow.
Engellant: That was a breakthrough moment for Griz basketball.
Dave Guffey: I went out with the coaches. It was a good night.
Taylor: We ended up back up in my house in the Rattlesnake and it was just story after story after story. ... I think the one thing we could do was we could laugh and reminisce about the heartbreak and not have it feel quite so bad. Then the jubilation -- you have to be careful when you're in coaching and you compare things to birth of children, but I can't remember a time in my life that I felt so special about the shared experience and the accomplishment about the group of people.
Fasting: It was really a turning point for the program for coaches and players alike. 
"The 64th best team in the tournament"
Morrill: We had all the guys up to my house to watch the NCAA selection show. We were in different TVs around the house; one in the basement and one upstairs in the living room and that kind of thing.
Daren Engellant: I thought there was a decent chance that we would play UNLV.
Morrill: There was kind of a collective groan when we drew UNLV.
Fasting: I think everybody sort of paused for a moment because of UNLV's previous year winning the national championship and them being undefeated. We just kind of looked at each other and laughed a little bit.
Kearney: I thought we were going to get a little higher because during the course of that year we were receiving top 25 votes in the AP poll.
Morrill: We didn't expect that. Everybody was saying we were going to get a 14 (seed) and to get the 16, but really the 64, was a little bit of a shock.
Bill Schwanke: I think it was a little bit of surpise because there was speculation not only here in town, but also elsewhere that they would be a higher than that. I think it was a disappointment.
Guffey: I think a lot of us like me and Blaine were so happy to be there that we kind of accepted the fate. But it was kind of a screw job.
Kearney: They were saying we're the 64th best team in the tournament and I knew that wasn't true.
Engellant: For me it was a chance to get into the dance and you might as well play the best team and see what it is like.
Fasting: We knew it was going to be a tremendous challenge.
"It exposed the players to things we hadn't seen before"
Engellant: We were surprised about the media attention that we were getting. … The New York Times was calling and I guess we're just small-town kids that won our league and got to play the No. 1 team in the nation in the big dance, so people were calling us. It was brand new to us.
Guffey: I went back to the office and the demand was just crazy.
Morrill: For most of the week every national news network and newspaper was calling and wanting our opinions.
Taylor: We wanted to represent Montana and ourselves and the program in first-class fashion. As I recall, Stew did a really nice job of handling his stuff and all of us were just giddy as could be.
Morrill: We embraced it. We just thought it was good, like I say the university exposure -- somebody told me we got a couple million dollars of exposure for the university that week.
Kearney: To be able to be interviewed by ESPN and then to actually see yourself be interviewed by ESPN and on SportsCenter -- SportsCenter replayed itself so you watch it one time and you stay up and watch it again and you watch it again. I remember staying up and watching that.
Taylor: There was no like this is how we're supposed to react or these are our expectations going in. It was a fresh naivete to wow, I guess that's what we get to go do and we're going to get a lot of attention doing it
Kearney: Those are the types of things you dream of when you're younger. All the practicing you do and when you're young and playing and scoring the last bucket of the game it's right up there with that. Being on ESPN was a really big deal.
"I think we were all intimidated to some degree"
Taylor: We're up at Stew's house and we have to give the kids a scouting report and guys are sitting there like we usually do and we say, 'OK, this is Greg Anthony and this is what he does and he's left-handed and blah, blah, blah and Eric Jordan, you've got him.' He looks back and he busts out laughing, like this can't -- are you guys serious? We go through the lineup and every guy is like, 'Yeah, I've got Larry Johnson,' 'I've got Stacey Augmon.'
Fasting: We were chuckling and laughing just because the names of those players were such household names across the country. It was something we were a little apprehensive, but very anxious and excited too.
Morrill: I remember there was a lot coming my way in terms of suggestions and different ideas and all that. There were times you just had to refuse phone calls just to get your work done and your preparation done.
Taylor: They had been on national TV and we had watched them. Our guys knew exactly who they were and we knew exactly what they did. Doing something about it was another story, but it wasn't as if we were trying to figure out who the best pilot was in their Air Force.
Morrill: I think the scout squad was a little intimidated trying to show us a look to guys who were playing minutes.
Fasting: We had some of our redshirts and younger players (on the scout team) and they were saying you're Augmon and you're Greg Anthony and you're George Ackles.
Taylor: They'd go hard and they would try to run the actions. We saw the actions (UNLV) ran, it just wasn't Larry Johnson doing it.
Morrill: That is always a problem when you're preparing for that talented of a team, your scout squad can't really show you the athleticism.
Taylor: We hypnotized them and gave them body transplants.
Engellant: They had seven or eight guys playing defense on us with the scout team pretending that was how UNLV was going to be.
Kearney: They were kicking our butt and I remember Stew saying this is not the real UNLV team, why are they whippin' y'all butt like this? Y'all can relax, don't be so nervous.
Taylor: The effort and the energy and the enthusiam at all the practices was fun. I mean they were really fun, they weren't pressure packed. There was a little bit in the back of your mind that we really do have to go play these guys.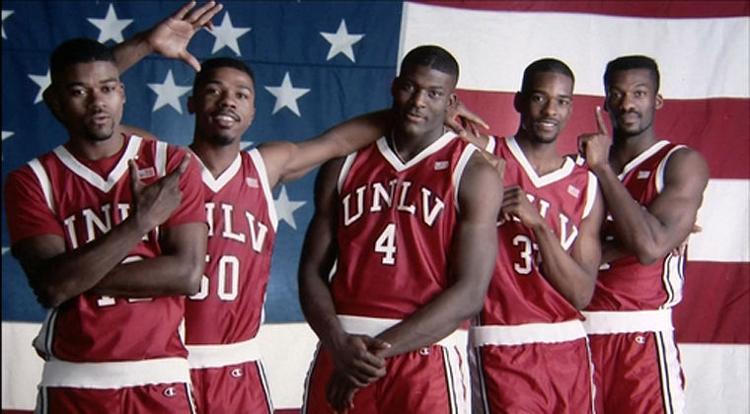 Engellant: I think we were all intimidated to some degree. I think even the coaches were. 
Fasting: There was a lot of hip-hop songs that made reference to the Runnin' Rebels, so they were definitely mainstream and got the primetime games. 
Engellant: If you watched them on TV they seemed like an NBA team; maybe the college version of what the L.A. Clippers are now, they were alley-ooping and a high-flying team that could throw down the ball.
Taylor: Because of UNLV, the city, the glitz, the glamour, the players -- you gotta remember Larry Johnson and all the Grandma-ma stuff and the stars, they were the Lakers of college basketball where the Hollywood stars and the rich gamblers were aligned with them. I think it made them larger than life. It was almost like you weren't playing a college team. It was almost like you're in the first round and you're playing the Chicago Bulls and there's Jordan and Pippen.
Fasting: It's all the things you dream about, but you're actually in the dream, living the dream. ... The magnitude of once we got to Tucson was when it really hit me.
Kearney: I didn't really sleep that night at all.
"They weren't just good, they were one of the best of all-time"
Kearney: I can't speak for the other players, but I had nerves all the way up to tipoff.
Morrill: I remember our message to our players was believe you can compete and believe you can play and go out there and show it. I was pleased with the first half.
Kearney: (Augmon) got by I believe it was Delvon (Anderson), and I tried to step up and even before I could step to the paint he was up in the air and all I could do was watch him glide by me and dunk and I was like, wow this is what we're up against.
Greg Gumble: That is the most vicious slam we've seen all day.
Morrill: We had a good team and a lot better team than sometimes people realized.
Fasting: We had this wonderful man-to-man offense and all these different set plays and when they tried to guard us man-to-man they couldn't stop any of our plays that had been working for us all year long.
Morrill: Tark actually told me after the game, we couldn't guard you man-to-man with all your sets, but I'm not sure that's true. I think he was being very nice.
Taylor: It was kind of fun that when we made some plays early in the game we had our fans that were vociferous as usual, and then the Arizona fans jumped behind us.
Fasting: At that time UNLV and Arizona were big rivals and we were playing at Arizona and there were 15,000 people and many were Arizona fans and they were cheering for us throughout the first half.
Kearney: It was like we were playing at home.
Taylor: We could score against their man-to-man defense and we were sound enough and we had enough talent to do so. I remember playing early and we were right there with them.
Gumble: (UNLV leads 17-14, 11:40 remaining in the first half) Engellant has eight of the 14 points Montana has put on the board.
Engellant: Once we started playing we learned we could compete with them.
Kearney: I remember Gary (Kane) hit a couple threes. 
Taylor: You've got to love Butte. That's the way Gary was. You have to love the Butte mentality where there is this fearless nature. Gary had a certain swagger. 
"We don't know who the foul was called on"
Gumble: There has been a technical on the floor and Larry Johnson will shoot two. We do not know who the foul was called on, but we'll find out.
Engellant: I didn't even know what it was for, all of a sudden they're shooting free throws.
Taylor: One of our players checked into the game and they're running down the floor and they announce this guy and we look at each other on the bench and we're like that's not that guy. We've got a guy with the wrong uniform and I remember Stew turning around and going, 'Oh, great, on national TV and we've got a guy with the wrong number out there.'
Guffey: I think (Nate) Atchison was 44 and (Matt) Kempfert was 40 maybe, so they were close.
Schwanke: It was the first time I had ever seen that and probably the only time I did overall.
Guffey: It had to be from the equipment room. But I remember Leslie Visser was doing color and she came up to me and said, "Do you know what happened?" I said, "No, I have no idea." I mean, what are you going to say? Yeah, our equipment guy screwed up?
Engellant: We didn't have time to react to it. It's kind of funny afterward, but it might be the only time in the history of the NCAA that a technical was called for a team wearing the wrong number
Kearney: It was very, very funny. If anybody would do that it would be Nate and I mean that in a nice way. Even though we were in a serious game, I couldn't help but chuckle at that.
Morrill: I don't think it changed the outcome of the game. It might have changed the momentum a little bit.
Taylor: Then they went to their 1-1-3 pressure zone with that size.
Schwanke: I think that's where the change came is that they were a little loosey goosey on defense to start and they picked things up and made it a lot harder for the Grizzlies to do the things they wanted to
Kearney: Our zone offense was predicated on passing the ball around the perimeter and getting it inside. So they got the two people in the wings which could get in the passing lane and disrupt things on the edge as far as getting the ball to Roger Fasting or Gary Kane on the wing to throw the ball inside.
Fasting: I still tell friends or people that I meet about that experience and I'll never forget when Stacey Augmon was coming at me on the trap probably five or six feet on top of the 3-point line he looked so long and wide. I think he was 6-foot-9 and his wingspan, probably 7-feet, and he was so quick and fast in the way he closed out. I think that was the real difference maker with the zone.
Engellant: I just remember once they got up the 12 or 14 points or the 16 points and especially into the second half we got out of sorts because we knew we needed to do something and score a lot of points in a hurry to be in the game. That's when things get out of control.
Kearney: In the second half, for me it was I'm kind of succumbing to my last college game -- I'm a senior, this is my last game -- you want to try to put in as much as you can in your last game, but these guys are beating us down. It was kind of sobering to be honest with you.
Fasting: There were times for sure when there was either a timeout or running back out at halftime and seeing the enormity of the experience, it was just something that was really special for all of us.
Taylor: It was such positive experience just to get there and to walk out on the court and line up against the best that had been everything to the nation all year long and there we were standing next to them. You were in the presence of greatness, but you were great in your right that you were there with them .
Kearney: Some of the guys after the game, some of the guys went over to the UNLV locker room and got autographs and things like that.
Morrill: I wasn't in any way going to feel bad. You never like to lose, but I wasn't going to sit around and think that ruined our season. That was silly. To represent the university and play in the NCAA tournament -- those kids' experience playing UNLV was just all good stuff. I don't think we used to say it's all good in those days, but that would have been the right thing to say, it's all good, because it was.
Taylor: It put Montana on the map and put our program on a higher plain.