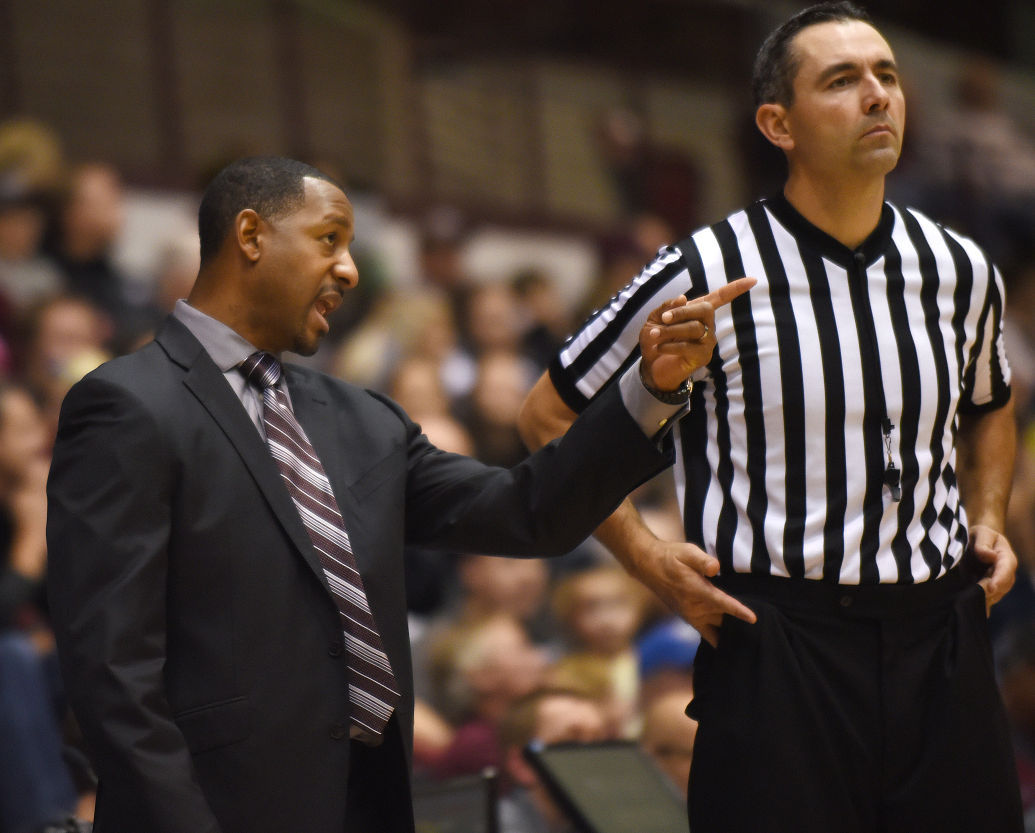 During his two years at the helm of the Montana Grizzlies, Travis DeCuire has elicited two emotions within the basketball program's fan base: great joy and great fear. 

On Tuesday, Montana athletic director Kent Haslam took steps to curtail the faithful's angst over how long they can expect to see DeCuire patrolling the Dahlberg Arena sidelines with a new three-year contract for the only coach in program history to win at least 20 games in his first two seasons.
The Montana Board of Regents approved the three-year deal, the longest allowed by state law, replacing the contract DeCuire signed in May 2014 when he was hired as the 22nd coach in program history. The contract includes an increase in base salary from $142,800 to $155,000, as well as a restructuring of certain incentives. 
"There is a lot of pressure on a basketball coach, but he handles everything so well," Haslam said of DeCuire. "He's a great recruiter. His student athletes are doing so well on the court, but in the classroom as well. He's a great role model for our student athletes and is a great example for the folks in our athletic department."
Heading into his third year with his alma mater, DeCuire is 41-25 and has twice brought the Grizzlies to the postseason with appearances in the 2015 NIT and the 2016 CBI. Montana won the regular season Big Sky title in his first season and fell a game short of repeating the feat in his second.
DeCuire has also affirmed his reputation as an aggressive recruiter, filling Montana's roster with talent. In his two recruiting classes, DeCuire has signed a bounty of high school talent while bringing in two transfers he expects to make an immediate impact when they finally step on the court. 
Additionally, DeCuire has embraced his position as the face of a program he once played for as a two-time All-Big Sky selection and the school's all-time leader in assists. Laboring to raise Montana's profile, DeCuire has become central to the program's fundraising and marketing operations.
"(The legacy) is one of the most important things I've ever been responsible for," DeCuire said in February. "No one ever called me and said, 'Hey, you're responsible for the legacy and keep it going.' But it's a natural instinct of any former Griz that becomes a head coach here is to keep it going and try to take it to another level."
The success DeCuire has experienced at Montana -- and that he was a part of as former Montana coach Mike Montgomery's associate head coach at Cal -- have made him a likely candidate to eventually land a job at a Power 5 conference program. In Nov. 2015 CBS Sports named DeCuire as one of 10 coaches on the rise. 
Haslam began working on restructuring the contract shortly after Montana's season ended with a 79-75 loss to Nevada in the first round of the CBI in mid March. As all three-year contracts made available only to football coaches and men's and women's basketball coaches in Montana the new deal needed approval from the board.
"I didn't want to get to the point where it expired and we were trying to come up with a new contract then and I liked this," Haslam said.
The deal improves DeCuire's base salary, but the rate still ranks near the bottom of what coaches of NCAA tournament teams were paid in 2015. It is also far below the wages offered by Weber State, Stephen F. Austin and other programs Montana aims to compete with. In June, Weber coach Randy Rahe agreed to an eight-year extension through the 2023-24 season that pays him a base of $342,594.
The contract creates some security for Montana if DeCuire was hired by a different school during the lifetime of the contract. Though Haslam was clear it wasn't a leading motivation for negotiating a new deal, resigning DeCuire extends his current obligation to the school from one year to three.
In the event DeCuire takes a different job, Montana would recoup the contract's remaining salary.
"We hired him in May so all the recruiting was done and the scholarships were signed," Haslam said. "That first year was the transition year for him. Then he has one good recruiting class under him and this is a way to get him three more years where it's moving more toward his team."