BILLINGS -- In March, longtime local radio host Rocky Erickson penned an op-ed in the Billings Gazette sports section declaring the 1987 Billings Central girls' basketball team the greatest in state history.
The résumé is solid. That team went 24-0 and steamrolled to its third consecutive Class A state championship. Central won its regular season games by an average margin of 33 points, as Erickson pointed out. With a loaded lineup, the Rams were the scourge of the state.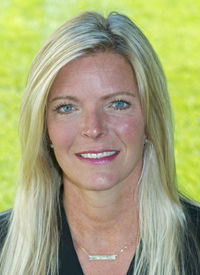 The star of the show, of course, was Shannon Cate, a deft 6-footer who could score both inside and out. Cate — now Shannon Schweyen, the head coach of the Montana Lady Griz — averaged 22.3 points during the 1987 season, was chosen a Kodak All-American and cemented her legacy as one of the state's all-time best.
But was that squad the best ever?
"It's very flattering to be considered," Schweyen said during an interview Wednesday morning. "I'm sure there are some people that would argue it. I don't know if we were or not. I had forgotten some of those statistics of how big our blowouts were and what our closest games were and things like that.
"I think there's always room to argue who might be the best team ever, but I certainly think we would have gone down as one of the better teams because of our depth, our height, our size, three girls going on to play Division I ... but it's always hard to say."
In Schweyen's four seasons under coach Larry Tocci — with fellow 6-footers and future D-I players Ann Barry and Jennie Tranel in tow — the Central girls rolled up an 89-8 overall record and appeared in the state title game each year.
Looking back, Schweyen considers herself lucky to have been a part of it all. She parlayed her high school success into a terrific career at Montana, where she became the program's all-time leading scorer and helped set another standard for excellence under legendary coach Robin Selvig.
Schweyen then spent 24 years on the Lady Griz bench as an assistant to Selvig, and took over the program last summer when Selvig announced his retirement after 38 seasons.
Now Schweyen will make a public return to Billings on Thursday as part of the Montana athletic department's annual statewide spring tour. Football coach Bob Stitt, men's basketball coach Travis DeCuire, athletic director Kent Haslam and others will also be on hand to meet and greet fans at the Red Lion Hotel beginning with a social hour at 5 p.m.
Loaded: 0%Progress: 0%0:00
After a year that saw the Lady Griz produce a very un-Lady Griz-like 7-23 record — post players Kayleigh Valley and Alycia Sims both suffered season-ending knee injuries — Schweyen said she has still received strong support from fans in her other stops along UM's tour.
"That was one thing that was so impressive about last season," Schweyen said. "Even though our record wasn't up to par with a lot of the Lady Griz teams of the past, we still have incredible fan support. They really enjoyed watching this team make strides.
"It's been interesting. Most people I talk to say they're excited about next year, and they are glad we hung in there to the end. We're all excited about next season. The girls are already fired up about getting Kayleigh and Alycia back and seeing what can happen."
Admittedly, it was a rough year for Schweyen for more reasons than one. During the season her mother was hospitalized in Billings after suffering a stroke, and two of her three daughters underwent surgeries of their own.
And trying to teach a team that started four freshmen (and regularly used seven first-year players in all) how to compete at the collegiate level was arduous at best. But in the end it began to pay off: Led by guards Taylor Goligoski and McKenzie Johnston, the Lady Griz won four of their last eight after suffering through a 13-game losing streak.
"I would say while I was in the midst of it, it was overwhelming in a lot of ways, just because of the youth of our team, the injuries and the things we were facing, compounded with some personal things going on in my life," Schweyen said.
"But as the season wore on and our girls began to come together, the last third of the season was very positive. We finally put some 40-minute games together. It was really rewarding to see that progress finally come around and see it on the floor on a more regular basis."
Schweyen was born and raised in Billings, and she said she "can't believe" it's been 30 years since her heyday as a high school basketball star.
With her second season at the helm of the Lady Griz on the horizon, she welcomes the opportunity to make an appearance to meet and greet Griz fans and supporters in the place where it all began for her.
"It still feels like home when I come back," she said.