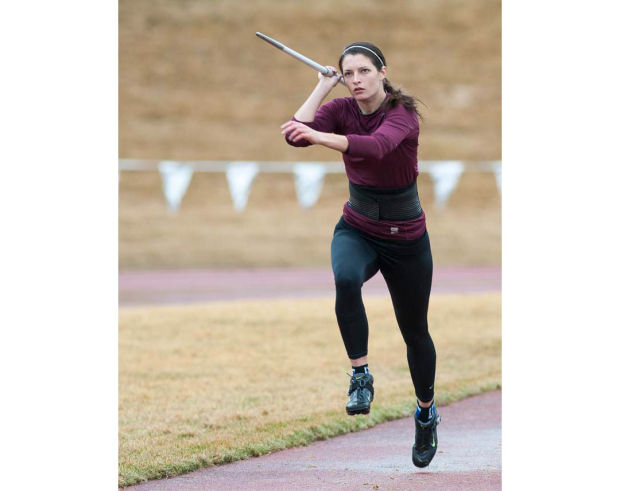 Three years between trips to the NCAA championships haven't so much steeled Lindsey Hall's resolve as made her appreciate the journey.
Montana's record-setting heptathlete is headed to Eugene, Oregon, where she'll be among 23 competitors for an NCAA title when her event gets underway Thursday afternoon. She's not the favorite – Georgia super freshman Kendell Williams will be awfully tough to beat – but she could be right there when her events wrap up Friday.
"If she does what she's capable of, puts it together, she's top three," Brian Schweyen, UM's head track coach, asserted. "And who knows? Anything can happen. But it's her mindset going in – how she's able to handle that mindset all the way through."
Hall, a 23-year-old senior, knows "anything can happen" also includes worst-case scenarios. Assistant track coach Adam Bork is accurate when he says that if Hall hits her best marks in all seven events, she'd at least be in the top two.
"A lot of girls can say that, though," said Hall. "All I can say is I've had a long road to get back there, since sophomore year. The coaches have been my biggest asset to getting me back and having confidence.
"It's mostly coming from them and the trainers and the therapists – trying to get me healthy and at a level I can sustain."
Hall is, in the smaller universe of the Big Sky Conference, a marvel. She's won three pentathlon titles and the high jump at the Big Sky championships and in 2011 was the league's most valuable athlete for indoor track and field.
She won the Big Sky Conference outdoor pentathlon in May – her second title – amassing 5,401 points (her best is 5,500 at the Mt. SAC Relays in April). Last year she was co-outstanding performer at the conference's outdoor championships.
She has one outdoor javelin title and holds UM's records in that event (168 feet, 2 inches) as well as for the indoor long jump (19-4.25), 60-meter hurdles (8.48 seconds) and pentathlon (3,928 points).
"You look at the point-scorers at the Big Sky Conference championships and she's the best (female) the Big Sky has ever had, indoor and outdoor," Schweyen began. "You look at men's and women's, and Wiley King out of Weber State might be a little better.
"There have been girls more successful at the national level, but at the Big Sky level? She's the one."
It's taken some work. After a promising start to her career, Hall, a Missoula Big Sky product, was sidelined by injuries and anguish in 2011-12. It led to a redshirt year.
"That was the year the coaches sent me off to see specialists, and I was trying to get that figured out," said Hall. "So we could see if I could maintain being a heptathlete these last two years. That worked out."
It started with yoga and stretching but the big difference maker was added strength.
"We discovered the source of my frustration was weak glutes and inflexible hamstrings," she said. "We started strengthening my glutes and my core, and that's strengthened my hamstrings and made me healthier.
"But in this game of doing seven events, there's always going to be people with injuries. You want talk to any heptathlete who's completely fine. Everybody's feeling the same; it's who can manage it the best."
As an example Hall points at Southern Utah's Shaye Springall, who was the favorite for the Big Sky title but who couldn't compete at the conference meet because of an arthritic back.
Suddenly the favorite, Hall underperformed in a couple of events – she threw the javelin just 137-9 – and found herself in an unexpected battle with Montana State's Carley McCutchen.
In the end Hall had to hold off McCutchen by running from behind in her weakest event, the 800. McCutchen ran 2:22.34; Hall finished in 2:28.08, and won the title by a scant 10 points.
Taken in total, Schweyen has a glass half-full approach. She was a deserving champion who gutted out the final race to take home the gold.
Now comes Eugene, and if Hall can compete consistently Thursday she'll be on her way.
"That's a big word," Hall said with a smile. "I used to fear talking about all that stuff: 'If it happens, it happens, God willing, if it's part of His plan, then yeah.' I was always afraid to set a goal or pursue a dream like that, because I didn't want to be disappointed."
It was at the end of either the sixth- or seventh-grade year for Hall when her mom took her to a youth meet in Frenchtown.
The stories differ some from mother to daughter: Lindsey says she was forbidden to try the hurdles; and Debra says she just didn't want her daughter's first attempt at a hurdle to be in competition.
At any rate Lindsey Hall hurdled, sort of, and the one thing they agree on is that she won.
"I had to go in and get a drink of water or something, came back and she got in the race," Debra Hall said. "She crow-hopped all the way to the finish."
Things smoothed out from there, and Lindsey Hall traces her current success all the way back to that beginning.
"What got me where I am were the coaches early on," she said. "In middle school I had Marsha Hamilton, who was an All-American here at the U. In high school there was Rafe Espinoza, who went to Boise State, and (head coach) Dan Nile competed at Dickinson.
"They all shared with me their passion for track and it just rubbed off on me."
In 2009, after winning three events at state that year and helping Big Sky to the girls' State AA title the year before, Hall joined a triumvirate of top Missoula talent headed to UM's women's track team.
Of the three – Bobbi Furrer of Hellgate and Chantelle Grey of Sentinel were the others – only Hall finished out her eligibility (Grey went to Austin Peay where she became a standout 800 runner).
Recruited by Colorado State and Montana State among others, Hall has had no druthers.
"We all came in really excited to represent our hometown, but looking back it seems like I was the least excited," she recalled. "I was a little unsure then. But as I've stayed it's become more and more apparent to me this is where I'm the happiest, I'm the most relaxed.
"The environment and attitude of this team and coaches fits me. If it was more high-intensity, I don't know if I'd have the same passion."
Hall says this after a strenuous workout – a series of 400s and 200s at Dornblaser Field. How many of these are in her future might depend on how things go Thursday and Friday, when the heptathlon wraps up with the long jump, javelin and 800.
She does plan to head to Europe with the Christian organization Athletes In Action and compete in five international meets over the summer. After that, she plans to continue training. She's already earned her wildlife biology degree, but there are other hurdles to cross.
"All you can hope for is do (the coaches) proud and make myself proud, by going into every event with the drive and the competitiveness that I need," she said last week. "Be competitive and aggressive in each event and if the outcome is a big score, so be it.
"If not, at least I did that much."