The dimly lit corridor sloped downward and ran to the right, though the blazing sunlight 180 feet away still found their eyes around the slight corner.
Dozens of cleated feet scraped across the concrete floor to create an orchestra of crunching, grating and crackling. The sounds echoed off the tunnel walls. Then came another noise.
More than 10,000 voices called out as one. Their hosts were clad in copper and gold and bundled against the cool mid-October air. The din vibrated the shoulder pads on the boys beneath the stadium as their collective saunter became a sprint. They broke from the darkness into the light and the clamor of Washington-Grizzly Stadium.
This act, an induction as much as a simple entrance, bonded the Montana Grizzlies football team on Oct. 18, 1986 -- the day of the first game at their newly erected gridiron home.
"Everybody who's ever played there knows that feeling," said Brad Salonen, a redshirt sophomore tight end that day.
It created a brotherhood whose links have spanned 30 years now, each season accompanied by new converts to the club. Those who burst from the tunnel three decades ago not only ran toward the day's battle -- an eventual victory over Idaho State -- but toward a Griz football future so steeped in grandeur, none that fall day could have dreamed it possible.
PHOTOS: Griz football stadiums through the years
Washington-Grizzly Stadium celebrates its 30th anniversary this season. Take a look back at the home of the Grizzlies through the years.
Ditching Dornblaser
When the University of Montana dismantled "old" Dornblaser Stadium before the 1968 school year to make room for construction of the University Center and Aber Hall dormitory, the school relegated its football program to a temporary fixture a mile away at the corner of Higgins and South avenues.
That interim facility -- "new" Dornblaser Stadium, still named for the 1912 team captain, Paul Dornblaser, who was killed during World War I -- was the Grizzlies' home for nearly two decades.
The field's natural grass was comparable to that of the former on-campus stadium, but its surrounding bleachers were wooden and creaky and swayed when left empty to fight brisk winds that cut through to the playing field.
"It was a dump," recalled retired radio broadcaster 'Grizzly' Bill Schwanke, who covered games from the plywood pressbox there for 15 years.
Fans avoided the stadium in droves and by the time Larry Donovan's stint as head coach was through -- the team won just three games per season in his final three years prior to dismissal in 1985 -- the Griz ranked last in the Big Sky Conference (5,599 per game) in attendance.
The stadium was so silent on some days that fans could hear each other's conversations across the field -- or those of agitated coaches in the booth.
"I would have to do a disclaimer: 'I'm sorry about the language,'" laughed Schwanke, now 70. "(Listeners) could figure out which coaching staff it was based on context."
Boise State's Bronco Stadium, a 20,000 seater and the gem of the Big Sky at the time, was everything that Dornblaser was not. Why couldn't the Griz have something like that, UM Athletic Director Harley Lewis wondered.
Lewis, Montana's AD from 1975-89, began working toward replacing the Grizzlies' temporary venue from the day of his hire. For six years his attempts were repeatedly rejected by Main Hall.
"It took a long time. I went through a couple presidents before Neil Bucklew finally gave it the go ahead," said Lewis, now 74 and retired in Michigan's Upper Peninsula.
With the backing of Bucklew, UM's president from 1981-86, Lewis's dream took its first step toward reality.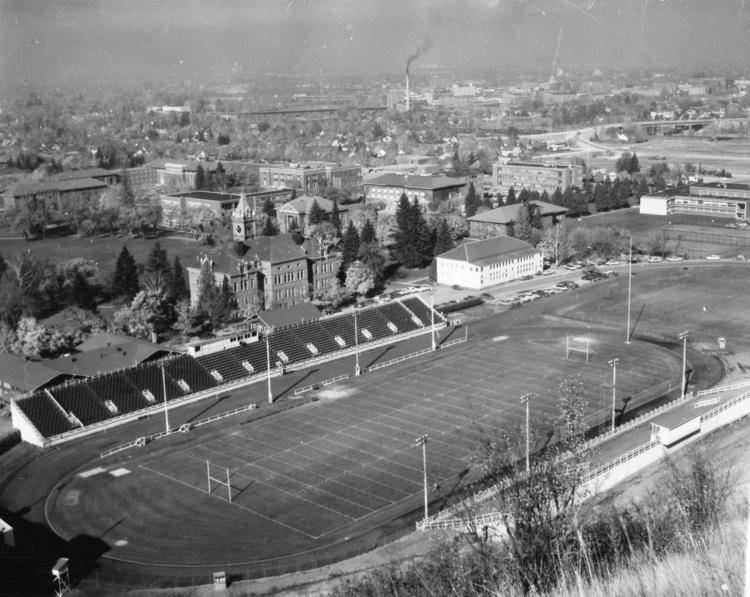 Athletic animosity
The Montana Legislature authorized funding for the stadium project in March 1983, but Lewis quickly realized it wasn't just the president and board of regents he needed to convince.
His university's faculty had strong opinions, too.
Lewis's hire followed a tumultuous stretch in UM athletics. Former AD Jack Swarthout, a highly successful Griz football coach during his time as an administrator, resigned in 1975 after accusations of misused work-study funds created an environment of distrust surrounding the athletic department.
"There was a social revolution and we had a group of faculty and students that were very anti-athletics," Lewis said of the post-Vietnam War era in Missoula. "... There was a considerable animosity toward athletics at that point.
"There was a segment of Missoulians and a significant segment of our faculty and students that wanted to reduce the scope of athletics and a significant number that even wanted to drop football."
Lewis pressed on, hiring local architecture firm Fox, Ballas & Barrow Associates in 1984, and raising an estimated $2.9 million for the project. When entrepreneur Dennis Washington and his Washington Corporation announced a major gift of $1 million toward the construction, a donation that salvaged the stadium from the jaws of dismissal, detractors grew even more vocal.
Why wasn't that money going toward academics, the opposition fervently questioned.
A Missoulian editorial that ran in the fall of 1985 responded under the headline, "It's pointless now to curse the new stadium."
"To contend that the money for the stadium should go to academic purposes is to contend that the money should not exist at all," scribes of the day wrote.
On Oct. 10, 1985, in a quiet, half-hour ceremony attended by just 200, workers put shovel to soil at the gates of Hellgate Canyon on the backside of the University of Montana.
A coach for a stadium
With a new stadium on the way, Lewis needed a prime product to call it home. That meant wiping clean the football team's slate, too.
Donovan, a crucial fundraiser during the fight for the stadium, was relieved of his coaching duties. He was a wonderful salesperson, Lewis recalled, but "the other side of his responsibilities didn't go quite as well. The football program was lacking."
Lewis turned his attention to Division II Portland State and head coach Don Read, whom the AD had tried to hire in 1980 when the job went to Donovan. Read had withdrawn his name then after interviewing, but felt compelled in 1986 to follow through.
The AD pitched the successful coach his vision for Montana's future: Washington-Grizzly Stadium and the backing of thousands of fans each Saturday to cheer on his team.
Read liked what he heard.
"I think he saw so much potential in the new stadium," said Robin Pflugrad, a longtime Griz coach who was an assistant on Read's staff at PSU and followed the head man to Montana that year. "Just being there thinking, 'Gosh, the way Don's talking about this stadium, he's really excited about it and thinks he can really build something.'"
Plans for the stadium across town at Fort Missoula or back at Dornblaser were abandoned for the on-campus location. Still Wa-Griz was nothing more than stakes in the ground, an outline of a future, when Read and his staff came to Missoula that winter. The cold Hellgate wind chilled the site, though Lewis remained confident that would not affect games there.
"The way we constructed the facility took the weather out of it," he said. "We didn't go up, we went down."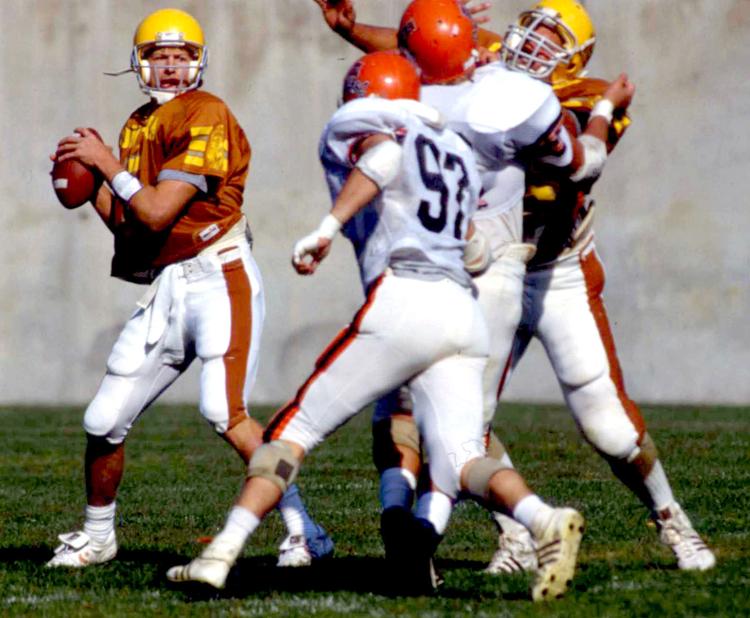 Roar of the crowd
The over-budget ($3.2 million) and off-schedule construction carried on throughout the summer of 1986. Massive berms of excavated dirt formed the base for stadium seating on both sides, enough for 12,500 fans. Below that, cavernous concrete locker rooms were carved out and connected to the adjacent Adams Center and field level by the stadium's famed tunnel.
The result was an anomaly of sound when Wa-Griz finally opened for play in Montana's fifth game of the '86 season. The cold, stone-like structure warmed with its seats occupied.
"(A)ll that concrete nestled down in the stadium's crater was ideal for one thing -- acoustics," a front-page Missoulian article read the next day. "It was what a college football stadium should be -- rowdy and loud, the kind of place visiting teams abhor."
Sophomore linebacker Kevin Bartsch still remembers the roar of that first home crowd, which numbered 10,580 -- well beyond anticipated attendance.
"When you're on the sideline you can hear and darn near interact with those fans in the front row," said Bartsch now a 49-year-old claims manager in Helena. "They're getting as much mid-game adjustment and discussion as you are because they're right on top of you."
Idaho State leaped out to a 31-21 lead behind the scoring of senior running back and future ESPN analyst Merril Hoge, but the Grizzlies rallied for 17 fourth-quarter points and the 38-31 victory.
The senior tandem of quarterback Brent Pease and receiver Mike Rice led the charge. Pease collected school records with five touchdown passes and 36 completions. Twelve went to Rice, another program best.
Rice caught three TDs on the day, the final connection between the two thrusting UM ahead with 3 minutes to play.
"I remember throwing one deep to the right northeast corner," recalled Pease, 51, who went on to play in the NFL, coach Montana's offense in the late 1990s and is now offensive coordinator at UTEP. "It's the same one that Jimmy Farris caught to win a playoff game'' against Appalachian State in 2000.
The victory propelled Montana to a season-ending surge. After entering the stadium opener with a 1-3 record, the Griz went 5-1 down the stretch.
"You play four and you don't really remember 'em, but then you step in that place and that's when the year got going," said Kraig Paulson, 52, a senior fullback in '86, future longtime UM defensive coach and current defensive coordinator with Southern Illinois University.
"To end that year with a winning record at 6-4, even though we weren't a playoff team or anything like that," added Salonen, 51, now an insurance sales executive in Kalispell, "you knew the program was going in the right direction."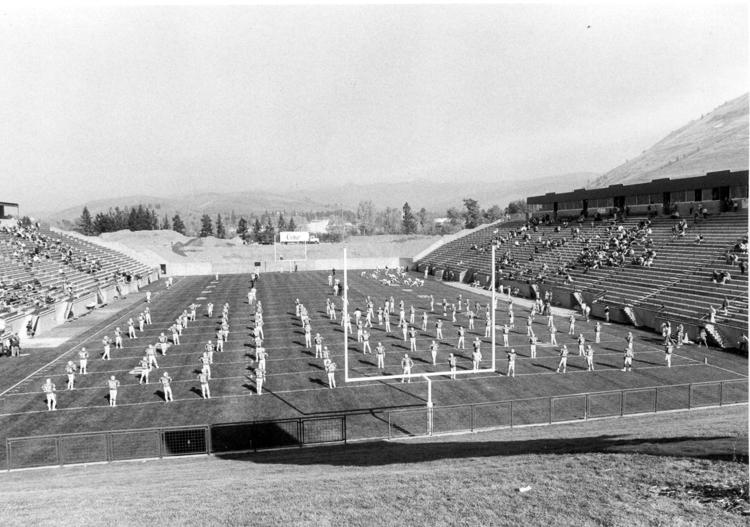 Bigger is better
The high of the stadium opening only invigorated Montana's coaching staff. With grassy hills situated behind each end zone, Wa-Griz's true capacity was closer to 15,000. The coaches set goals to increase average attendance by 1,200 fans per year, noted Jerome Souers, UM's defensive backs coach in '86 and defensive coordinator from 1989-97.
It was in that 1989 season they found inspiration. The program enjoyed its first playoff victory and won two in Missoula before traveling to Georgia Southern for the national semifinals in Statesboro.
The atmosphere was electric, Souers remembered, and his Griz succumbed to the Eagles 45-15.
"They had it going down there," said Souers, 58, now a 19-year head coach at Big Sky rival Northern Arizona. "Every person that went on that trip came back and said, 'What do we have to do to build that here?'"
Montana adapted GSU's now-familiar stadium chant (one side shouted "Georgia" while the other responded "Southern"); adopted the same entry music, "Welcome to the Jungle" by Guns N' Roses; and re-created the party atmosphere that helped the Eagles win 38 straight home games from 1985-90 on their way to four national titles.
The Griz expanded end-zone seating in 1995, a $1.8 million renovation that added 6,000 seats. Next came the north end zone project in 2003 to add another 4,000 seats at a cost of $2.5 million, and the $6.5 million east-side club level that sent the stadium's capacity soaring to its current 25,217.
The augmented stadium has strayed from Lewis's original vision. Initial blueprints included space to add second decks on the east and west sides, but then called for encasing the entire structure in a dome -- literally capping capacity.
The fans continued to turn out in droves, drawn as much by the ever-growing football palace as the championship-level product within it.
"With both the new stadium and Don Read, it's like everything started to come together," said Scott Hartman, 50, a junior center in 1986 who now teaches and coaches at his alma mater, Great Falls CMR High School. "At that point, there was no looking back."
Under Read's leadership and on the arm of QB Dave Dickenson, the Griz won their first national title in 1995. They added a second in 2001 under head coach Joe Glenn.
An unprecedented age of prosperity extended through 2011, with the Grizzlies posting winning records in 26 consecutive seasons with 16 Big Sky titles, including 12 in a row from 1998-2009.
"That (stadium) was the signature piece that gave Montana something to build on," Pease said. "... It's kind of a mystique now."
The Griz have won 87.3 percent of their games inside Wa-Griz (192*-28), including 30 straight from 1994-97.
*Includes five wins in 2011 vacated due to NCAA sanctions.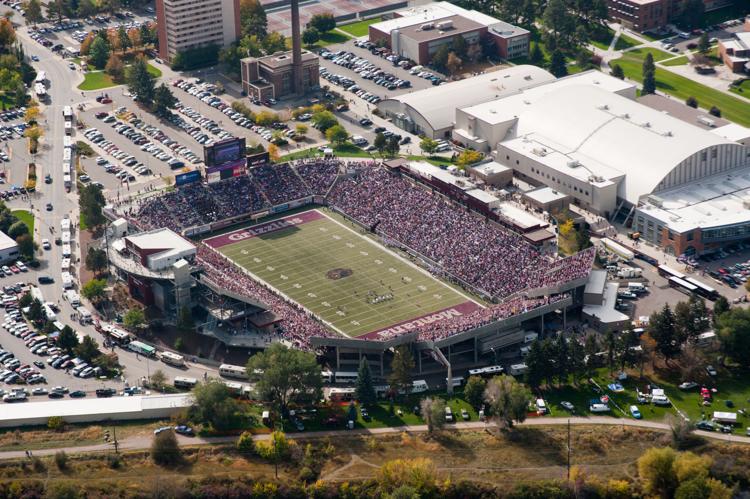 The pride of Montana
Even more clearly than Washington-Grizzly's debut game, Pflugrad remembers his first back in Missoula during his second stint as an assistant in 2009. The Griz pounded over-matched Western State in front of a record 25,698 fans, a mark that has been surpassed 21 times since then.
"I didn't think this could get that much better," said Pflugrad, 58, an offensive coach at Phoenix College the past two years after being let go as UM's head coach in 2012. "Then, oh my God, it's twice as nice as you ever thought it'd be."
The stadium has grown, but so have the fans in knowledge of the game. They're educated, Souers said. They create a racket when they should and fall silent when they shouldn't. Griz Nation is as intimidating as the team on the field, Souers offered.
"I believe there's something about the energy of that many people thinking the same thing that creates something in there," Souers explained. "I don't want to get all crazy on you, but it's tangible. It's real and it happens. You have to be prepared for that and if you're not, as an opponent you're gonna be overwhelmed."
The tradition continued last season when Montana knocked off No. 1-ranked and four-time defending FCS champion North Dakota State to open the season, once again setting a record attendance mark with 26,472 fans squeezing into the stadium. The throng was as loud as ever as the Griz flew out of the tunnel to an ESPN crowd of 1 million around the country.
The number of eyes -- and taxed vocal cords -- was far greater than that October day in 1986, but the tingling feeling transferred to the Griz entering the field remained the same.
"When I left Montana, the thing that I left behind was that football stadium," said Lewis, the former AD who still sits on the University of Montana Foundation board as chair of the development committee in charge of fundraising.
"... When I go back and think of that, I just kinda smile and say, 'Isn't it neat that we now have a program that's the pride of the state of Montana?'"