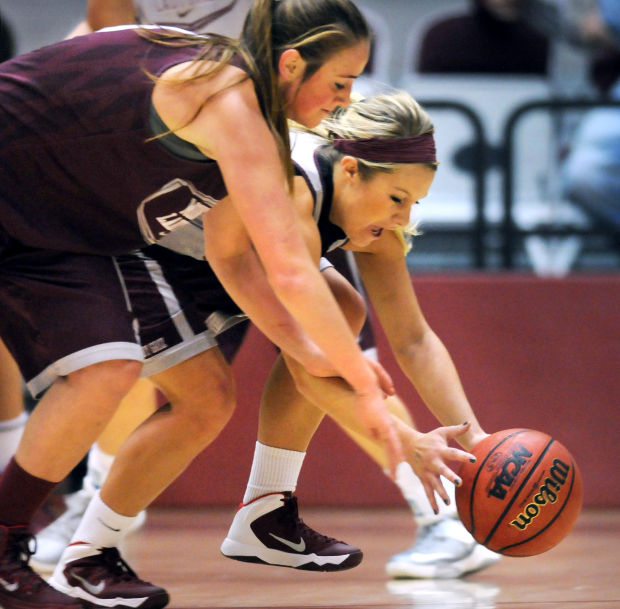 The first official scrimmage for the Montana Lady Griz wasn't four minutes old when the youngsters began to make noise.
Kayleigh Valley, a true freshman out of Spokane, hit a 3-pointer to put the Silver up 9-8 at Dahlberg Arena, signaling a small crowd that the upperclassmen had better pay attention.
Which they did: Junior Carly Selvig had 16 points and 15 rebounds and senior Jordan Sullivan had 13 and 10 to lead the Maroon to a 67-52 victory.
"I have a hard time telling too much from scrimmages, because we're playing each other," said Robin Selvig, the Grizzlies' 36th-year head coach. "But the older kids looked comfortable and did a good job. The way we split it up, we put the older guards with the younger inside kids.
"The team that actually ended up ahead had all returners – that probably made a difference."
Selvig and Sullivan were joined by sophomore guards Hannah Doran, McCalle Feller and Haley Vining, along with junior forward Maggie Rickman (10 points and six boards). All but Vining hit double figures, though the Great Falls product had a strong game with seven assists to go with four points.
Feller and Doran, both sophomores, hit three 3-pointers apiece. Feller had seven turnovers, which seemed to prove Robin Selvig's point about scrimmages.
"The one thing McCalle hasn't been doing is turning it over," he said. "She did tonight, but she hasn't been.
"McCalle's really been – I wouldn't say she's been a surprise, but she's been scoring in our scrimmages and practices. She really got some good offensive tools. She's kind of caught our attention with her shooting ability."
Conversely, Selvig said, "Carly hadn't been making any shots in practice the last few days. She came to life a little bit."
Carly Selvig scored the first four points for her team and then dished to Rickman for another basket. After Feller converted a 3-point play to put the Maroon ahead for good, 11-9, Selvig had five points as the gap grew to 21-12 at 8:04 of the first half.
The junior went 7 of 11 from the floor, helping her team to a 50 percent (26 of 52) shooting night. She, Sullivan and Rickman also combined for eight blocked shots, helping the Silver to 33 percent shooting (19 of 57).
Torry Hill, who scored a scrimmage-high 19 points, helped the Silver hang around. Her third 3-pointer pared the gap to 24-20 at 3:59 of the first half.
Playing alongside junior guard Kellie Cole (10 points) and redshirt freshman forward Rachel Staudacher, Hill did well at both ends of the floor.
The Maroon led 45-27 early in the second half on a Sullivan layup, but Silver got the gap down to 49-39 on a Staudacher put-back and 52-44 on two Hill free throws at the 5:33 mark.
"Torry's just been playing great," Robin Selvig said. "Whatever team she's on, she's been doing a nice job on D, and she's really played well."
It just wasn't enough for the Silver: Within a minute of Hill's free throws, Doran and Feller each hit their third 3-pointers to boost the lead back to 58-46. The Maroon coasted in from there.
All 13 Lady Griz saw at least 22 minutes of action in a scrimmage that lasted two, 18-minute halves. The Silver team had seven players.
Selvig didn't dress either Shanae Gilham, who will redshirt this season to recover from knee surgery, or Molly Klinker. He hopes Klinker, a redshirt freshman out of Fairfield, is soon to get an MRI on an injured shoulder.
The good news is that he can welcome back a player like Vining, who sat out last season with a knee injury.
"It's nice to see her out there," Selvig said. "She sat out last year and her first year she never really had a chance to show us what she can do. She's looked good; she's got some quickness back."
"Haley's doing a great job," added Hill. "She was here this summer and we played a lot of pickup ball and I think that really helps build chemistry, and it helped get her confidence up."
The Lady Griz open their season Monday, at home against MSU-Billings. Selvig noted that the Yellowjackets have most their players back from a 17-10 squad that beat Montana State last December.
They picked up an MSU transfer, 6-4 Chelsea Banis, to boot.
"They are legit," he said. "They have a really good team."
MAROON – Carly Selvig 7-11 2-4 16, McCalle Feller 4-7 2-3 13, Jordan Sullivan 4-12 5-6 13, Hannah Doran 4-9 0-0 11, Maggie Rickman 5-9 0-0 10, Haley Vining 2-4 0-0 4. Totals 26-52 9-13 67.
SILVER – Torry Hill 6-15 4-4 19, Kellie Cole 3-12 4-4 10, Rachel Staudacher 4-7 1-2 9, Alycia Sims 2-7 0-0 4, Mekayla Isaak 2-5 0-1 4, DJ Reinhardt 1-7 0-0 3, Kayleigh Valley 1-4 0-0 3. Totals 19-57 9-11 52.
Halftime score: Maroon 34, Silver 25.
3-point goals: Maroon 6-16 (Doran 3-6, Feller 3-6, Rickman 0-2, Vining 0-1, Sullivan 0-1), Silver 5-13 (Hill 3-4, Valley 1-3, Reinhardt 1-5, Cole 0-1). Rebounds: Maroon 40 (Selvig 15), Silver 28 (Sims 7). Assists: Maroon 19 (Vining 7), Silver 7 (Cole 4). Total fouls: Maroon 12, Silver 9.