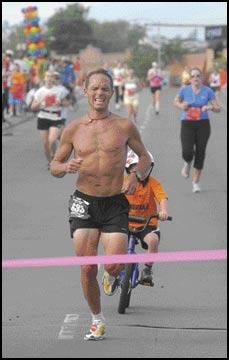 Runners from near and far racing for countless causes turned out for the third edition of the Missoula Marathon on Sunday, but it was a man of mystery who was the first to cross the finish line.
Kiefer Hahn of Missoula claimed the victory in an event-record time of 2 hours, 33 minutes and 17 seconds, breaking his own mark of 2:43:30 set during 2007's inaugural Missoula Marathon.
Hahn, a professional personal trainer in Missoula, didn't register for the race until Saturday, leaving many to wonder if he would be the favorite or a no-show when the race began in Frenchtown at 6 a.m.
"I was a little burned out to be honest, so I wasn't sure how well I would race," said the 36-year-old Hahn, who owns Momentum Gym in Missoula. "This year was better because I had a lot of friends with me on the course. I kind of knew I would need some people helping me out. I didn't expect to come out and run a record time, so I'm extremely happy."
Two years ago, Hahn waited until the last possible minute to register and won, despite not doing any sort of marathon-specific training. This time around, after doing what he called "very specific" training, it was rumored he was going to try to break 2:30. He narrowly missed his goal, but was nonetheless happy with the result.
"I didn't look at the watch a single time, I just ran as best I could and I'm satisfied with my time," Hahn said.
Records fell on the women's side as well, as Annie Thiessen of Tacoma, Wash., and Victoria Russell of Spokane became the first women in any Garden City marathon to break three hours.
Thiessen's 2:57:44 shattered the women's record of 3:15:08, set by Jamie Schuster last year. Russell crossed the finish line not far behind, clocking a 2:59:57.
"That's a pretty good day's work, all before 9 o'clock," said Thiessen, who has run over 100 marathons in her 14-year career. "I like to get in quickly so I don't miss the good food."
Both Thiessen and Russell agreed having one another as competition did nothing but bring out the best in each athlete.
"This was my fourth sub-three (hour) in the past two months so I guess you could say it's been a good couple months," said Thiessen, a veterinarian. "This is a beautiful course. I love the early start, I love the point to point, the little hill … Having Victoria there along side was great because I wasn't really feeling it today and she really pushed me through."
Sunday was just the second official marathon Russell has ever participated in. She said having a veteran like Thiessen to set a pace was crucial to her second-place finish.
"My whole goal was a sub-three and I beat my last time by over six minutes so I'm very satisfied," Russell said. "There is no way I would have broken three without having Annie to gauge on."
Spencer Carter won the half marathon race in a time of 1:14:00. He was followed by Nate Centon, of Ely, Iowa, (1:14:50) and Collin Fehr of Victor (1:16:05).
Megan Lerch (1:25:23) of Missoula was the 13th person to finish the half marathon and first among women. Missoula women made it a clean sweep, as Rye Palen (1:25:58) and Suzanne Huse (1:28:42) completed the top three.
More than 2,400 runners participated and the field as a whole was the fastest Missoula has yet seen. Last year, just three runners broke the three-hour mark. This year, 15 men and two women broke the barrier.
The continued growth of the Missoula Marathon is bolstered by people running for causes ranging from the Missoula Youth Homes and the homeless to loved ones long gone.
Jimmy Grant, who won the Missoula Riverbank Run in April and was the top Montanan at the Bloomsday race in Spokane, finished just two minutes off of Hahn's pace (2:35:10). The 31-year-old was one of over 160 people who ran in support of the Missoula Youth Homes.
"It was the first time I've ever run for a fundraiser and it added a level of commitment," said Grant, a historian for Historical Research Associates in Missoula. "It really meant a lot to me. The contrast between this year and the first year is amazing. The organization of the event is great, the re-route of the course was a great change and the event itself is just awesome."
Run Wild Missoula, the local running club that puts on the Missoula Marathon, has helped Missoula revive its reputation as a town with a vibrant running population. For the 2,400 participants, hundreds more watched exuberantly from the Higgins Avenue Bridge as racers made their final push.
Victory is sweet, but the support from all around was what made Hahn's second title in as many tries even sweeter.
"This is an amazing event. It was such a wonderful thing to be a part of it," Hahn said. "Missoula is all about the community, the people, and that's what this event all about."
1, Kiefer Hahn, Missoula, 2:33:17; 2, Jimmy Grant, Missoula, 2:35:10; 3 Leif Seed, Corvallis, 2:43:11; 4, Andrew Drobeck, Missoula, 2:45:50; 5 Chuck Engle Dublin, Ireland, 2:49:41; 6, J.R. Roberts, Burlingame, Calif., 2:52:28; 7, Jesse Carnes, Colville, Wash., 2:53:52; 8 Jason Ridgeway, Boise, Idaho, 2:55:57; 9, Brad Ferris, Spokane, 2:56:28; 10, John Herring, Missoula, 2:56:53.
1, Annie Thiessen, Tacoma, Wash., 2:57:44; 2, Victoria Russell, Spokane, 2:59:57; 3, Trisha Miller, Missoula, 3:05:24; 4, Darr Tucknott, Missoula, 3:17:36; 5, Julie Gilchrist, Ovando, 3:17:37; 6, Tami Harmon, Yuma, Ariz., 3:18:53; 7, Mary Hanna, 3:19:07; 8, Minde Erickson, Bozeman, 3:21:24; 9, Marilyn Kelly, Kalispell, 3:25:51; 10, Jennifer Lueck-Wheeler, 3:26:16.
1, Spencer Carter, 1:14:00; 2, Nate Canton, Ely, Iowa, 1:14:50; 3, Collin Fehr, Victor, 1:16:05; 4, Peter Miller, Spokane, 1:16:19; 5, Eric Larson, Missoula, 1:16:24; 6, Jacob Naegeli, 1:16:52; 7, Kyle McNaught-Davis, Spokane, 1:17:21; 8, Robbie Brooks, Missoula, 1:17:38; 9, Cody Lund, Lolo, 1:18:43; 10, Brian Wieck, Helena, 1:23:02.
1, Megan Lerch, Missoula, 1:25:23; 2, Rye Palen, Missoula, 1:25:58; 3, Suzanne Huse, Missoula, 1:28:42; 4, Sarah McLaughlin, Spokane, 1:28:54; 5, Michele Bazzanella, Helena, 1:28:55; 6, Mary Thane, Missoula, 1:29:05; 7, Lisa Minnehan, Billings, 1:30:27; 8, Ashley Powell, Missoula, 1:31:19; 9, Bridgette Hoenke, Billings, 1:31:23; 10, Todd Williams, Missoula, 1:33:42.
Be the first to know
Get local news delivered to your inbox!