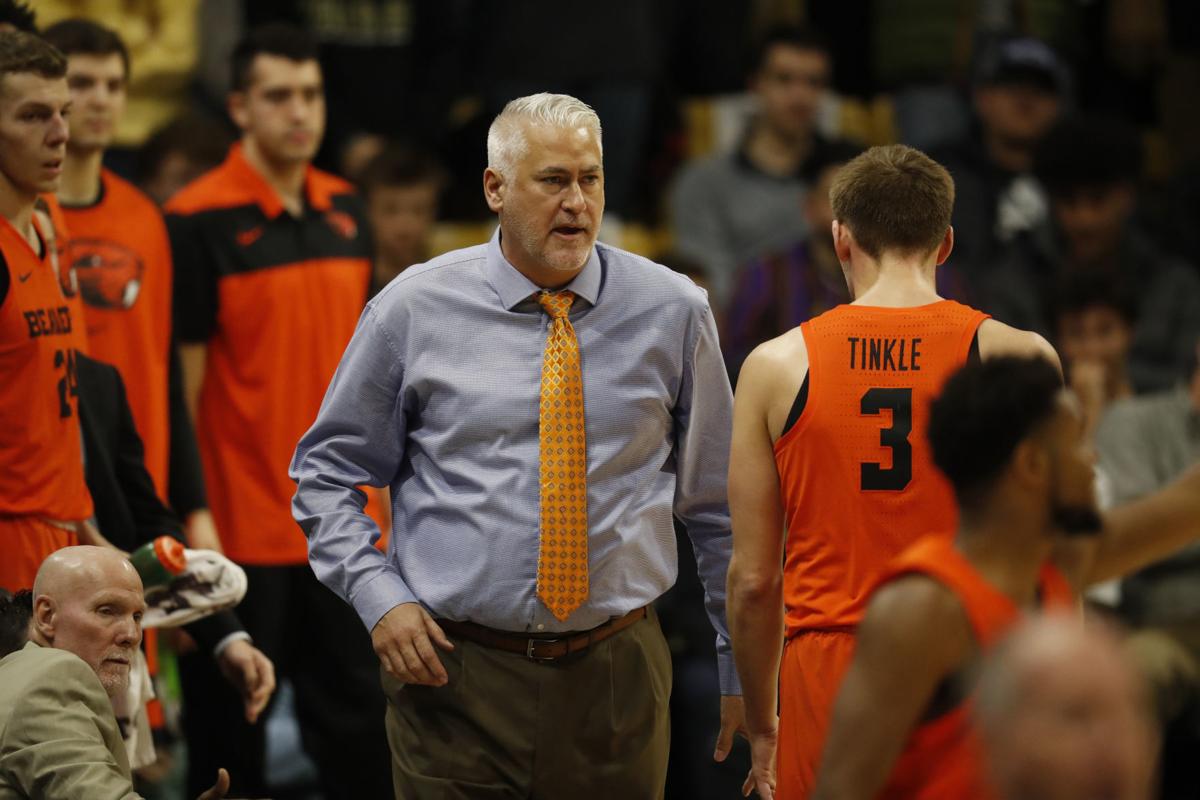 CORVALLIS, Ore. — Oregon State men's basketball coach Wayne Tinkle, a former Montana Grizzly player and coach, has agreed to donate 7% of his annual salary over the next year back to the athletic department in response to the coronavirus pandemic.
Tinkle recently wrapped up his sixth year with the Beavers, having compiled a 93-96 record with four winning seasons and one NCAA tournament appearance. He coached Montana to a 158-91 record and made three NCAA tournament trips from 2007-14.
Oregon State athletic director Scott Barnes and football coach Jonathan Smith have also agreed to to the same salary donation as Tinkle, Barnes said in a letter addressed to Beaver Nation on Tuesday night
"In all my years as an intercollegiate athletics administrator, I have never been more proud of the work that is being done by our coaches and staff to ensure the well being of our student-athletes," Barnes wrote. "I also am amazed by the outpouring we have received from our donors and fans as we navigate these uncertain times. Thank you for reminding me how special Beaver Nation is.
"The cancellation of the spring sports schedules and the winter sports postseasons have had a significant financial impact on our department. Our revenue shortfalls are coming from multiple levels including local, Pac-12, and NCAA revenue streams. We are doing everything we can to mitigate these losses without directly impacting our student-athletes."
In addition to Barnes, Smith and Tinkle, others will also take part in donating part of their salaries.
• Athletic Executive and other select staff members and all other head coaches will donate up to 5% of their annual salaries based on salary level over the next year
• We will have a mandated spending freeze for all non-essential items for the remainder of the 2019-20 fiscal year
• Annual Facilities debt will be restructured to reduce 2020 debt service payment
• A selective pause on new hires will be in place until further notice
"Our young men and women have had their lives turned upside down, yet their commitment continued in the classroom where they achieved a cumulative 3.25 for Winter Term. Our academic team has done a phenomenal job with the latest technologies and our student-athletes have adjusted quite well — 35 percent of our nearly 500 student-athletes made the Honor Roll last term. During this current academic term, where all classes are being taken remotely, we have continued to offer academic support, tutoring, and mentoring through online platforms. We've transitioned many of our student-athlete clubs, Student-Athlete Advisory Committee (SAAC) leadership meetings, and professional development workshops to Zoom conferences.
"The Sports Performance staff has spent countless hours producing workout instructional videos for our student-athletes to access online platforms. They have shipped equipment packages, adhering to Pac-12 Conference regulations, to each of our young men and women. We've also sent nutrition guidelines and recipes through our portals from our sports nutritionist."
Barnes also talked about the addition of new wrestling coach Chris Pendleton — "I'm excited to see what he brings to the mat once we return to normalcy" — and added that he is "ecstatic about the rate of renewals for football season tickets for the 2020 season."
He continued on saying "we have many donor-funded facility upgrades that continue to progress, including at our soccer and softball complexes. The Completing Reser Stadium project continues to move forward prudently with the upgrades to the west side."
Finally, Barnes said "I am grateful and proud of the coaches and leadership staff for stepping up with me and showing their generosity in support of our current departmental situation. We will play games as soon as possible and bring Beaver Nation together again. I'm excited about the fall sports season, particularly with what coach Smith and his staff are doing to move us forward."
Be the first to know
Get local news delivered to your inbox!