HELENA -- Helena's Geoff Proctor has coached numerous World Cup Cyclocross competitors. And as an eight-year member of the sport's international commission, someday he hopes to see the sport in the Olympics.
Proctor is also the director of the MontanaCrossCamp, which recently concluded its annual training courses for many of the nation's top young cyclocross competitors. The camps were composed of 23 males and 14 females from across the country, including several national champions.
For the past 16 years, Proctor has directed USA Cycling's Cyclocross Program in Europe and domestically. This summer was the ninth camp in Helena for the men, and third for the women.
"This year the camps featured the best Team USA pros here assisting me," related Proctor, who was involved in the founding of the local Mount Velo Club in the early 1990s, and the Youth Dynamos in 2005. "Since we started the camp in 2011, we've invited only the best riders and coaches."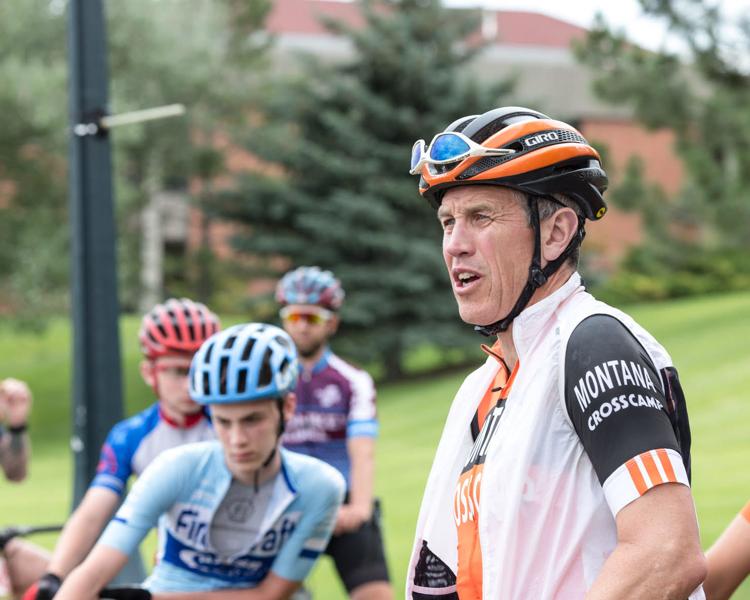 From Alaska to North Carolina
The camps are a week-long training regimen for both genders and give bikers the opportunity to push each other.
The 37 athletes in attendance represented 16 different states, and came from places like Anchorage, Alaska; Chapel Hill, North Carolina; Rowlett, Texas; Swampscott, Massachusetts; St. Clair, Michigan; and Los Gatos, California.
"We also had three young riders from Missoula, one a national champion, and two from Helena," Proctor said.
The local duo consisted of Andrew Frank, 23, and Ian Williams, 18.
Cyclocross is a form of bicycle racing, with the World Cup seasons running from Sept. 1 through Feb. 1.
"The races consist of many laps of a short (1.5- to 2-mile) course featuring pavement, wooded trails, grass, steep hills and obstacles," according to Wikipedia, "requiring the rider to quickly dismount, carry the bike while navigating the obstruction and remount."
The MontanaCyclocrossCamp's attendees stayed in the dorms at Carroll College, and trained three sessions per day. A typical workout day entailed running the Nelson Stadium stairs from 6:30-7:15 a.m., then performing cyclocross skills training from 9-10:30 a.m. at Mihelish Fields, followed by endurance rides on Mullen, Priest or Chessman Passes from 2-5 p.m.
Every evening at 7 p.m. they met at O'Connell Hall for classroom sessions.
"We're preparing the athletes for the rigors of the upcoming season, with a long-term sight to the next Worlds in U.S., which is 2022 in Arkansas," Proctor said. "The core theme for me is 'sport, academics, and a platform to instill self-belief.'"
He recounted that about 150 riders have attended the camps over the past eight years, with 30% of those going on to compete at Worlds.
Former Helena resident Landon Beckner was a protege of the CrossCamps. And although he never competed at the World Cup level at Cyclocross Worlds, Beckner did place 58th at the 2014 World Mountain Bike Championships in Norway, before retiring.
Several current attendees took a break from their training to discuss the benefits of the camps.
"I've been competing at cyclocross for about five years," said Ivan Gallego, 16, of Missoula. "I think what I'm learning most here are the different lines you can take in a course, and how to be a smarter racer."
Gallego, who will be a junior at Missoula Hellgate this fall, is off to a good start in his young career. Last December, he captured the USA Cycling Cyclocross 15-16 Junior National Championship in Louisville, Kentucky.
"I'm really getting a lot out of the classroom time, and learning a lot from Geoff's European experience," said two-time national champ Lizzy Gunsalas, 17, a two-time national champ. "What I like about cyclocross is that it's one big family, no matter how far away from home you are, everybody knows everybody else."
A native of Dudley, Massachusetts, she tried "every team sport and hated it," before trimming her activities down to just two, along with "snowboarding for pleasure" in the wintertime.
Alex Morton, 17, of Saint Clair, Michigan, has been involved in cyclocross since he was 9, and said that "learning from the other guys" is what he'll take away most from the camp. Morton placed sixth at the 2019 World Cup in Belgium.
"I grew up doing triathlons, plus I enjoy downhill skiing," related Cassidy Hickey, 17, of Parker, Colorado, who started cyclocross at the age of 14. "And I really enjoy the individual competitiveness of cyclocross … to try and catch whoever's in front of you."
Hickey garnered the 2018 national triathlon title in Westchester, Ohio, and was runner-up at the national cyclocross in Reno, Nevada.
"This class helps you learn from your mistakes, there are just so many amazing coaches here," she said.
Headlining Proctor's coaching staff were Katie Compton of Colorado Springs, and Delanson, New York's Curtis White. Compton is a four-time World Cup runner-up and 15-time national champion, while White is the top-ranked U.S. pro.
Also on the staff were locals Scott Herzig and Emmett Purcell, as coach and support driver, respectively.
"I really appreciate the community awareness during our training, the local people are so kind and considerate," Proctor recalled. "Twenty-three riders on Oro Fino at one time is just not normal … it's pretty special that no one got run off the road."
Proctor was a member of the Cyclocross commission of the Union Cycliste Internationale (UCI) based in Aigle, Switzerland, from 2009-17. He described how the hundred-year-old sport draws 70,000 spectators at the World Cup events in Belgium and the Netherlands.
"Cyclocross would fit nicely into the Winter Olympics," he said. "The Olympic charter language says that you have to practice your sports on snow and ice."