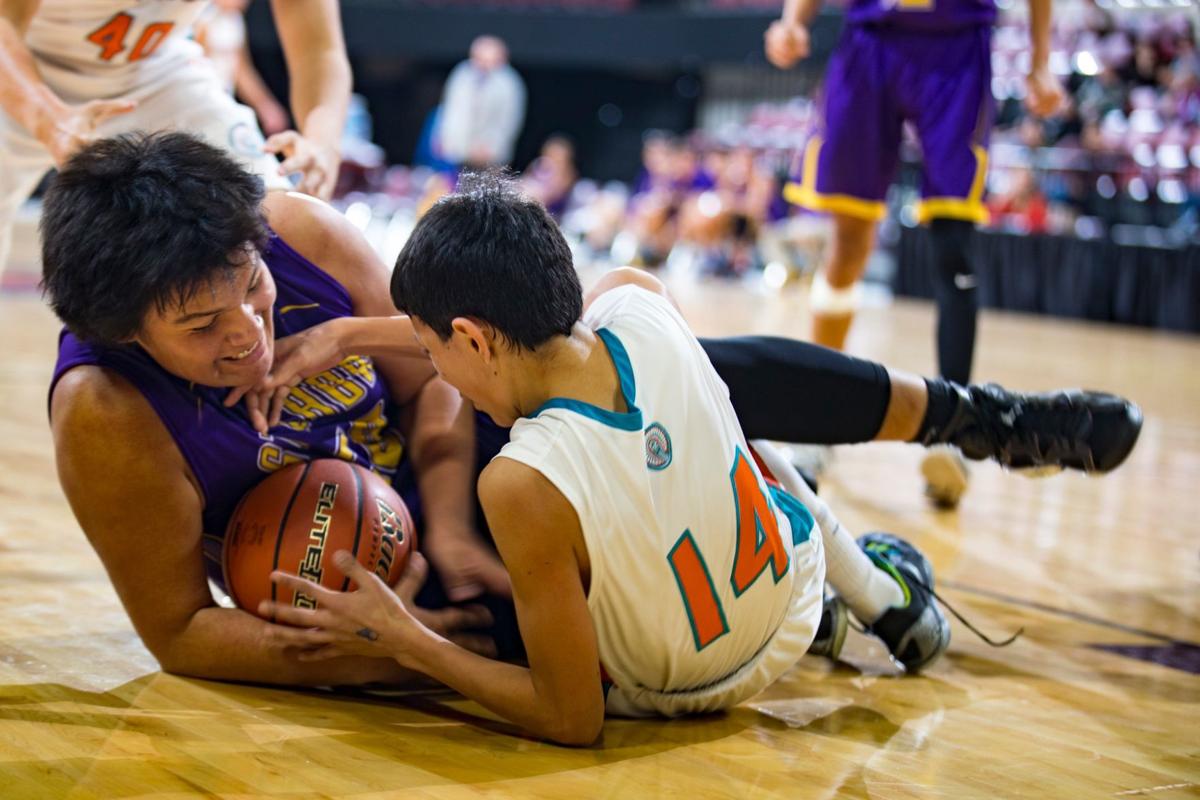 Boys Basketball
Class A
• Famous Lefthand scored 14 of his game-high 23 points in the first quarter and Hardin began its pursuit of a state title with a 74-67 victory over Hamilton in the Western A Tip-Off in a matchup of state-tournament teams from a year ago. The Bulldogs led 38-19 at halftime and led by as many as 20 points before withstanding a 30-point barrage by the Broncs in the fourth quarter. Kidd LittleLight added 10 points for the Bulldogs, who had five players score eight points or more. Trey Searle scored 28 points to lead Hamilton, 15 in the fourth quarter. Carson Rostad added 12.
• Caleb Warnken led with 16 points and Tanner Jessop pitched in with 14 as Corvallis started its season off on the right foot with a 51-44 victory over Libby. The Blue Devils led 19-17 at halftime and built the lead to six by the end of three. Jay Beagle scored 13 points and Ryan Goodman 12 to lead the Loggers.
• Brendan Johnson scored 25 points and Rylee Watt added 10 to help Livingston topple Townsend 69-51. Tyler Christensen led Townsend with 21 points. Johnson hit four 3-pointers, three in the first half, as the Rangers built a 39-25 lead.
• Ronan scored 24 points in the fourth quarter to erase a two-point deficit against Stevensville and pick up a 63-54 win. Ronan junior Leonard Burke posted a game-high 22 points, and Girma Detwiler had 20. Stevensville freshman Kellan Beller had a team-high 22 points in his first high school game.
• Max Eaton scored eight points in the fourth quarter to help Glendive get past Columbia Falls 55-50. The score was tied 37-37 after three quarters, but Glendive pulled away in the fourth. Taven Coon led the Red Devils with 21 points and Eaton finished with 14. Cade Morgan and Allec Knapton each scored nine points to lead Columbia Falls.
• Jace Fitzgerald led a balanced attack with 14 points, Conner Curnow added 12 and Braden Anderson had 11 as Dillon rolled past Polson 61-44. Justus Peterson contributed nine points, Cole Truman eight and Cole Johnston seven for the Beavers. Colton Graham led Polson with 18 points.
• Braden Harrington had 16 points and Trevor Neuman added 14 to help send Butte Central past Whitefish 62-43. The Maroons hit eight 3-pointers, including three each from Harrington and Luke Heaphy, who finished with nine points. Talon Holmquist scored 12 points to lead Whitefish.
Class C
• Sam Leep scored 22 points and Josiah Amunrud chipped in with 20 as defending state champion Manhattan Christian used an 18-0 second quarter to steamroll neighboring Manhattan 75-48. The two teams were tied at 13-all after one quarter but the Eagles outscored the Tigers 44-13 in the middle two quarters. Caden Holgate provided the offense for Manhattan with 21 points.
• Arlee downed Seeley-Swan 52-46 at the Ronan Western C Tip-Off. Cody Tanner had 19 points for the Warriors and Levi Fullerton added 16. Owen Mercado had 24 points for the Blackhawks and Dakota Wood tacked on nine.
• Darby beat Noxon 54-41 in the Western C tip-off behind 14 points from Nelson Smith and 13 from Preston Smith. Gabe Smith also added on 12 for the Tigers, who fended off a determines Red Devil team led by Rylan Weltz, who dropped 31 points for Noxon.
• Plains handled Victor 60-13 as Jake Wyers had 16 and Treydon Brouillette had 15 for the Horsemen, who outscored the Pirates 37-7 in the first half. Nathan Feliksa had 10 points and Tucker Frost eight for Victor.
• Frenchtown's JV squad topped Alberton-Superior 40-29 with a huge fourth quarter run. The Broncs scored 17 points in the final period to win, which came after a 16-point third-quarter from the Mountain Cats that gave Clark Fork a lead. Wyatt Hayes led Frenchtown with seven points. Bryan Mask and Aaron Waddle each had nine for Clark Fork.
• Philipsburg blitzed out to a 41-19 halftime lead over Charlo on its way to a 66-43 win. Kade Cutler scored 20 points to lead Philipsburg, and teammate Bryce Parret dropped in 14. Charlo was led by 18 points from Roper Edwards.
• Hot Springs earned a 57-53 win over Lincoln using a 24-point second quarter to build a lead and then staving off a comeback attempt. Brandon Knudsen led Hot Springs with 19 points, while Jack McAllister added 18 and Kyle Lawson had 12. Lincoln's Nathan Brown scored a game-high 21 points.
• Kenai (Alaska) beat Two Eagle River 66-42 in Great Falls. Michael Brown and Anthony Charlo each scored 11 for Two Eagle River.
• Nicholas Day led with 18 points, Andrew Sanford added 13 and Caleb Ball pitched in with 10 to carry St. Regis to its season-opening 57-43 win over Valley Christian. Mitch McCloy led Christian with 12 points.
• Terry Allmer poured in 25 points, Kolden Hoversland added 19 and Kyle Pederson provided 17 as Lustre Christian cruised past the Wolf Point JV 74-43 at the Class C Showcase in Glasgow. Rylee Ackerman scored 21 for Wolf Point, 18 in the second half.
• Shayden Cooke's 18 points helped get Melstone off to a strong start with a 47-37 win over Saco-Whitewater-Hinsdale. Loden Idler's 11 points led North Country.
• Hunter Collensworth had 13 points as the Glasgow JV team coasted past Frazer 61-28. Klein Ackerman had 13 for Frazer.
• Tyson Flickinger racked up 28 points -- 19 in the first half -- to power Plentywood to a 72-44 romp over Turner. Jordan Trupe added 15 ponits for the Wildcats. Austin Welsh topped the Tornadoes with 20 points and Shane Kimmel added 17. 
Girls Basketball
Class A
• Sofee Thatcher scored 16 points and Brooke Badovinac added 10 as Butte Central opened its season with a 50-22 rout at Whitefish. In all, nine players scored for the Maroons. Gracie Smyley topped the Bulldogs with seven points. 
• Hardin built a big first-quarter lead and held on for dear life in a 42-41 season-opening victory over Hamilton. The Bulldogs led 15-2 after one quarter and by five points after three. Taryn Searle and Layne Kearns each had seven points for Hamilton. No individual statistics were available for Hardin.
Class B
• Kylie Kovatch and Kasidy Yeoman scored 13 points each as Florence-Carlton topped Thompson Falls 47-41. Jody Detlaff of Thompson Falls led all scorers with 15 points.
Class C
• Emmah Baughman scored 10 points, Darby Haskins added nine and Cassie Green contributed eight as Alberton-Superior opened with a 44-27 victory over the Frenchtown JV. Haskins scored all of her points in the second quarter on 3-pointers. Dexie Smith scored nine and Harper Armitage seven for the Broncs. 
• Seeley-Swan ran past Arlee 60-14 as the Warriors were held scoreless in the first and fourth quarters and the Blackhawks held a 29-9 lead at halftime. Klaire Kovatch paced Seeley-Swan with 12 points.
• Plains beat Victor 50-14 and were keyed by 16 points from Kylee Altmiller. Kim Curry was also in double figures for the Trotters, scoring 11.
• Darby snuck past Noxon 44-39 after a wild fourth quarter. Both teams were tied at 30 entering the final frame, but the Tigers hit 6 of 9 free throw attempts to pull out the win. Avery Burgess had 28 points for the Red Devils, including 18 in the second half.
Hot Springs had little issue with Lincoln, downing the Lynx 49-19. McKennzie Cannon led the Savage Heat with 16 points and Katelyn Christensen added 10.
You have free articles remaining.
Charlo outscored Philipsburg 11-0 in the first quarter on its way to a 32-25 win. Carlee Fryberger paced Charlo with eight points, Destiny Manuel added seven, Liev Smith chipped in six and Hayleigh Smith had five. Rachel Ward led Philipsburg with nine points.
• Fresh off a state volleyball title, Kiersten Van Kirk scored 16 points and Eliana Kuperus added 13 points and 12 rebounds as Manhattan Christian toppled rival Manhattan 50-35 behind a big second half. The Eagles led only 24-23 at intermission but used a 15-6 third quarter to pull away. Amy Grevious and Hallie Hemenway topped the Tigers with eight points apiece, and Olleca Severson added seven. 
• LaReina Cordova and Dani Coffman each scored nine points and the Ronan JVs held off a late push from Drummond for a 36-34 opening win. Ronan led 31-23 after three quarters. Holly Hauptman led the Trojans with 11 points and Sydney Phillips added 10. 
• J'elle Garfield led the way with 19 points and eight Wolf Point JV players got in the scoring column in the Wolves' 49-31 toppling of Lustre Christian. Alena Reddig topped Lustre with 15 points. 
• Draya Wacker scored 19 points and and Melstone hit 10 3-point baskets on the way to a 47-44 edging of Saco-Whitewater-Hinsdale. Jaycee Erickson's 19 points topped North Country, which trailed 33-15 at halftime.
• Abe Nielsen had 12 points and the Glasgow JV downed Frazer 48-34. Keylandra St. Marks led Frazer with 24 points. 
• Liv Wangerin led with 21 points and Ashtyn Curtiss added 16 for Plentywood in a 47-44 nipping of Turner. Sarah Billmeyer, Laci Maloney and Shan Krass all had 12 points for the Tornadoes.
• Tias Dees popped in 20 points and Nashua coasted to a 53-17 win over Terry. Devin Fromdahl added 12 points for Nashua. Sarah Dyer led the Terriers with seven points. 
20-Point Club
29: Beau Neal, Florence-Carlton
28: Trey Searle, Hamilton
28: Tyson Flickinger, Plentywood
27: JP Briney, Florence-Carlton
25: Brendan Johnson, Livingston
25: Terry Allmer, Lustre Christian
24: Owen Mercado, Seeley-Swan
24: Keylandra St. Marks, Frazer
23: Famous Lefthand, Hardin
22: Sam Leep, Manhattan Christian
22: Kellan Bellar, Stevensville
21: Caden Holgate, Manhattan
21: Tyler Christensen, Townsend
21: Nathan Brown, Lincoln
21: Liv Wangerin, Plentywood
21: Rylee Ackerman, Wolf Point
20: Josiah Amunrud, Manhattan Christian
20: Girma Detwiler, Ronan
20: Kade Cutler, Philipsburg
20: Hayden Lockie, Circle