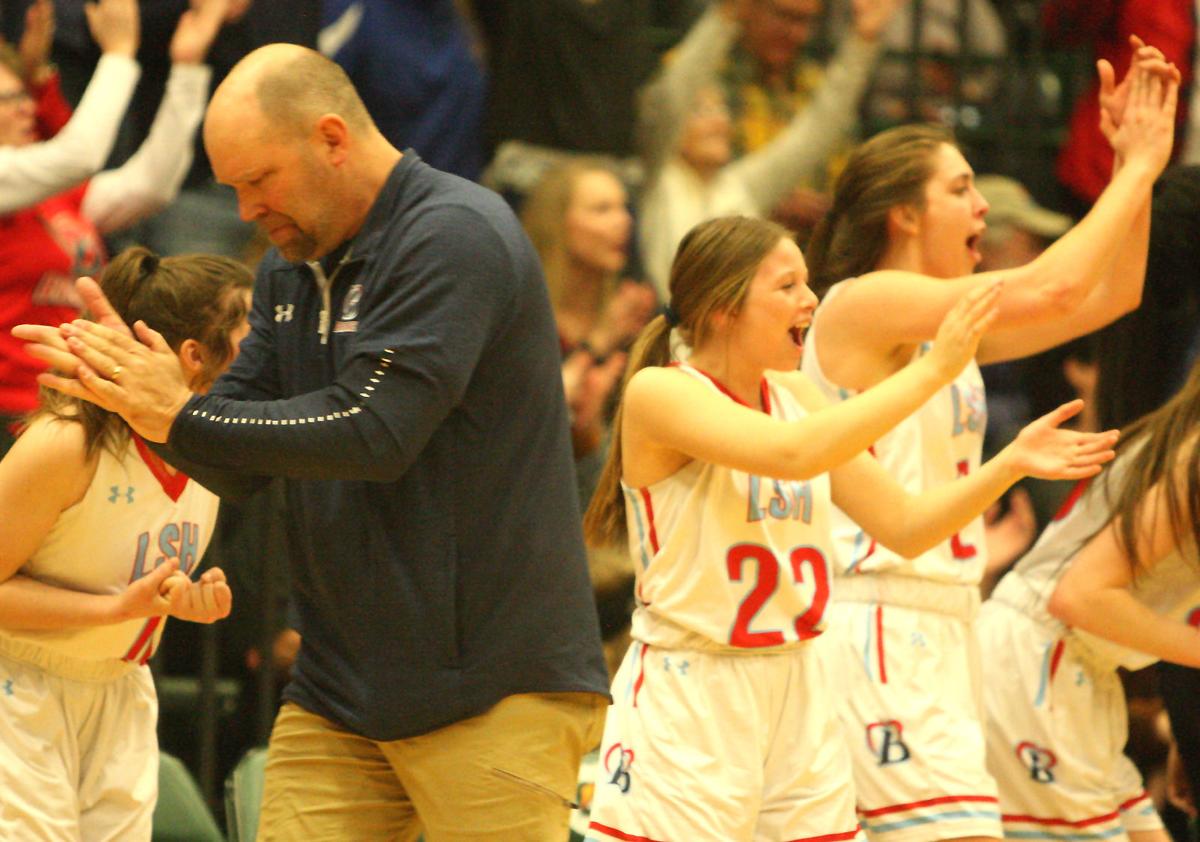 MISSOULA — There was much to celebrate for Missoula-area high school sports teams this winter.
Many accomplished great things, although the two most-decorated teams experienced bittersweet endings in their quest for undisputed state titles when tournaments were canceled because of the coronavirus.
The Hellgate boys basketball team and the Loyola Sacred Heart girls basketball team were each crowned co-champs of their respective class. The Knights went 23-0 to win their first State AA title since 2013, and Loyola went 25-0 to win their second-ever State B championship, the other coming in 2006.
The title is the second for 10th-year Hellgate head coach Jeff Hays — one behind his father, Eric Hays, who had three in 25 seasons with the Knights. Loyola coach Travis Walker, a former Montana Grizzly wide receiver, won his first title in just his third season as the Breakers navigated multiple injuries to key players.
The Hellgate girls also made it to the semifinals in their return to state after a breakout 2019 season. They should again be a favorite next season with a team that'll be largely comprised of juniors.
Other Missoula-area teams put together impressive turnarounds with first-year head coaches who made their marks in getting their teams to state.
The senior-heavy Frenchtown boys made it to the State A tournament and even won a loser-out game under first-year head coach Brandon Robbins. The Broncs beat Polson, which had qualified for state for the first time since 2017.
The Hamilton girls made it to the State A tournament under new coach Richard Griffin and could be back in the coming years with a pair of standout freshmen helping the way.
The Arlee boys made a Cinderella run to qualify for the State B tournament after bringing in new head coach Zachary Conko-Camel, graduating four starters, moving up from Class C to Class B, going 0-8 in conference play and needing to win a play-in game just to make the postseason.
The Bigfork girls advanced to the State B tournament under new head coach Cortnee Gunlock in a successful first year, knocking off Thompson Falls to qualify.
The Sentinel boys also made it to state despite not winning a game there, but the junior-heavy team showed its future potential. The Spartans should be one of the favorites to win the State AA title next season with a group featuring Division I recruit Alex Germer, Tony Frohlich-Fair, Hayden Kolb and others.
Other teams experienced their own forms of success despite missing out on state.
You have free articles remaining.
The Thompson Falls girls won their first regular-season conference title since October 1984 by capturing the Western 7-B title under first-year head coach Chadd Laws. The Blue Hawks' 19 wins are their most since 2003 and exceeded the 15 wins they totaled over the past four years as they came within one win of qualifying for state for the first time since 2003.
Despite the Charlo girls basketball team getting upset at divisionals, the Vikings won their first outright conference title since 2011 by going undefeated in the Western 14-C.
The Eureka boys won their first district tournament title since 2003 by winning the 7-B.
The Bigfork boys basketball team won its 11th consecutive Western 7-B regular-season title, doing so this time under first-year head coach John Hollow.
Wrestling
In February, Big Sky captured two individual State AA titles. Junior Hunter Meinzen won his second consecutive title — 152 pounds in 2020 and 145 in 2019 — after taking second place as a freshman at 138. Senior Bridger Hall finally broke through with his first crown, at 170 pounds, after he transferred from Hellgate for his last season.
Meinzen became the first wrestler from a Missoula city school to win multiple titles in a row since 2013-15, when Big Sky's Luke Entzel won three in a row. Coupled with Hall winning, it's the first time Missoula city schools have had two champs since 2014, when Entzel and Sentinel's Jaydn Wilson won. It's also the first time Big Sky had two champs since 2013, when Entzel and Jon Conklin won.
Eureka senior Nathan Schmidt finally broke through by winning the State B/C 138-pound title after placing second each of the past two years and fifth as a freshman. Senior Hank Dunn won the 152-pound title after placing third, second and fourth in his first three years. Junior Gunnar Smith won his third consecutive title, adding a 126-pound championship to his wins at 120 and 113 the last two years.
Frenchtown senior Walker Dyer repeated as the Class A 113-pound state champion. Senior Jake Bibler came up just short in his quest for a four-peat but showed great fight while wrestling through a dislocated collarbone. He's just the fourth three-time champ in school history. Teammate Landen Stewart went undefeated all the way until the 103-pound championship match and is sure to have ample motivation coming back for his senior season.
Hamilton senior Bridger Williams finally made it to the title match, taking second in State A at 160 pounds, after coming so close in previous years and overcoming a turbulent offseason in which he almost had to have a leg amputated.
Thompson Falls sophomore Trae Thilmony rebounded from an offseason back injury to win the State B/C 120-pound title after taking third as a freshman.
Big Sky freshman Izzy Moreno displayed a never-quit attitude in taking fifth place in State AA at 120 pounds while battling Type 1 diabetes.
Swimming
Frank Gogola covers Griz football and prep sports for the Missoulian. Follow him on Twitter @FrankGogola or email him at frank.gogola@missoulian.com.
Get in the game with our Prep Sports Newsletter
Sent weekly directly to your inbox!