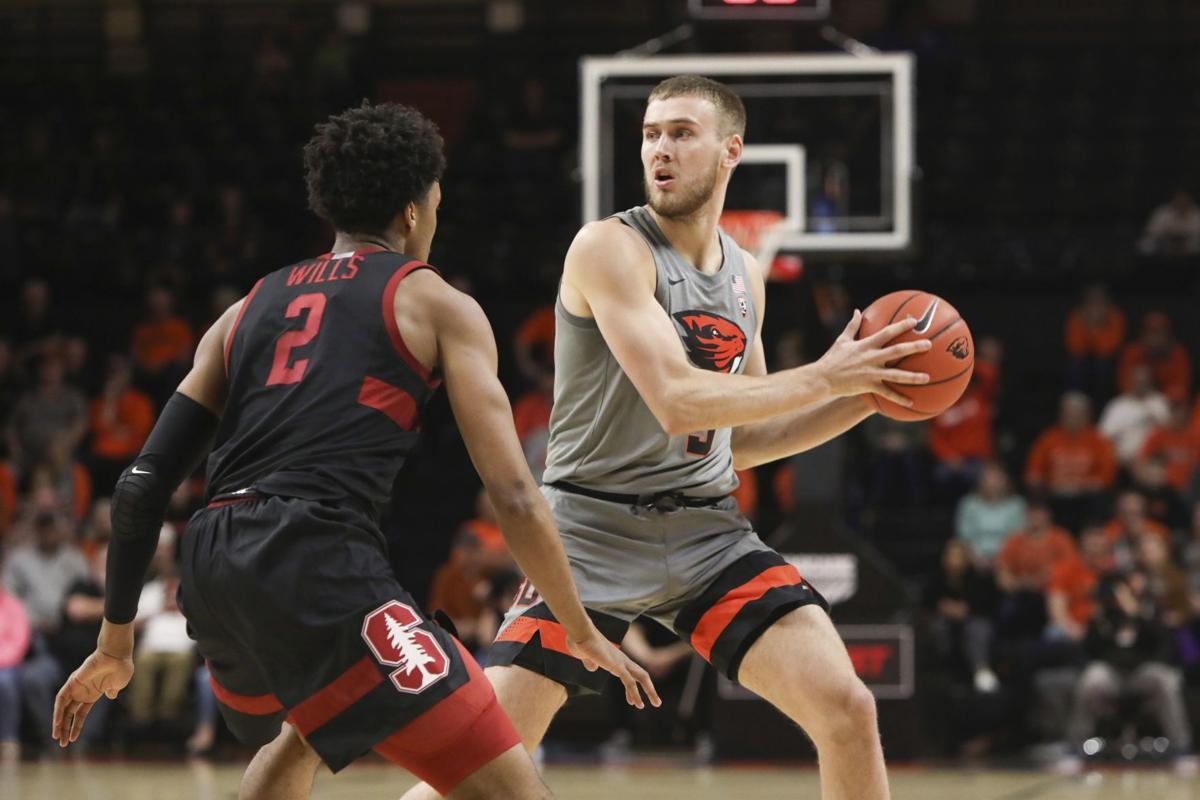 MISSOULA — Missoula Hellgate grad Tres Tinkle will begin his professional basketball journey with the reigning NBA champion Los Angeles Lakers, his father and Oregon State coach Wayne Tinkle confirmed to 406mtsports.com.
"We're all thrilled with the opportunity he has," Wayne Tinkle said. "His agent thought it was the best fit all things considered: their level of interest, roster openings, needs and how Tres fits in."
Tinkle, represented by Greg Lawrence of the Wasserman agency, reportedly signed an Exhibit 10 contract Friday after going undrafted in the NBA Draft on Wednesday. The news was first reported by Stadium's Jeff Goodman.
An Exhibit 10 contract is a one-year, non-guaranteed, minimum-salary deal that allows an NBA team to potentially convert the player's contract into a two-way contract with their G-League affiliate. The player can receive a bonus between $5,000-$50,000 if they're waived, sign with the G-League affiliate for the same NBA team and remain on that team for 60 days.
"Tres is very thankful for the situation they have chosen and looks forward to getting back on the court," Wayne Tinkle said. "NBA facilities are all closed currently, but he'll be down there as soon as they open back up."
The 6-foot-8 Tinkle will bring a scoring touch to the pro ranks. He left Oregon State as the all-time leading scorer with 2,233 points, breaking Gary Payton's 30-year-old record and finishing seventh in Pac-12 history while becoming OSU's first three-time all-conference selection in 30 years.
Tinkle set the school record for consecutive games scoring in double figures (96), free throws made, free throws attempted and consecutive free throws made. His is average of 17.7 points per game ranks seventh in program history.
Not just a scorer, Tinkle showed his versatility, becoming the lone player in school history to rank in the top 10 for points, rebounds, assists and steals. He's second in rebounds and eighth in assists.
Tinkle overcame a broken foot and a broken wrist in college after leading Missoula Hellgate to the 2013 State AA title and being a two-time Montana Gatorade player of the year.
In addition to the stats, he and OSU coach Wayne Tinkle, a former Montana Grizzly player and coach, led the Beavers to four winning seasons in six years after having only two in the previous 24 seasons.
Frank Gogola covers Griz football and prep sports for the Missoulian. Follow him on Twitter @FrankGogola or email him at frank.gogola@missoulian.com.
Former Oregon State standout Tres Tinkle is signing an exhibit 10 deal with the Lakers, per source.

— Jeff Goodman (@GoodmanHoops) November 20, 2020