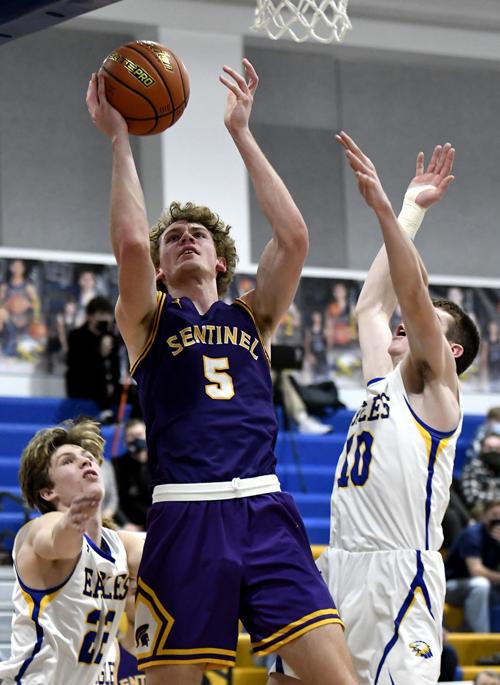 MISSOULA — The smile crept across Alex Germer's face as he looked up at the scoreboard and reached the bench, where he slapped hands with teammate Tony Frohlich-Fair before they chest bumped.
The Alex Germer show was in full effect Friday as the normally reserved Missoula Sentinel senior had just scored 40 points. And it was only halftime.
What he didn't know at the time was that he also eclipsed 1,000 career points and broke the Class AA single-game 3-point record. And it all coalesced in a blowout victory at crosstown rival Missoula Big Sky.
"That was really fun to play in," Germer said on the court after the game. "We got a student section for the first time. The atmosphere was great. And obviously I shot the ball well. So, that was pure fun."
Germer's smile grew as the night progressed. He was mobbed by teammates, fans and family afterward as he finished with a career-high 51 points on 16-of-22 shooting in just 23 minutes of action as the top-ranked and undefeated Spartans cruised to an 88-62 win.
"The smiles that you're seeing now is probably the height of his emotions," Sentinel first-year coach Jason Maki said as Germer shared smiles with his father, mother, older brother and aunt. "He doesn't get too high, he doesn't get too low. He was having fun tonight, so it was neat to see that smile because he's a very serious basketball player, he takes the game very seriously, he takes his practice very seriously.
"But, boy, it's pretty hard not to have fun when you're shooting the basketball like that."
Germer, a Montana State basketball signee, went into Friday's game with 997 career points in 82 games. He scored 40 points in the first half against Big Sky and eclipsed 1,000 points when he made his first of 13 3-pointers, one shy of the state record set by Manhattan Christian's Sam Leep in January 2020.
His 13 makes tie Ronan's Matt Luedtke in 2000 for second most in state history and are the most by a Class AA player. His 51 points broke his previous best of 37 and were 17 shy of the state record of 68.
"I was just feeling it," Germer said. "I come to every game knowing that I want to work as hard as I can and not take the opponent lightly and just kill them. But this was fun, and I just kept shooting. I worked hard for that."
The 6-foot-8 Germer finished 13 of 18 from beyond the 3-point line and hit a 3-point buzzer beater to end each of the first three quarters. He was 3 of 4 on 2-point attempts and 6 of 8 from the free throw line.
"He was, as we call it, 'saucy,'" Maki said. "He was just, 'wow.' That was incredible."
Germer became the first Spartan to reach the 1,000-point plateau since Sam Beighle did so in the 2018 season. He's scored 936 points and been the team's leading scorer in 33 of 60 games since he became a full-time starter as a sophomore. He's made 209 of 416 2-point shots (50.2%), 100 of 295 3-pointers (33.9%) and 330 of 432 free throws (76.4%) in his career.
Germer, the program's first Division I signee since 2004, was presented with a plaque after the game, adding to the thrill of the night. He didn't know he was so close to reaching 1,000 points coming into the game.
"I definitely set my goals high," Germer said after noting he came into high school hoping to reach 1,000 points. "I've always just wanted to shoot for the stars."
Not just a scorer, Germer entered Friday's contest with career marks of 380 rebounds, 114 assists, 52 steals and 26 blocks. He added four rebounds, one assist and one steal in the victory.
"My assistant coaches said it's the best coaching job I've ever done because we just said, 'Alex, shoot the ball,'" Maki said with a laugh. "It was fun to watch, that's for sure. Sometimes I felt like a fan, just like everybody else."
Sentinel improved to 11-0 with the win and moved within one victory of securing at least a share of the Western AA regular-season title for the first time since 2018. The Spartans can wrap up the outright crown with a win at Missoula Hellgate on Tuesday and can also secure their first city title since 2018 because they've already beaten the Knights earlier this season.
While Germer carried the day Friday, it's not just him powering the Spartans in their quest for their first state title since 1986. Tony Frohlich-Fair and Hayden Kolb make up Sentinel's "Big 3" on a team of 10 seniors that returned all five starters, the other two being UM football signees TJ Rausch and Soren Syvrud.
"The most fun part was just seeing my teammates happy for me," Germer said of the win. "I really appreciate that. I'm grateful for them helping to make this such a special night."
Germer's performance spoiled Big Sky's first home crosstown game of the season. The Eagles forced him into some contested 3-pointers, but his high release overcame that. He also got some openings as his teammates found him through the zone defense, and he even pulled up for some 25-foot jumpers.
Germer, who also plays for the AAU basketball team Select Basketball in Idaho, made all seven of his 3-point attempts in the first quarter as Sentinel built a 28-16 lead. He made his first eight of the game and sunk 10 of 12 at the half to help give the Spartans a 54-26 lead. That grew to 74-42 by the time Germer hit two 3-pointers in the final 30 seconds of the third qaurter.
"He had a game where he was just unconscious," Big Sky second-year coach Ryan Hansen said, noting his team could've done a better job of forcing Germer to drive more. "Good players will have those nights, and we caught him on that night, I guess. It was pretty impressive. You don't get to see that very often."
Germer's big outing didn't come against the struggling Big Sky teams of past years. The Eagles are 4-7, their most wins since 2016, when they went 12-10. They had gone 9-73 over the previous four years, winning three games three times and zero once.
Hansen said they'll have to use this as learning experience as they look to close strong in their final three regular-season games. They did have three players in double figures as Chaz LaDue scored 15, Tre Reed added 13, Shane Shepard had 11.
"We've got to use it as fuel," Hansen said. "We've had the same goal from day one, and this isn't going to stop us from getting to our goal. It might be a minor step back, and I think if anything, it should drive us, it should put some fire in us and make us work even harder tomorrow."
Frank Gogola covers Griz football and prep sports for the Missoulian. Follow him on Twitter @FrankGogola or email him at frank.gogola@missoulian.com.