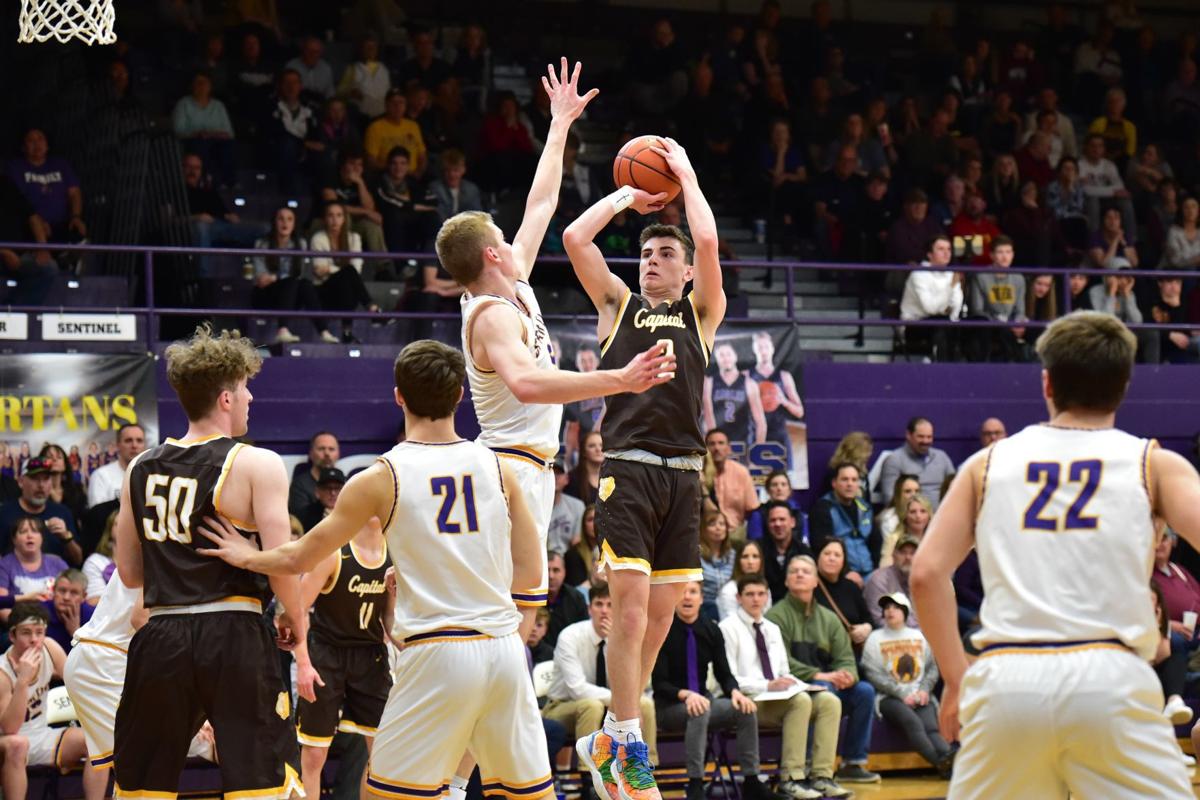 MISSOULA — Leading Kalispell Glacier by 11 points at halftime during a Western AA boys basketball divisional semifinal, Missoula Hellgate was not particularly happy with its press.
Inserted right before Christmas, it's been an important tool for head coach Jeff Hays and his team as they have gone through the season undefeated. But at halftime, they decided to scrap it.
The decision worked as Hellgate outscored the Wolfpack by 16 points in the second half and moved to 20-0 with an 81-54 win over Glacier.
The win guaranteed the Knights a spot in the State AA tournament and a joust with Helena Capital for the Western AA crown on Saturday night.
"(Breaking the press) is where they got their shots. Our 2-3 zone was not great and they got the high post to kick for threes," Hays said. "We talked about that. We just need to play better, more solid defensively in the third quarter. We did just enough … we had a lot of fouls, a lot of reach-in fouls because we were not where we needed to be that way."
The Knights have been perfectionists throughout the season, breaking down even a slight issue as something that could potentially hurt them later. Perhaps that is why they are the heavy favorites for a state title.
In any case, the Wolfpack did cause problems as they hit 10 of 23 3-point shots, with several coming in the first few minutes of the game. Anthony Heath and Jaxon Olsen each had three 3-pointers for the Wolfpack.
"I thought we did some things well today, that's a good basketball team and it got away from us as the end … I thought they executed some defensive schemes pretty well, especially in the first half," Glacier head coach Mark Harkins said. "I thought we attacked well offensively, so there's a lot of positive things."
Hellgate was incredibly efficient scoring the ball, with Rollie Worster leading all scorers with 26 points to go along with seven assists and five rebounds. Hellgate hit 30 of 45 shots and 24 of 28 two-point attempts.
Cam LaRance added 20 points on 11 shots for the Knights and also tacked on four assists.
Abe Johnson added 18 points on 8-of-8 shooting for the Knights, including several thunderous dunks and an alley-oop that he converted into a three-point play. He finished with a double-double as he grabbed 10 rebounds and blocked three shots.
"There's a reason they're going to the schools they're going to next year," Harkins said. "They're great athletes, they're great competitors. I always say, when I'm not coaching against them, I love to watch them."
Glacier was led by Heath's 16 points and the senior hit 3 of 5 3-point attempts. The Wolfpack shot 41% from the field, but struggled with turnovers, especially in the second half.
The Wolfpack fell into a loser-out game against Butte at 9 a.m. Saturday at Hellgate High School. The winner of that game will be assured a spot in the state tournament.
Hellgate, meanwhile, will be looking for its second-straight Western AA divisional title and the No. 1 seed in the state tournament.
"I think we expected it as a team, just how hard we work," Worster said. "I think we're a talented team and we know that, just getting there, it's a good feeling and it's fun."
Helena Capital 71, Missoula Sentinel 57
During the regular season, Helena Capital and Missoula Sentinel split, winning once each on their home floors.
Friday night, the rubber match came in the Western AA boys semifinal. And thanks to 10 3-pointers, as well as a stellar defensive effort that limited the explosive Spartans to 39-percent shooting, the Bruins took a 2-1 lead in the season series thanks to a 71-57 win Friday on Sentinel's home floor in Missoula.
The victory also punched the Bruins' ticket to the Class AA state tournament next week in Bozeman. It also sets up a rematch from last year's Western AA title game with Missoula Hellgate. Tip-off time Saturday is set for 6 p.m. 
"I am so proud of my team," Capital head coach Guy Almquist said. "They  have put in a lot of work and tonight, we played to win for 32 minutes."
It would take a 32-minute effort to knock off the Spartans, who led 14-13 after one, but found themselves trailing at half, 36-24 as the Bruins closed the second quarter on a 13-1 run.
A 3-point play by Parker Johnston and three steals in a matter of minutes led to a 7-0 run and that allowed Capital to build the 12-point lead before the break.
"We didn't get enough stops," Sentinel head coach Jay Jagelski said. "And they hit a bunch of shots and in a game like this, you have to be able to get some stops and we couldn't get enough."
In the third quarter, Capital extended its lead after Brayden Koch hit his third 3-pointer of the game as the Bruins pushed their advantage to 41-27.
But then, Tony Frohlich-Fair started to heat up. He scored inside and connected a 3-ball of his own, sparking a 7-0 run. Yet, he wasn't done, hitting another from beyond the arc and after a 14-4 Sentinel run, the Capital lead was just 45-41.
"We knew they were going to make a run at us," Almquist said. "But we were able to come up with some big shots to withstand it."
The tide would turn and it was a pair of seniors, Parker Johnston and Bridger Grovom that turned it.
First, Johnston exploded to the bucket for two. Then, after he scored again, Koch hit from deep, before Bridger Grovom put home an acrobatic 3-point play, pushing Capital's lead back to 54-43 after three.
In the final stanza, two 3-pointers from Grovom and another from Swanson put the 71-57 win on ice. 
Swanson, the senior would hit four times from beyond the arc on his way to 22 points. Koch made three treys and wound up with 19, while Johnston added 12 and Grovom finished with 11.
Frohlich-Fair finished with 22 of his own for the Spartans. Alex Germer added 16. Sentinel will turn around and play Missoula Big Sky at 9 a.m., at Sentinel to reach state.
"We have to be ready to go," Jagelski said. "It's a big game and our mindset has to be sharp. It's a must-win game, that's all there is to it."
Jordan Hansen covers a bunch of stuff for the Missoulian and 406 Sports. Shout at him on Twitter @jordyhansen or shoot him an email at Jordan.Hansen@406mtsports.com
Get in the game with our Prep Sports Newsletter
Sent weekly directly to your inbox!