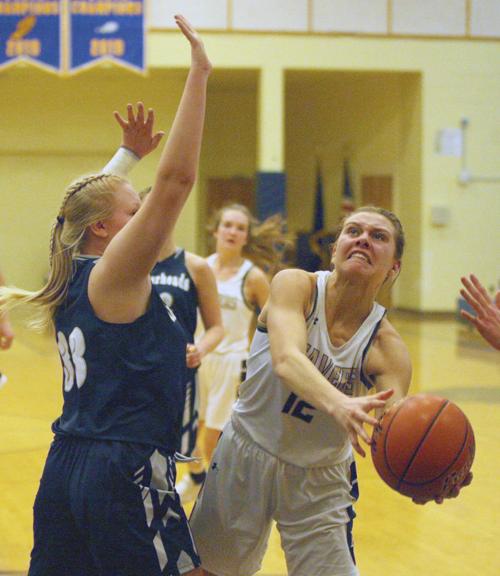 BILLINGS — Class B girls basketball teams had another eventful week, and the 406mtsports.com rankings changed as a result.
Then-No. 9 Anaconda lost to unranked Florence-Carlton on Thursday, but it earned a 63-59 overtime victory over then-No. 3 Missoula Loyola two days later to win the Western 6B. Anaconda moved up to No. 8, and Loyola fell to No. 6.
Thompson Falls moved up two spots to No. 5 in Class B thanks to its 60-53 win Saturday over then-No. 10 Bigfork, which lost its other two games last week (to Class A No. 4 Columbia Falls and Class B now-No. 7 Eureka) and fell out of the rankings.
Whitehall also went winless last week (losing to Jefferson and Class C No. 4 Manhattan Christian) and dropped from No. 8 to unranked in Class B. Forsyth entered the rankings at No. 9, and fellow Southern B team Columbus is now No. 10.
The 406mtsports.com voters nearly decided to shake up the Class A rankings after No. 3 Hardin beat top-ranked Billings Central 51-38 on Friday. If not for Hardin's 54-38 loss to now-No. 5 Laurel a day earlier, the top four would likely be different this week. All four teams have strong cases to be No. 1:
• Central has split with Hardin and defeated Laurel and No. 2 Havre.
• Havre has split two close games with Hardin, lost by five points to Central and beat Class C No. 1 Fort Benton 56-51 on Thursday.
• Hardin has defeated every team on its schedule, and Friday's 13-point win is the largest margin of victory in any game between the Bulldogs, Central and Havre.
• Columbia Falls is undefeated and would be higher than No. 4 if not for the strong resumes of the top-three teams, which all have been state title contenders in recent years and returned many key players.
Laurel will host Central on Tuesday.
Only the bottom two spots in the Class C rankings changed. Ennis fell from No. 9 to unranked because of a 54-35 loss to Manhattan Christian on Wednesday. Harlowton-Ryegate moved up to No. 9, and Scobey cracked the rankings at No. 10.
The distance between the top three and the rest of Class AA grew. No. 3 Billings West handled No. 4 Billings Skyview 67-43 on Friday and No. 5 Bozeman 56-35 a day later.
No. 2 Helena Capital will host No. 1 Missoula Hellgate on Tuesday. The game was originally scheduled for Feb. 6 but was postponed because of snowy weather. Hellgate beat Capital 52-50 on Jan. 9.
Class AA
1. Missoula Hellgate (9-0)
4. Billings Skyview (7-3)
Class A
1. Billings Central (12-1)
5. Laurel (9-3) (Previously unranked)
Class B
5. Thompson Falls (11-2) (+2)
6. Missoula Loyola (12-3) (-3)
9. Forsyth (8-4) (Previously unranked)
10. Columbus (9-4) (Previously unranked)
Class C
2. Saco-Whitewater-Hinsdale (16-0)
4. Manhattan Christian (16-0)
9. Harlowton-Ryegate (12-1) (+1)
10. Scobey (14-3) (Previously unranked)
406mtsports.com's Victor Flores, Frank Gogola, Chris Peterson, Mike Scherting and Bill Speltz contributed to this week's rankings.
Disagree with the rankings, or have a question? Email Victor at victor.flores@406mtsports.com.