Having read "Counting Coup" before moving to Montana in 2004, interviewing Sharon LaForge was on my bucket list. It was 18 months from my first outreach until she was ready to talk, but once she did I found her every bit as endearing as author Larry Colton did 26 years ago. What happens at the end of this story is moment for which I'll always give "Aho" -- Crow for "thanks". -- Jeff Welsch, 406 MT Sports editor
---
"Tall and slender, she has a quiet beauty — high cheekbones, dark hair, mahogany eyes – yet she is not a celluloid Pocahontas or a black velvet rendition of an Indian princess. Her appeal is subtler. It is the way she moves, a grace, languid, fluid, sexy. All without effort. She seems mysterious, detached."
— Larry Colton on Sharon LaForge, in "Counting Coup: A True Story of Basketball and Honor on the Little Big Horn"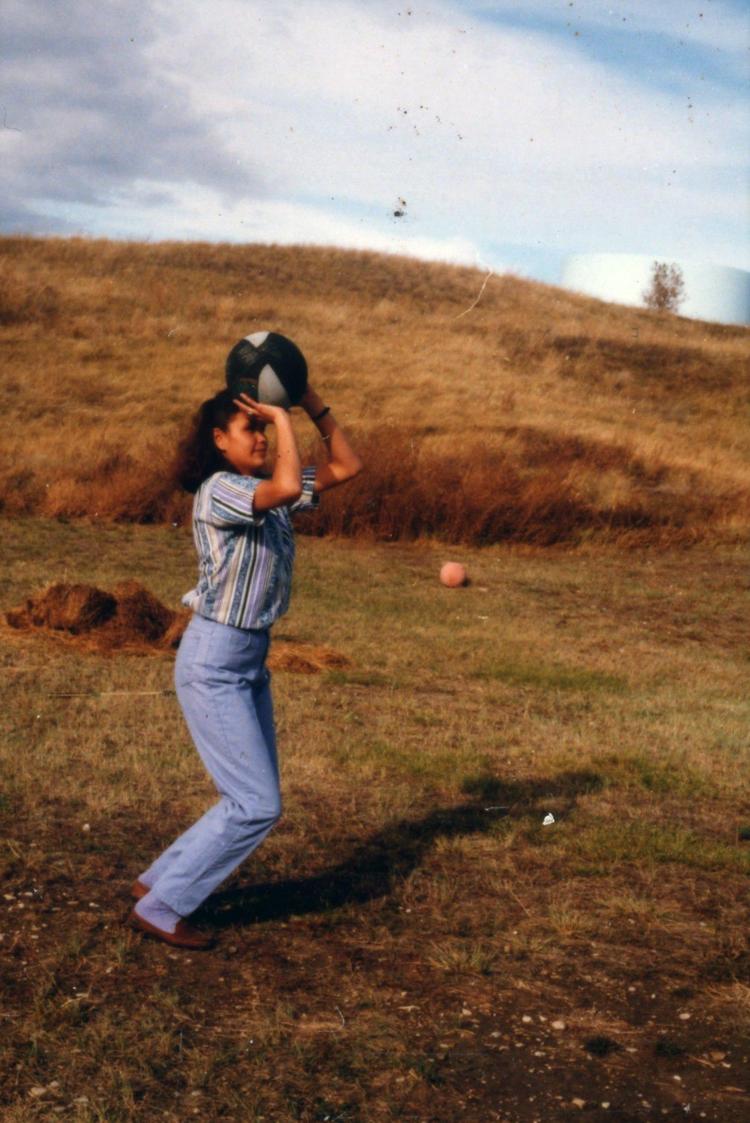 CROW AGENCY — At precisely 2 p.m., just as planned weeks earlier, Sharon LaForge arrived at the restaurant at the Custer Trading Post, with her 85-year-old grandfather, Blaine Fallsdown, holding tight to her left arm.
They carefully made their way to a corner table, where LaForge eased her "Papa" into a seat, murmured a few words in Crow, and smiled at her visitor.
LaForge's long dark hair was tucked under a baseball cap and her mahogany eyes peered through glasses. A gray sweatshirt touting "Hardin Bulldogs" in orange and black hung loosely on a frame that, she would later acknowledge with a laugh, isn't as graceful, languid or fluid as when she was a basketball star for the Bulldogs more than a quarter-century ago.
"Man, I've never been this heavy," she'd say, shaking her head. "I'm not used to it."
It was less than an hour into her first interview since the 2000 release of "Counting Coup" — a book that peeled back layer after intimate layer of a vulnerable teenager's tumultuous world, polarized the Crow community, and incensed Hardin's non-native community for portrayals of racism — and already LaForge was speaking with the candor that endeared her to Portland, Oregon, author Larry Colton for 15 months in 1992-93.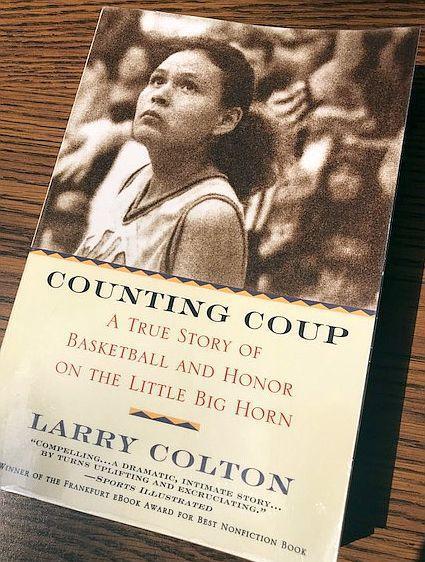 In "Counting Coup," LaForge, now 43, was the reluctant focus of a story about basketball on and around the Crow Reservation.
With a six-figure advance in tow, Colton initially came to document the passion Indian boys have for the game. But the narrative shifted as he watched LaForge match their intensity shot for shot, move for move, and elbow for elbow in an outdoor pickup game in Crow Agency before she abruptly sped away in her car, trailing much-older boyfriend Randy Not Afraid.
Before his immersion in Crow Country was over, Colton was a trusted outsider with whom the most guarded secrets were shared, some by LaForge but most by family, friends and Hardin students.
He was welcomed to some two-dozen sweats, the majority with Fallsdown outside the small house where LaForge now lives with her grandfather and seven other relatives. Colton ultimately was adopted into the tribe as "Well Known War Dancer," after an elder saw him on ESPN.
It was seven years before the book, initially rejected, was published in 2000 to instant national acclaim, eventually earning a Pulitzer Prize nomination and four movie options. In that same instant, LaForge and her family were thrust into a cultural maelstrom.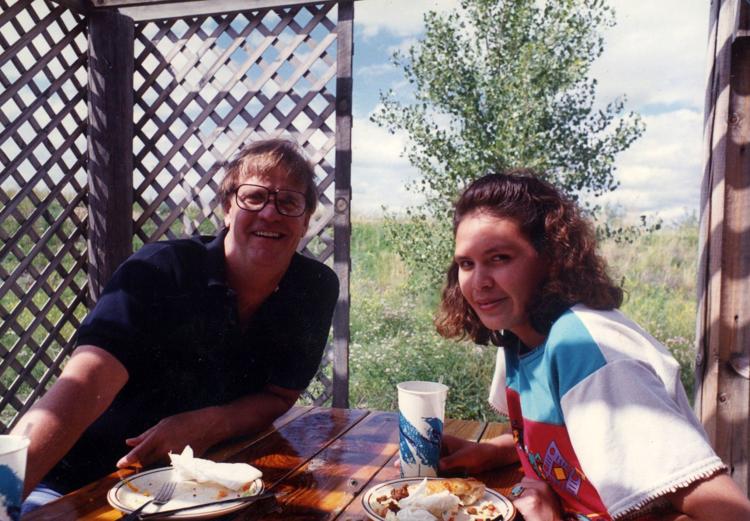 Some Crows viewed her as a celebrity, and still do, but others, especially venerable tribe members for whom humility is a sacred value, felt betrayed by Colton and violated by LaForge.
"Oh, it was negative," she recalled of a book she describes as "in general what the truth was."
"It was hard. I felt alone. I felt like a lot of people blamed me."
Until the book's release, LaForge had kept in contact with Colton — once pleading to come live with him and his wife — as she embarked on a muddled life's journey. She was raising two boys, worked at the Trading Post, earned an associate's degree at Little Big Horn College, came within a few credits of a business degree at Rocky Mountain College in Billings, and later fought forest fires and worked on a road crew.
Yet ultimately, after losing touch with Colton in 2000, divorcing Not Afraid in 2003 and enduring the death of her talented but troubled mother, Karna Fallsdown, at age 49 in 2007, she "Lost interest, got crazy, got into drugs, the whole thing. Not really sure why."
For nearly a decade, LaForge was even more detached and mysterious, her life tailspinning into darkness. Only in the past year has she regained a sense of stability.
After treatment in a California substance-abuse facility, the former reservation basketball star who once counted coup (meaning for Plains Indians, an act of bravery or prestige in the face of an enemy) one game at a time still asks herself why she let so much promise slip from her grasp. But she prefers to focus on the now, particularly taking care of her "Papa," and a future committed to sobriety through faith and family.
Sharon LaForge is counting coup again, one day at a time.
"Man, it's a battle, let me tell you," she said. "I'm doing way better, for real. Yes, way better. I'm not perfect. I'm the worst sinner. But thank you Jesus, you know? I'm blessed. Very blessed."
"She looks around the gym, making sure nobody is looking, then quickly pulls down the left side of her shorts, revealing a hematoma the size of Delaware on her upper hip. ... Then she trots off to the locker room. For the first time, I sense a trust." 
LaForge stepped out of the little house where she spent so much of her childhood, set up lawn chairs for herself and a visitor around a corner, and fished for a cigarette. It is her lone vice, she says.
The great-great-great-granddaughter of a French-American adventurer — Thomas LaForge married the Crow widow of a scout killed at the Battle of the Little Bighorn — comes here for a break from her duties as Papa's caretaker and the cozy chaos of living with eight others. Her cousin, Yvon "Junior" Little Light, a former Hardin basketball player and now an outreach coordinator with the Crow Tribe, is the household patriarch. He and his wife, Sierra, are raising five energetic young children.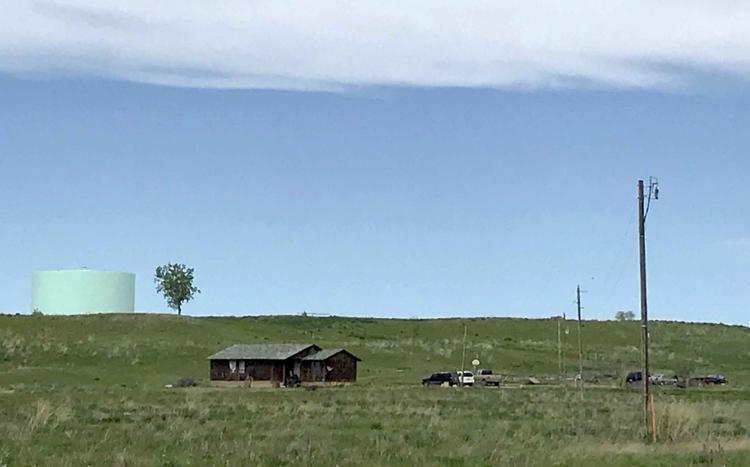 From her quiet space a few hundred yards behind and below the Trading Post, she looks across acres of buffalo grass to Crow Agency and the Little Bighorn River, the whine of semi-trucks issuing from Interstate 90.
The splintery telephone pole where LaForge shot baskets for hours, occasionally with Colton, still stands as a stark reminder; the hoop, like her game, is long gone. Also scattered in the grass across the dirt driveway are the splintered remnants of Blaine's sweat lodge, though she says she'll restore both when time permits.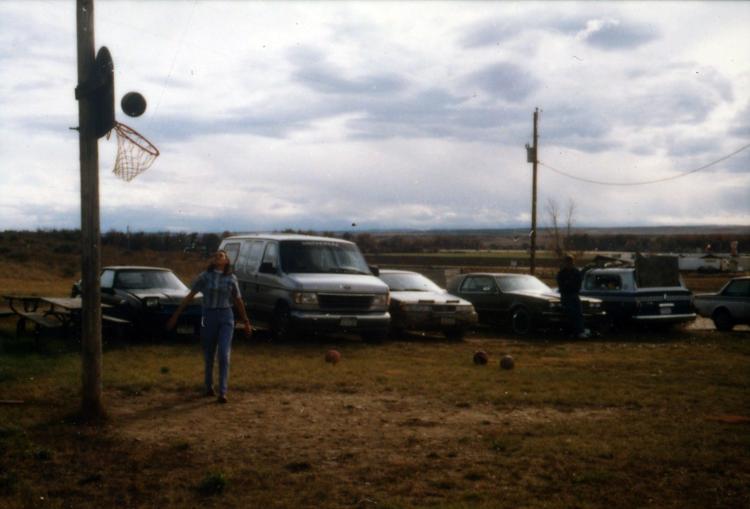 LaForge, who had rejected all previous interview overtures, conceded she was initially hesitant to revisit "Counting Coup" and potentially reopen wounds. She said she also needed time personally after struggling with loss and the swirl of substance abuse before trusting again.
"I just see things differently now," she said. "I appreciate things more, I guess. I'm not so scared to speak up a little more. Share and be appreciative, and appreciate what you have, like family."
LaForge remembers her 15 months of "Counting Coup" with striking clarity.
She was one of two popular senior stars on that Hardin team, a blend of Crows and non-natives who navigated high drama on and off the court in the fall of 1992 before suffering a crushing loss to Ronan in the Class A state semifinals. An opposing coach called the versatile and fierce 5-foot-7 post "the best player we've seen all season," yet because of her brooding, disinterest in academics and the reluctance of coaches to recruit Native players, her lone offer was from Sheridan (Wyoming) College, and even then only because Colton made the overture.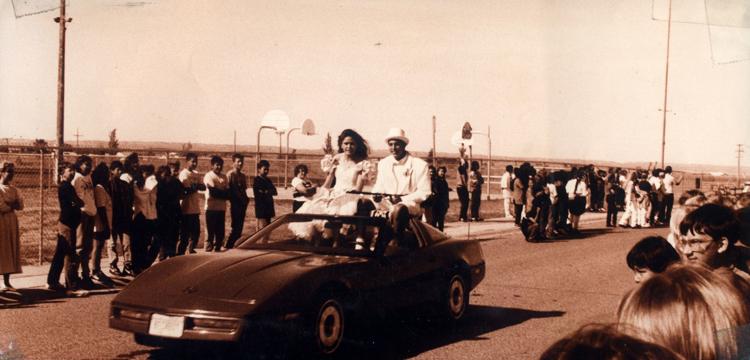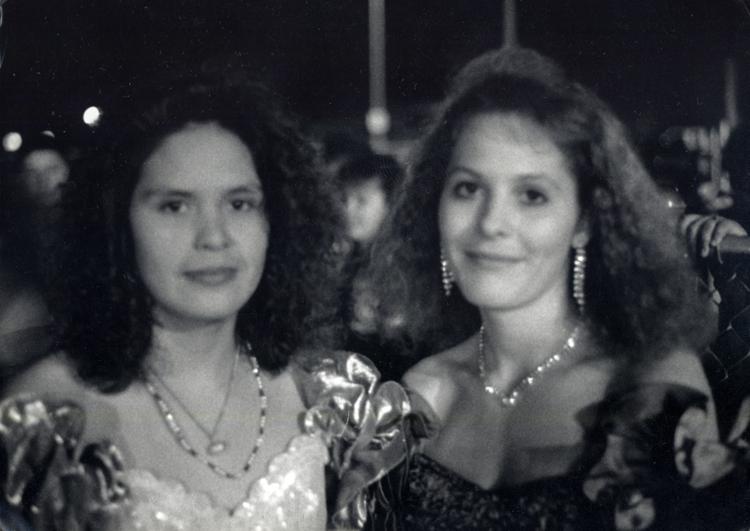 LaForge adored Sheridan's gym, yet opted to retreat into the Wolf Mountains near Lodge Grass with Not Afraid and their two boys, Roddy and Michael.
Even so, she managed a 3.75 grade point average at Little Big Horn, where she earned an associate degree in business administration in 1997, was student of the year and wrote the school's business plan. Later, with toddler Roddy in tow, she'd drive 100 miles to Billings, a grant for writing another business plan paying her way at Rocky, where she made the dean's list.
She dropped out one month shy of graduation in April 1999.
"I just messed up," she said. "Honestly, I thought I'd love (college), but I hated it. I could do it, but it was just the paperwork and all that stuff." 
After separating from Not Afraid, LaForge joined a fire crew and fought Oregon's infamous Biscuit Fire of 2002. Next came a stint as a highway flagger.
LaForge said she never drank — "I liked to smoke dope," she said — until the death of her mother, whose own unpredictability, along with an absentee father, Michael LaForge, was an emotional burden throughout her 1992 season.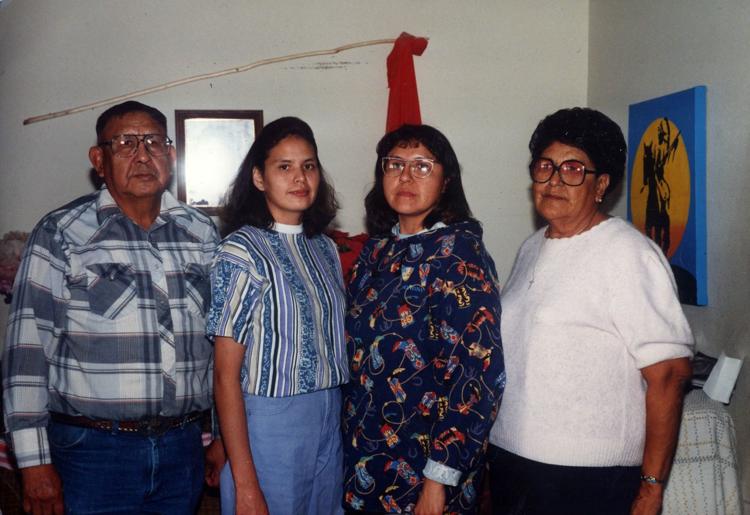 The decade after Karna's passing was a blur of despair. Her only anchor, other than her aunt, Marlene Fallsdown, was the care of her grandfather, who needed a shoulder of his own after his wife, Danetta, died in 2010.
"I've always been there for him," she said. "Even though I've been crazy or drinking, I was there. Ever since my grandma passed away I made the decision to come be with him."
Still, LaForge's penchant for having "a little too much fun" necessitated Little Light moving his family from Billings back to Crow Agency for Blaine. Little Light, 14 years younger than LaForge, said he gave his "sister" an ultimatum about her self-destructive behavior before eventually throwing her out.
That's when LaForge finally sought help.
You have free articles remaining.
"I said, 'If that's what you want to do I can't have you stay,'" Little Light said. "That was such a big thing to do. But when I did do that, I think she was able to get the help she needed. And (Blaine) needed someone here 24 hours, so I asked her to come back.
"She's doing good right now, and I'm happy."
"A year passes, and then another with no work on the book. I keep hoping for some sort of happy Hollywood ending, but the farther I get from the story and Sharon, the more hopeless her situation seems … which makes it even harder to start working on it again." 
In early 2000, after seven years of groping with "Counting Coup" and finally settling on a first-person account, Colton sent LaForge a review copy. She told him she had read the first three chapters but was otherwise too busy with parenting and school.
"That's the last time I ever heard from her," he recalled. 
Reached at home in northeast Portland, Colton, a former Major League Baseball pitcher who recently turned 76, hasn't forgotten the range of reactions to the book.
"It was well-received nationally, but on the rez and in Hardin they thought I had stabbed them in the back," he said. "I gained their confidence and then betrayed them. I had become just another white guy who ripped them off. I felt horrible about that. But I wrote the truth, at least my version of truth.
"There were death threats and the whole thing, so I just kind of stayed away."
Colton noted that acclaimed author Sherman Alexie, a Spokane/Coeur d'Alene tribal member, called him "the only white person to get it right." On the Crow Reservation, though, for many the stereotyping and stark lifting of a cultural veil crossed a line.
"There's a lot of stuff that was behind-closed-doors types of things," Little Light said. "In Crow culture, we don't really speak of these things. A lot of stuff in the book still happens to this day. But for it to come out like that, I think a lot of people were offended, and they wouldn't speak to us."
Nobody was more surprised by the content's intimacy than LaForge, whose conversations with a therapist, decisions on birth control and even thoughts of suicide were chronicled in detail. She was incredulous to be featured at all.
"I thought, 'Who would want to read a book about someone playing basketball, especially a girl?' It blows my mind, even today," she said, adding: "Some of the stuff was real personal stuff I feel like I never told him. It was like, 'Oh my gosh, wow, people talked.' "
"Counting Coup" is one of five Colton books, two prior and two since.
About "seven or eight years ago," he said, he returned to Crow Country with Huey Lewis, the musician and part-time Montana resident who was first to buy movie rights. Colton didn't contact LaForge or most of his old Crow friends, fearing lingering resentment.
Colton and Lewis were parked at the Conoco station below the Trading Post when she suddenly appeared, walked within three feet of him on the passenger side of their car, entered the mini-mart, re-emerged with cigarettes, and again strolled past within arm's length.
Colton thought better of facing her.
"She looked like she came off an eight-day meth binge," he said. 
The movie deal fell through, Colton said, because he balked at the producer's vision.
"I knew the impact of the book on people involved, primarily Sharon and her family," he said, adding that Lewis "went ballistic on me" when he bailed. "I was worried how they would be portrayed. If it was tough on them with the book, it would be ten-fold worse with a movie."
To this day, he said, his primary regret is the impact on LaForge and the abrupt end to their relationship.
"Nationally people were very supportive of her or interested in her life, but she never saw any of that," he said. "She just heard the negative stuff. It sort of drove a wedge between us; we had become really close. That was disturbing to me. I cared about her, not just as a basketball player but as a human being.
"Hopefully, over the years, some of it has changed."
"Counting Coup" is in its 15th printing and is the most profitable of Colton's books, even more than his acclaimed "Goat Brothers". 
"People often ask, 'What's your favorite book?', and usually I respond by saying, 'Do you have kids? What's your favorite child?' You like 'em all for different reasons," he said. "But at some level, there's something about 'Counting Coup' … Sharon certainly occupies a special place because she was so vulnerable when I was there. It was so hard for me because I wanted to rescue her.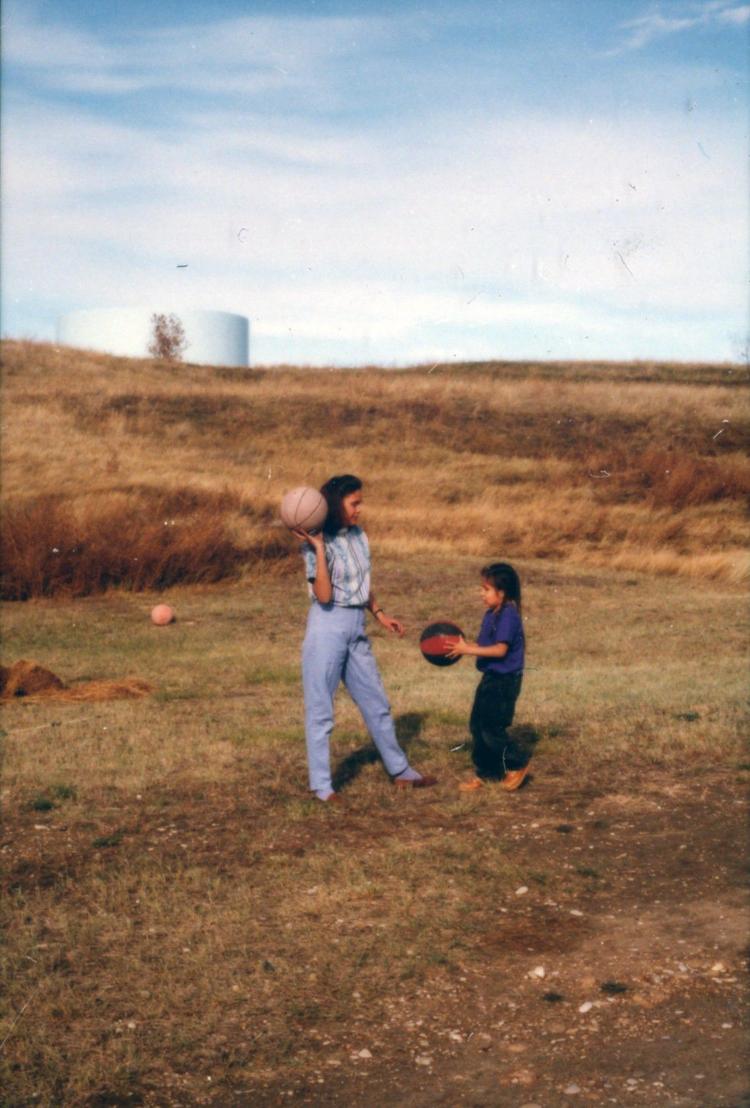 "I hear about her frequently. But I've been afraid to call her because I don't want to upset her life. It's out of respect."
LaForge, too, laments the disconnect. 
"We had contact at the end, real close contact, and then just, 'Boom'," she said. "I don't know, I probably got mad or something. I've been really thinking about him. I'm wondering if he's still alive and things like that.
"I'd like to get in touch with him."
"When I first saw Sharon, I saw a mixture of sorrow and hope. Now, in a new millennium, I still see the sorrow — one cannot visit an Indian reservation and deny it — but I still see the hope, too. … As I said, out here on the Little Bighorn, there has been no surrender." 
For LaForge, the initial drama from "Counting Coup" has long faded.
She remains something of a celebrity, despite avoiding computers and cellphones with the same dedication she says she now eschews alcohol and drugs. People see "Counting Coup" in the Trading Post bookstore and recognize her face. When she attends Hardin games, proudly yelling "Go Bulldogs!" she'll occasionally hear, "You're Sharon LaForge!"
"It's crazy," she said. "Even today, people around here are like, 'Oh, it's the legend!' Yeah, it's positive."
What of LaForge's future? For now, it revolves around her Papa, who exposed her to Crow dancing, handgames, parades and other activities that make her "realize how blessed I was."
She also spends time with her boys, now 23 and 19 and on the rodeo circuit. She is building a relationship with her father and talks openly about faith.
Perhaps one day she'll finish her degree. She'd also like to be fit enough again to fight fires, the gig she's loved most besides basketball.
Of this she is adamant: Surrender to drugs and alcohol is no longer an option on the Little Bighorn.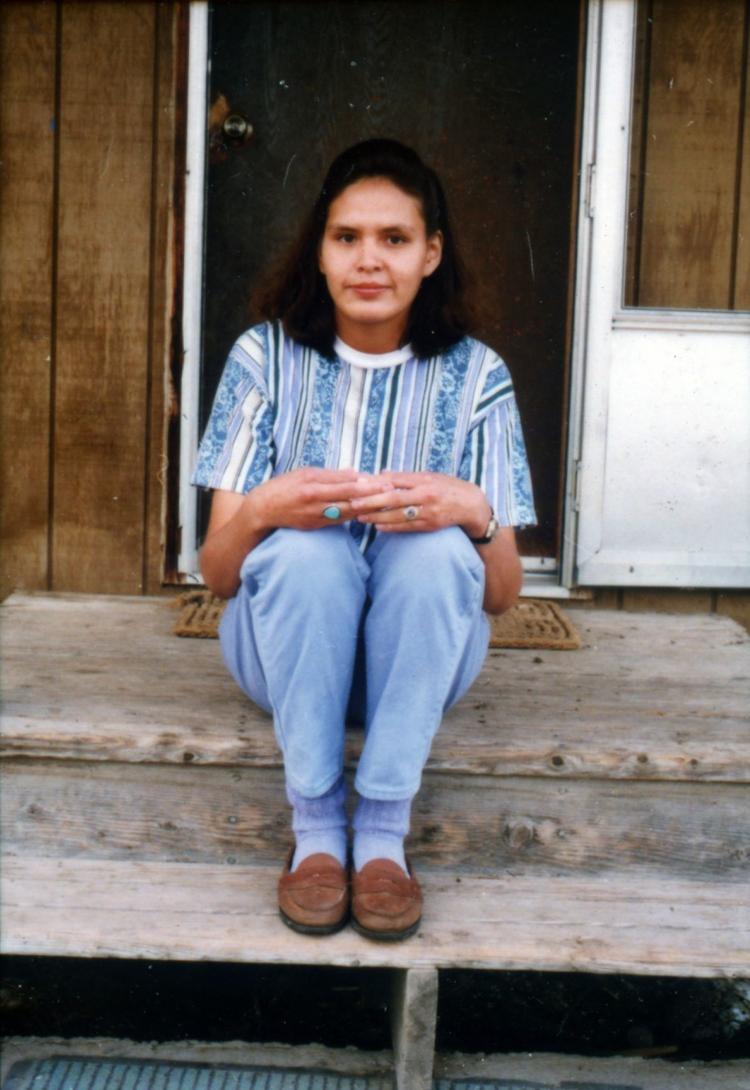 "Right now, what's keeping me focused is just being there for my grandpa, and just being helpful, and being back to the way I was," she said, adding of substance abuse: "I feel I will never be like that again."
As the conversation outside their home waned, a bald eagle appeared over the ridge. The whoosh of its wings was audible as it flew directly overhead, aiming for the river.
LaForge stood and arched her neck, uttered something in Crow and placed a hand on her visitor's shoulder.
To the Crow, eagles are a spiritual symbol of truth, courage and wisdom, among other noble traits.
For Sharon LaForge, it was affirmation — of the moment, her place in it and her decision to talk about "Counting Coup", which she suddenly realized had burdened her emotionally for 18 years.
Within an hour, her phone would ring. A voice she hadn't heard in a lifetime echoed with instant familiarity.