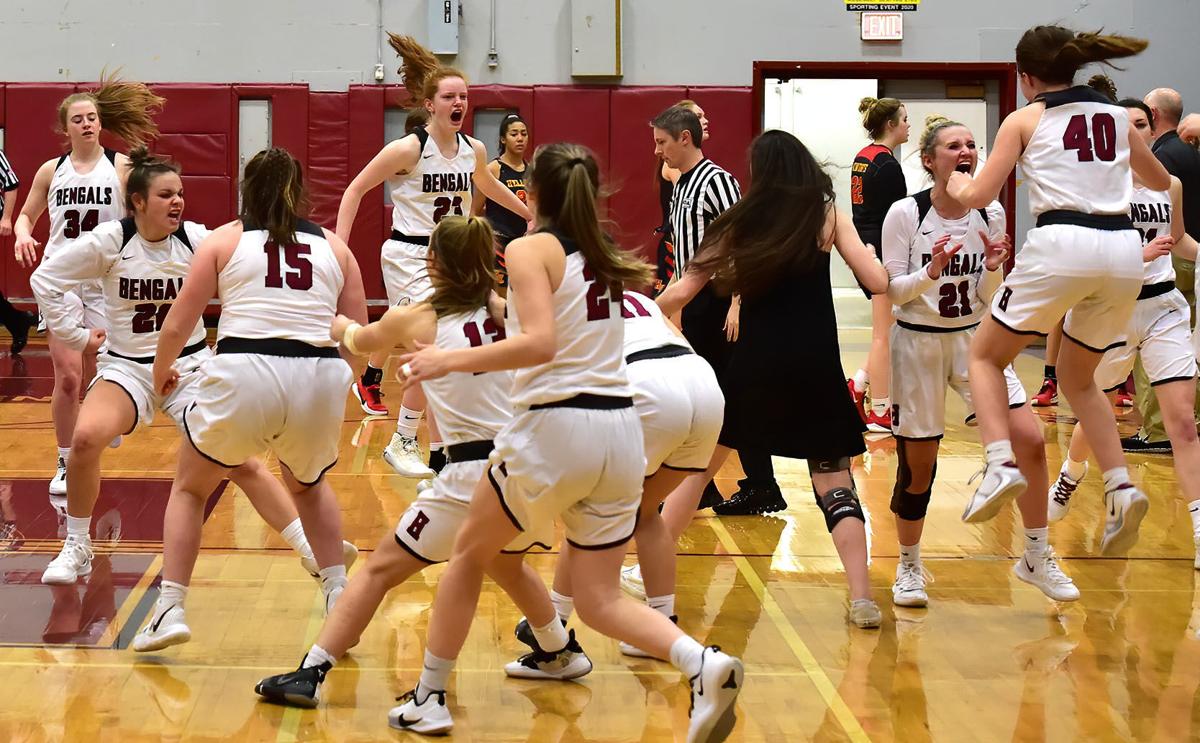 HELENA — You never know when a game is going to change. But for the Helena High girls basketball team against Missoula Hellgate, it changed on McKayla Kloker's third-quarter buzzer beater.
At the time, it cut No. 2 Hellgate's advantage to 26-23, yet it also opened the floodgates and sparked an 18-7 burst that helped the Bengals take the lead — for good. 
And unlike in previous losses to Helena Capital and Glacier, during which Helena let a late lead slip away, the Bengals used their defense to salt away the 38-37 win Thursday night in Helena. 
"That was a great win, a great team win," Helena senior Riley Thennis said. "Everybody contributed, we were all excited on the bench and we all played for each other."
Each player did do their part, but no one had a bigger role than Thennis, who finished with a game-high 15 points.
Thennis connected on two 3-pointers in the first half, which countered a hot start from Bailee Sayler and kept Helena within striking distance at the break, trailing 20-15.
Then, in the fourth quarter, she took over, along with some help from Kloker and her teammates.
First, Thennis scored a hoop, while getting fouled, getting the Bengals within one, and then, Kloker buried her second trey in a few minutes to give the Bengals their first lead of the half at 28-26.
"I finally was able to start shooting with confidence," Kloker said. "I needed to be shooting like that the whole game."
Kloker made shots when it counted, Thennis did too.
After Hellgate quickly tied the game again, another shot was needed and Thennis delivered again, connecting from deep. She added a layup on a backdoor cut soon after and with just over two minutes left, Helena led 35-30.
"My teammates had confidence in me and they have had confidence in me all year," Thennis said. "And it just feels good for us to all feel it and get good vibes."
Addy Heaphy made a three of her own to get the Knights back within three, but she missed a shot to take the lead late and Hellgate also missed a free throw to tie with 27 seconds left.
On the other end, Kloker made 3 of 4 on back-to-back trips to the line and despite a buzzer beater from Heaphy, the Bengals were victorious.
"Good teams find a way to finish," Bengals head coach Eric Peterson said. "I felt all along that we have been a good team and we just haven't made it over that mental hump. During our time outs, I just kept asking them, 'Do you feel it?' Because that's what it takes."
In other close losses recently to Capital, Butte and Glacier, Helena struggled late, but not against Hellgate.
"We finished really well," Peterson said. "We made enough free throws, we got one rebound that we needed to have and just those things we haven't had and it was good to see it come together."
Thennis led all scorers with 15 and finished 3-of-6 from beyond the arc. She also grabbed five boards and had two steals. Kloker added nine, as well as two steals and two assists. 
"It feels really good," Kloker said. "They are the No. 2 team and I think we just needed the confidence to know if we play our best game, we can beat them."
Sayler started hot, scoring eight in the first quarter but was held to 12 total. Heaphy finished with nine but combined they were 9-of-23 from the field.
"Helena High came to play," Rob Henthorn said. "We are still learning how to finish games. We played a pretty good first quarter and scored 16 points and only scored four in the second and they played a great a game. They had the energy and that's what it takes, so credit to them but we will be back."
Hellgate (10-2, 4-2) will return home to host Helena Capital Saturday in Missoula. Helena High (6-7, 4-5) is off until next Thursday when Missoula Sentinel will come to the Jungle. 
Chris is the sports editor and lead preps reporter for the Independent Record and 406mtsports.com. Follow him on Twitter @cmpetey406
Get in the game with our Prep Sports Newsletter
Sent weekly directly to your inbox!