MISSOULA — Some of the luster was taken off of Saturday's girls basketball showdown beaten No. 1 Helena Capital and No. 2 Missoula Hellgate when the Knights were upset at Helena High on Thursday.
The loss didn't faze the Knights too much. In fact, it forced them to refocus and gave them added motivation coming into their showdown with the undefeated Bruins in what was still a matchup of the two teams atop the Class AA poll.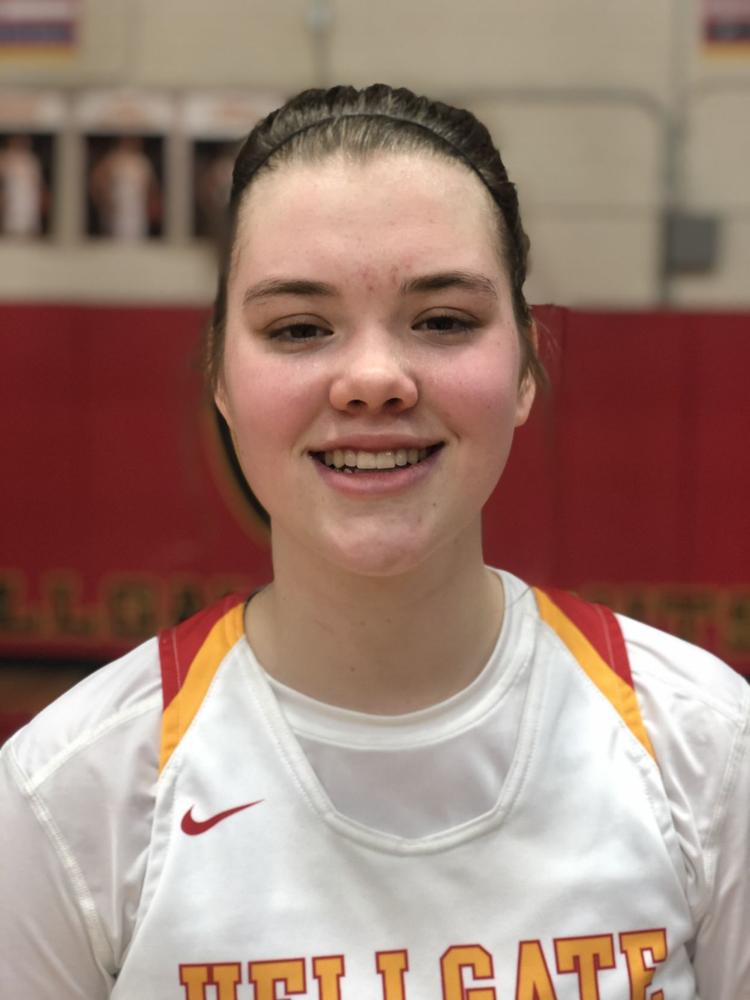 "We wanted redemption," Hellgate sophomore Bailee Sayler said after scoring a game-high 20 points as her team got that redemption with a 53-51 victory to improve to 11-2 overall, 7-2 in conference, while Helena dropped to 12-1, 8-1.
"The first thing we said right away after that game at Helena is we're going to beat Capital and we're going to make up for this loss. So that was our whole mindset at practice yesterday and today."
The game was a back-and-forth affair, with one team matching the other's run before Hellgate made a late spurt. Knights sophomore Keke Davis made a pair of free throws with 1:44 left to tie the game at 51-51, she then split a pair and Lauren Dick split a pair to put the Knights up 53-51 with 22.7 seconds left.
After three timeouts, Hellgate coach Rob Henthorn made a quick change from zone defense to man defense with Capital inbounding the ball under the basket with 5.7 seconds left. The Bruins had three inbound options but rushed a pass to their first option, forward Dani Bartsch.
Knights guard Addy Heaphy knocked away her dribble, but Bartsch somehow passed the ball to Jaymie Sheridan while in a scrum on the ground. Sheridan had a wide-open mid-range jumper from the left wing, but her shot went off the back of the rim at the buzzer, sending the Knights into a celebration.
You have free articles remaining.
"I don't know what to say other than the girls came to play," said Henthorn, whose team's only loss prior to Helena was at Capital in January.
"We were down in numbers. We got the flu going around. But there were no excuses. They just kept fighting. We stuck together and finally finished one that we needed to finish. We have a conference that on any given night any team can win, so we have to come ready every night."
Four Knights finished in double figures. Heaphy, Davis and Dick all scored 10 points, with Heaphy and Davis sinking key 3-pointers in the fourth-quarter rally.
Sayler scored 13 of her 20 points in the first half before Capital tabbed Bartsch to stop her in man-to-man coverage. She didn't score until beating the third-quarter buzzer with a turnaround jumper to pull the Knights within 39-36. That jump-started a fourth quarter in which Hellgate outscored Capital 17-12.
"It definitely gave me a lot of momentum going to the fourth," said Sayler, whose 3-pointer in the fourth quarter tied the game at 47-47 with 4:38 to play. "I think it hyped up everybody else a bit, too. It definitely was big. It helped a lot."
Hellgate had struggled against the height of the 6-foot Bartsch twins, who combined for 12 of the Bruins' points in the first half, which ended in a 25-25 tie. The Knights, without 6-foot-4 forward Alex Covill, switched back and forth between man-to-man and zone defenses throughout the game, trying to find the right balance to make interior scoring difficult but not leave open Mara McGinley, who scored 12 points with a quartet of 3-pointers.
Paige Bartsch, a 6-4 Boise State volleyball commit, finished with 18 points and scored eight fourth-quarter points before fouling out with Capital up 51-49 with 1:44 left. That was her third foul in 100 seconds, sending the Bruins' best scoring threat to the bench.
Dani Bartsch, a 6-1 Montana Lady Griz commit, was called upon but committed two fouls and turned the ball over once in the final 90 seconds. She finished with 10 points, making just two of seven free throws and scoring just two points after intermission.
"I thought Hellgate played really loose in the fourth quarter," Capital coach Katie Garcin-Forba said. "Credit to them because they're down a couple players. They had a lot of confidence. They were ready to go. When they hit their shots, the momentum swung their direction, and they managed to maintain it, where we just panicked a little bit."
Frank Gogola covers Griz football and prep sports for the Missoulian. Follow him on Twitter @FrankGogola or email him at frank.gogola@missoulian.com.