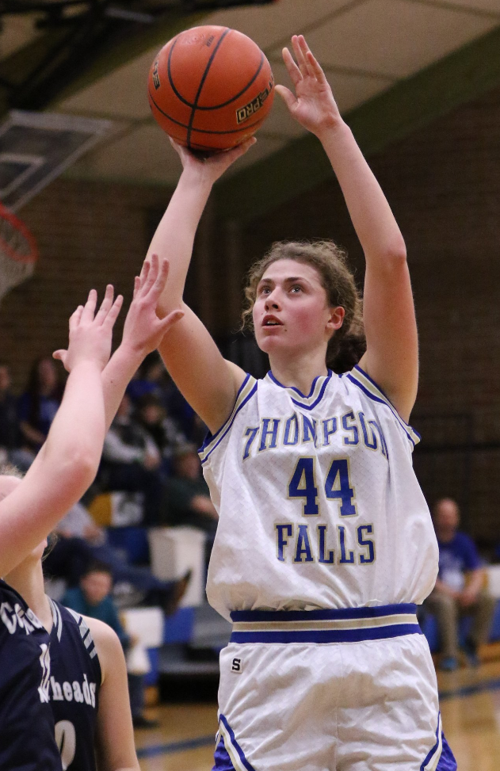 MISSOULA — The last time Thompson Falls had won a conference title, girls basketball was still played in the fall, the Blue Hawks' current head coach was in eighth grade and Don Read hadn't been hired yet as Montana's football coach.
It was October 1984 when Thompson Falls wrapped up the district 8-B regular-season title. The team included future Dickinson State basketball player Deb Grosbusch, record-setting sprinter Becky Wulfekuhle and Amy McKenzie, all of whom placed at the state track meet months earlier to give the Blue Hawks their first and still their only state track and field title.
It took 35 seasons, but the Blue Hawks are back atop their conference in basketball. They now play in the Western 7-B and needed to rally down the stretch through the flu to lock up the league title and No. 1 seed for the district tournament Friday.
"The main thing right now is we're trying to get healthy," Thompson Falls coach Chadd Laws said. "The sickness has been running around. So, we're trying to get healthy, keep building on what we've been doing with playing great defense and rebounding the basketball, and loving each other, something I think people overlook, but we value those relationships."
Thompson Falls has gone 14-4 to put together its first winning season since 2014. The Blue Hawks have been led by the point guard play of freshman Ellie Baxter and the scoring of Megan Baxter and Jody Detlaff in their rotation of eight to nine players. They're averaging 58 points per game and giving up just 39.1, a point differential of plus-18.9 points per game.
Their 14 wins this season are their most since 2009 and nearly match the 15 wins they totaled over the past four years. One more win will give them their most since 2003, when they went 20-8 and last qualified for state.
This year, Thompson Falls tied with Eureka and Bigfork at 6-2 but won the 7-B tiebreaker on point differential. The Blue Hawks won their final two games to get there after losing to Class B No. 1 Loyola and conference foe Eureka, the latter in overtime, two weeks ago. They beat St. Ignatius and took down Bigfork in the finale to force the three-way tie and get the No. 1 seed.
"We were missing a starter last week and had kids playing sick," Laws said. "But when you can go to Bigfork and get a win, that's big. I'd say I'm cautiously optimistic to have everyone back."
Hoops history
Class B and C teams from western Montana begin district play this week looking to build on their successful regular seasons.
The Loyola girls won the Western 6-B regular-season championship, their first league title since 2012. The Breakers are 18-0, their best start since 2007, when they opened 24-0. They're chasing their second state title in program history, last winning in 2006 with a 26-0 record.
The Charlo girls locked up the Western 14-C regular-season title with an 18-0 record to win their first outright conference championship since 2011. Last year, they tied with Arlee atop the league as co-champs.
The Seeley-Swan girls won the Western 13-C regular-season title for the second season in a row. Both of those championships came with a 10-0 record in league games.
The Bigfork boys won their 11th consecutive Western 7-B regular-season title, this one coming under first-year coach John Hollow, who replaced Sam Tudor. The Vikings have gone 86-2 in conference games during that stretch since moving from Class A to Class B in 2010.
They went 6-2 in 7-B games this year and had their Class B regular-season conference winning streak snapped at 80 games when they lost this year's opener to Eureka. They then won six straight before losing the finale Thompson Falls, putting them in a tie with Eureka, although they won the tiebreaker
The Plains boys won the Western 14-C regular-season title with a 10-0 record, their first outright league championship since 2009. They're 15-3 with just one loss to a Class C team, a three-point home loss to Seeley-Swan.
The Seeley-Swan boys won the Western 13-C regular-season crown, their second league title in three years. The Blackhawks are 14-2 overall and 8-2 in league games, winning the tiebreaker against Clark Fork and Darby, who also went 8-2 and will be seeded second and third, respectively, at districts.
Wrestling records
Big Sky junior Hunter Meinzen won his second consecutive State AA championship, becoming the first wrestler from any Missoula city school to win multiple titles in a row since 2013-15, when Big Sky's Luke Entzel won three in a row. The Eagles didn't have any state champs since Entzel in 2015 until Meinzen won at 145 pounds in 2019 and defended his title at 152 in 2020.
Big Sky senior Bridger Hall capped his career with his first state title, at 170 pounds, giving the Eagles two champions. It's the first time Missoula city schools have had two champs since 2014, when Entzel and Sentinel's Jaydn Wilson each won. It's also the first time Big Sky has had two champs since 2013, when Entzel and Jon Conklin each won.
St. Ignatius senior Isaiah Allik won the Class B/C 170-pound state title with a 42-0 record, becoming the school's first champ since 2014, when Jacen Petersen won at 170.
Track award
Missoula Sentinel grad Marshall Beatty was named the Patriot League men's track athlete of the week for his performance for the Army indoor track team this past week. Beatty set the season-best time in the Patriot League for the 5,000-meter run, running it in 14:07.22, nearly 20 seconds better than the previous best time. The sophomore was the Patriot League cross country rookie of the year last season.
Frank Gogola covers Griz football and prep sports for the Missoulian. Follow him on Twitter @FrankGogola or email him at frank.gogola@missoulian.com.
Get in the game with our Prep Sports Newsletter
Sent weekly directly to your inbox!