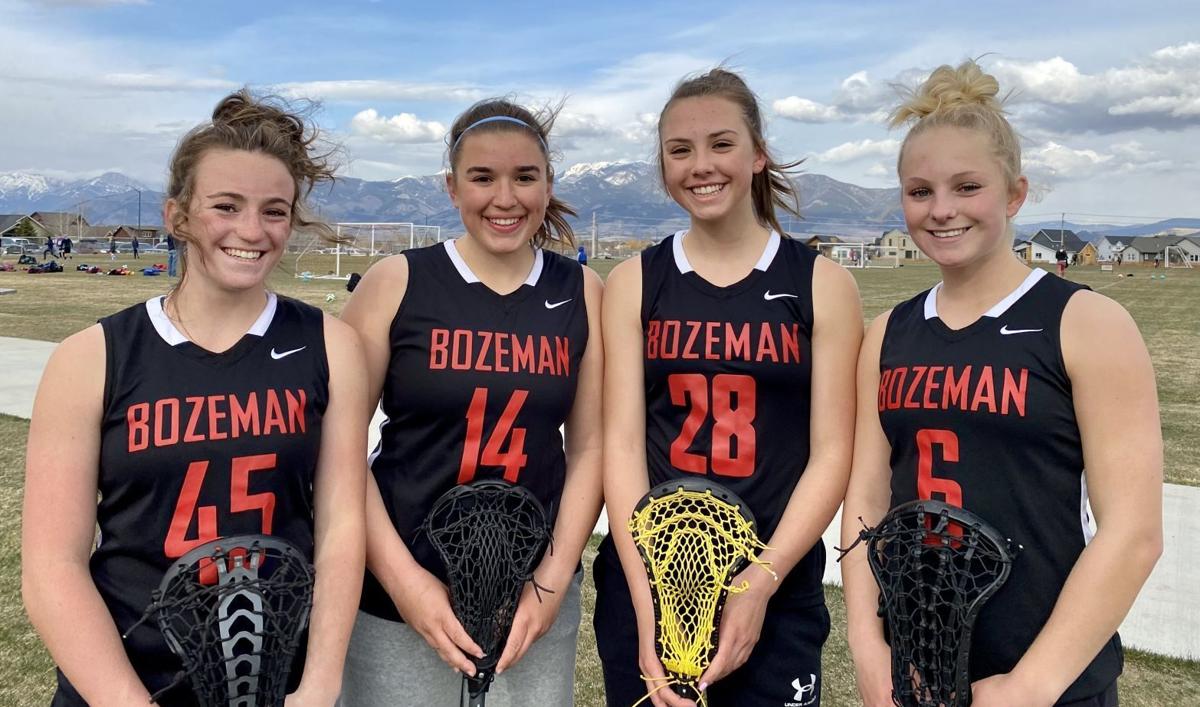 BOZEMAN — For the first time in its 90-year history, the U.S. Lacrosse National High School Girls Tournament will feature a combined team of players from Montana, Idaho and Wyoming this year.
Four members of Bozeman's team were selected through a tryout process in April to help represent the state at one of the country's premier showcases for the sport over Memorial Day weekend.
Bozeman's Ella Roe, Avery Walker, Melaina Springer and Avery Golden will join 16 others from elsewhere in Montana and the two other states for three or four games May 29-30 in Baltimore. Bozeman head coach Molly Pickall will also be one of two coaches for the team.
The other Montana players are Ally Foster of Billings and Julianne Lane and Chaselyn Paulson of Missoula.
The tournament is held in conjunction with the NCAA Division I Women's Lacrosse Championships, so tournament attendees are able to attend the semifinals and finals of that tournament held at Towson University.
"I hope it's inspiring for them as they think about their aspirations for playing beyond high school," Pickall said of her players.
Because the team is made up of players from different states, they have little experience playing together — aside from the regional travel teams some belong to. Teams at the tournament in Baltimore will be limited to just two practices, but the Montana-Idaho-Wyoming team may be lucky to even get one session in on the Friday evening before games begin.
"It will be a little bit of right-into-the-fire for them, and that's just the nature of the challenge of our geography," Pickall said.
For this trio of states to even be included in the tournament, Pickall said, is a testament to how quickly the game is growing in the region. In Montana specifically, Bozeman has helped lead the way with three consecutive state titles, a feat that does not include last year when the season was canceled because of the COVID-19 pandemic.
Bozeman's team, currently 10-0, will be well-represented at the national tournament. Roe, a junior at Bozeman High, leads the Montana High School Lacrosse Association in total goals (44) and points per game (5.3). Springer, a junior at Gallatin High, leads the league in ground balls (64), is second in turnovers forced (15) and draw controls (30) and is tied for third in goals (13). The two players are also Bozeman's co-captains.
"Ella's just someone you can count on to produce," Pickall said. "She's a great leader, and she has great vision with great shot placement."
Pickall noted Springer began the season as one of the team's standout defensive players. She has blossomed this year into a threat on both ends — shooting and creating offense while also roaming back to block shots and play defense.
"She's just becoming a fantastic all-around player, and her selection to this national team reflects that," Pickall said.
Walker, a Gallatin junior, is also tied for third in goals (13).
"Avery Walker, week by week, game by game, she keeps demonstrating her strengths," Pickall said, while noting she and Roe have often paired as a formidable duo in Bozeman's games. "Should they be on the field together, I think we'll see more of that tic-tac-toe playmaking that they do so well together, especially around the crease."
Golden, a Gallatin freshman, is tied for sixth in the league in goals (nine).
"She's a phenomenal, strong player, but she's a freshman so she's still gaining her confidence at the high school level," Pickall said. "But she has just shown steady improvement throughout the season, and she really showed up that day for the tryouts."
Pickall said last year would have been the first time Montana had sent players to this national tournament if the pandemic had not intervened. And because the tournament is only open to grades 9-11, this will be the only time Roe, Walker and Springer can compete. But Golden could potentially return, a notion that excites her coach.
"This is a great growth opportunity for her as she continues to develop as a player," Pickall said.
The Montana-Idaho-Wyoming team will be matched against teams of commensurate experience and skill level at the tournament. Pickall hopes the experience gained through games played and games watched at the NCAA level will result in a desire to play faster and more strategic lacrosse when her players return home.
The coach will sometimes include college games in her team's film study, but that doesn't quite match seeing it in person.
"Our players will get to see the best college lacrosse in person, which is something we don't get here in Montana," Pickall said. "We watch film of ourselves play, and I'm also pulling in clips and showing them college lacrosse, which is the elite version of what we're shooting for."